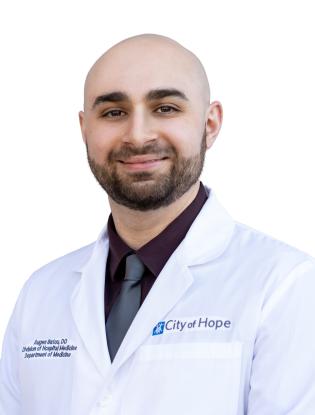 Assistant Clinical Professor
Appointments
Assistant Clinical Professor, Department Of Medicine, Division Of Hospital Medicine
For Augen Batou, D.O., being a hospitalist enables him to serve himself by serving others. The son of a pharmacist, he has had a passion for medicine since he was young. He enjoys the challenge of developing a diagnosis — which many times is not so different from solving a mystery — and aims to treat every single patient with the highest standard of care, as if he or she were family.
Before City of Hope, Dr. Batou was as a hospitalist at Queen of the Valley Hospital in West Covina, California, and a physician advisor for Emanate Health. He served with the U.S. Air Force for nine years, first as a reservist and then on active duty, including a stint as staff internist at Nellis Air Force Base in Nevada. He achieved the rank of major and received the Meritorious Service Medal, among several honors. During his residency at San Antonio Uniformed Services Health Education Consortium, he was recognized with the James L. Leonard Award for Excellence in Teaching Internal Medicine.
In his free time, Dr. Batou enjoys exercising, international travel, reading graphic novels and comic books, and playing video games and board games with friends. He intends to one day pick up a hobby making and repairing watches.
Basic Text Field
2008, Bachelor of Arts, Integrative Biology, University of California Berkeley, Berkeley, California
2012, Doctor of Osteopathic Medicine, Western University of Health Sciences, Pomona, California
 
Basic Text Field
2023-present, Assistant Clinical Professor, Division of Hospital Medicine, Department of Medicine, City of Hope, Duarte, California
2022-present, Physician Advisor, Emanate Health, West Covina, Califiornia
2018-2023, Hospitalist, Southern California Hospitalist Network, Emanate Health, West Covina, California
 
Basic Text Field
2015, Residency, Internal Medicine, San Antonio Uniformed Services Health Education Consortium, Fort Sam Houston, Texas
2013, Internship, Internal Medicine, San Antonio Uniformed Services Health Education Consortium, Fort Sam Houston, Texas
Basic Text Field
2021, Honor Your Caregiver Award, Emanate Health
2018, Meritorious Service Medal, U.S. Air Force
2016, Company Grade Officer of the Month, 379th EMDG/EMDOS Al Udeid Medical Group 
2012-2015, Air Force Achievement Medal, U.S. Air Force
2015, Above and Beyond Award, Expeditionary Medical Support Health Response Team Training Course, Camp Bullis,Texas 
2015, James L. Leonard Award for Excellence in Teaching Internal Medicine, USUHS F. Edward Hebert School of Medicine 
2014-2015, COL. Frank Brewster Ambulatory Care Award, SAUSHEC Internal Medicine 
2014, Second Place Clinical Vignette Poster, SAUSHEC Research Day 
2009, Health Professions Scholarship, U.S. Air Force 
Basic Text Field
2008-2017, American College of Physicians, Physician Member 
2008-2012, American Osteopathic Association, Member
2008-2012, Los Angeles County Medical Association, Student Member
Stewart IJ, Sosnov JA, Snow BD, Batou A, Howard JT, Janak JC, Bollinger M, Chung KK. Hypertension after injury among burned combat veterans: A retrospective cohort study. Burns. 2017 Mar;43(2):290-296