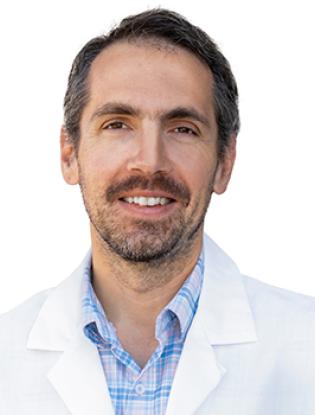 Pathologist
Clinical Expertise
Breast Pathology
Clinical Informatics
Thoracic Pathology
Appointments
Associate Clinical Professor, Department of Pathology
Medical Director, Digital Pathology
Daniel Schmolze, M.D., earned his undergraduate degree from the Rochester Institute of Technology in New York, then went on to receive his medical doctorate from the University of Massachusetts Medical School in Worcester, Massachusetts. He continued his postgraduate education at Beth Israel Deaconess Medical Center in Boston, where he successfully completed residency in pathology and a fellowship in breast pathology.
Dr. Schmolze has written multiple scholarly abstracts and publications and has developed publically available software. He is an active member of the College of American Pathologists and the United States and Canadian Academy of Pathology. Prior to medical school, Dr. Schmolze served as a scientific software engineer at the Jackson Laboratory in Bar Harbor, Maine.
Dr. Schmolze earned his undergraduate degree at the Rochester Institute of Technology in New York and had a career as a software engineer before deciding to study medicine. He subsequently attended medical school at the University of Massachusetts in Worcester, Massachusetts, and went on to complete pathology residency at Beth Israel Deaconess Hospital in Boston. He stayed on for a fellowship in breast pathology under the mentorship of Dr. Stuart Schmitt. Dr. Schmolze joined City of Hope in 2016. He currently leads the breast pathology group and also serves as the medical director of digital pathology, where he is overseeing the transition of the department of pathology to a digital workflow. Dr. Schmolze is active in research and has published numerous scholarly articles. He is particularly interested in applying artificial intelligence and machine learning to clinical digital pathology workflows.
2006-2011, Medical Degree, University of Massachusetts Medical School, Worcester, Massachusetts Institute of Technology, Rochester, NY

2002-2004, Basic Science Coursework, SUNY Buffalo, Buffalo, NY

2000-2002, Bachelor of Science in Information Technology, Rochester

1996-1998, Associate of Arts in Liberal Arts, Simon's Rock College of Bard,
Great Barrington, MA
2015-2016, Breast Pathology Fellowship, Beth Israel Deaconess Medical
Center, Boston, MA
2011-2015, Pathology Resident (AP/CP), Beth Israel Deaconess Medical
Center, Boston, MA
2022-present, Associate Clinical Professor, Division of Anatomic Pathology, Department of Pathology, City of Hope, Duarte, California

2016-2022, Assistant Clinical Professor, Division of Anatomic Pathology, Department of Pathology, City of Hope, Duarte, California
Publications (in press): Nabavi, S., Schmolze, D.B., Matituoheti, M., Beck, A.H. Earth mover's distance for the identification of genes associated with drug resistance in cancer. Bioinformatics.
Publications (in print): Tao Y K, Shen D, Sheikine Y, Ahsen OO, Wang HH, Schmolze DB, Fujimoto JG. (2014). Assessment of breast pathologies using nonlinear microscopy. Proceedings of the National Academy of Sciences. doi:10.1073/pnas.1416955111
Schmolze DB. Clinical Pathology Improvement Program – Parvovirus Infection and Transient Aplastic Crisis. cap.org, 1 May 2014. Web. August 2014.
Schmolze DB, Awtrey CS, Hecht JL. (2013). Value of Additional Level Sections in the Evaluation of Lymph Nodes for Endometrial Carcinoma Staging. American Journal of Clinical Pathology, 140(4), 516–518. doi:10.1309/AJCPVQVBBRPT4IHD
Fitzmaurice M, Eschbacher JM, Fischer AH, Kaufman JH, Schmolze DB, Shevchuk MM, Tearney GJ, Virmani R, eds. CAP Pathology Resource Guide: In Vivo Microscopy. Version 4.0(1). Northfield, IL: College of American Pathologists; 2013.
Reschke M, Clohessy JG, Seitzer N, Goldstein DP, Breitkopf SB, Schmolze DB, Pandolfi PP. (2013). Characterization and Analysis of the Composition and Dynamics of the Mammalian Riboproteome. Cell Reports, 4(6), 1276–1287. doi:10.1016/j.celrep.2013.08.014
Schmolze DB, Standley C, Fogarty KE, Fischer AH. (2011). Advances in microscopy techniques. Archives of Pathology & Laboratory Medicine, 135(2), 255–263. doi:10.1043/1543-2165-135.2.255