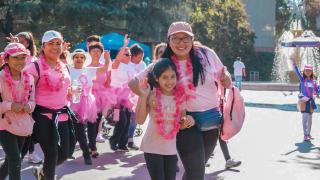 There are many ways to participate in fundraising, like attending events, joining groups, and even hosting your own events. This page will give you a good overview of the many ways to get involved.
Start an OurHope Fundraiser
Tell your story, honor a loved one or celebrate a birthday, bar mitzvah or other event with a personal fundraising page. Choose a theme and cause of your choice, then personalize your page with photos and text.
Step 1
Sign up and personalize your fundraising page.
Step 2
Share your story and collect funds online.
Step 3
Help find cures and care for patients
Fundraising Chapters & Groups
View Affinity Groups and Chapters
Basic Text Title
AFFINITY GROUPS
Basic Text Field
Health Justice (Our Hope)
University of Riverside – Delta Tau Delta Fraternity (Delta Queen Pageant)
Basic Text Title
CHAPTER GROUPS
Basic Text Field
Bobby Blechman Memorial (Chicago Walk)
Children's Leukemia (Chicago Walk)
Desert Women's Council (Hike4Hope)
Basic Text Title
AFFINTY GROUPS
Basic Text Field
Fraternal Order of Eagles
The Ambassadors
Basic Text Title
CHAPTER GROUPS
Basic Text Field
500 Club
Art Kushell/Louis Gendel
Camarillo
Circle of Hope
City of Hope Twin Cities
Donnez Nous
Doubles
Doughty-Lewis Memorial
Esperanza
Forty Live Oaks
Fly for Hope
Friendly Valley
Gift of Life
Golden/Hornung/Deutsch
Hacienda Heights
Hoffman-R. Greenspan-H. Rosenberg
Huntington Lakes
Kings Point
Linda C. Schur Memorial
Marina Del Rey
Palm Aire
Partners for Hope
Pathway to Hope Chapter
Pembroke Pines
People Who Care Chapter
Phyllis Dropkin
Prospect Park
Rancho Bernardo
Seattle
Singles for Hope
Today for Tomorrow
Valley Oaks
Cause Marketing Programs
City of Hope partners with a variety of venerable brands who donate a portion of your purchase directly into funding our research.
If you have questions about fundraising, we're here to provide answers.