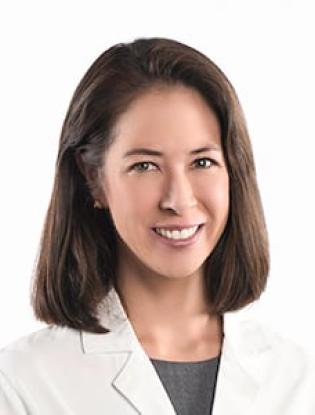 Surgical Oncologist
Clinical Expertise
Breast Cancer
Soft Tissue Tumors (Melanoma)
Appointments
Assistant Clinical Professor, Division of Surgical Oncology, Department of Surgery
Clinical Teams
Breast Cancer
Surgery — Surgical Oncology
Colorectal Surgery
Melanoma and Sarcoma
Heather Player, M.D., understands that illness can be a time of great fear and doubt for patients, as well as an opportunity for courage and compassion."It's the greatest reward to be chosen to take this journey with a patient," she says.
Dr. Player is keenly interested in the treatment of breast cancer and gastrointestinal cancer, as well as soft tissue tumors like melanoma, the most dangerous form of skin cancer. 
Before medical school, Dr. Player earned degrees in public health and secondary education, then taught science in the New York City public school system. She received her M.D. from Weill Cornell Medical College. During her residency at Stamford Hospital, she was named Connecticut State Champion in a surgical skills competition.
Dr. Player joined our staff after completing a City of Hope surgical oncology fellowship. She calls City of Hope "a community where compassion and science live hand-in-hand. A passion for cure thrives here."
44151 15th Street West
Lancaster, CA 93534

38660 Medical Center Drive
Suites A300 and A380
Palmdale, CA 93551

23823 Valencia Boulevard
Suite 250
Santa Clarita, CA 91355

2011, Doctor of Medicine, Weill Cornell Medical College, New York, New York

2004, Master of Arts, Secondary Education, Pace University, New York, New York

2002, Bachelor of Science in Public Health, With Honors, Brown University, Providence, Rhode Island
2016-2017, Surgical Oncology, City of Hope, Duarte, California
2011-2016, Administrative Chief, The Stamford Hospital, Stamford, Connecticut
2017-present, Assistant Clinical Professor, Division of Surgical Oncology, City of Hope, Antelope Valley and Santa Clarita, CA
Lily L. Lai, Heather Player, Sherry Hite, Vikas Satyananda, Jennelle Stacey, Virginia Sun, Veronica Jones, Jennifer Hayter; Feasibility of Remote Occupational Therapy Services via Telemedicine in a Breast Cancer Recovery Program. Am J Occup Ther March/April 2021, Vol. 75(2), 7502205030. doi: https://doi.org/10.5014/ajot.2021.042119
Journal Publications
Player H, Babkowski R, Dong X. "A Cautionary Case: Adrenal Insufficiency after Unilateral Adrenalectomy for Adrenalcortical Carcinoma." World Journal of Endocrine Surgery 7, 1 (2015): 17-20.
Addagatla K, Player H, McKenna E, Chaudhary N. "Comparing the Risk Profiles of Intracranial Hemorrhage Seen on Initial Computerized Tomography Scans in Patients Who Fall on Warfarin or Other Antithrombotic Therapy." Connecticut Medicine 79, 2 (2015): 150.
Ratings and reviews below are gathered from the Press Ganey Clinician and Group Consumer Assessment of Healthcare Providers and Systems (CG CAHPS) survey. CG CAHPS is a standardized survey that is used to measure a patient's experience in the physician office setting. Ratings are an average of all responses to questions about a provider's care, with five stars being the highest.
Ratings
4.9
Show respect for what you say
4.9
Spend enough time with you
4.9
Recommend this provider office
4.9
Provider explain in way you understand
4.9
Provider listen carefully to you
4.8
Know important info medical history
---
Reviews
I highly recommend City of Hope and always share my experience with my peers
- Verified patient
Good experience
- Verified patient
Dr Player is wonderful, encouraging, and explains everything well, answers my questions. So thankful to have her on this journey
- Verified patient
Great teamwork.
- Verified patient