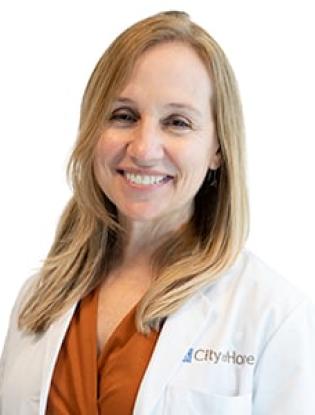 Medical Oncologist
Clinical Expertise
Neuro-oncology
brain tumors
Appointments
Professor, Department of Medical Oncology & Therapeutics Research
Co-Director, Brain Tumor Program
Neuro-oncologist Jana Portnow, M.D. (her pronouns: she/her), professor of medical oncology and co-director of City of Hope's Brain Tumor Program, is a physician-researcher who has expertise in early-phase development of leading-edge therapies for brain tumors and has designed and conducted numerous clinical trials.
She has obtained millions of dollars of research funding from the National Institutes of Health, including most recently as co-principal investigator of an NIH grant through which City of Hope became part of the National Cancer Institute's newly-formed Glioblastoma Therapeutics Network, a consortium of academic brain tumor centers that collaborate on preclinical and clinical studies to find better treatments for gliomas. Dr. Portnow has reviewed grant applications as a member of the NIH Clinical Oncology Study Section. She currently serves as Vice Chair person of the National Comprehensive Cancer Network's panel on Guidelines for the Treatment of CNS Cancers.
Her research cultivates innovations against brain cancer, such as neural stem cells that act as a homing device to deliver therapies directly to tumors in the brain, including oncolytic viruses, which are genetically engineered to attack cancer. Dr. Portnow's slate of clinical trials includes leading first-in-human studies of neural stem cells for aggressive gliomas and directly administered into the brain CAR T cell therapy, an immune treatment being investigated for its ability to fight cancer that spreads to the brain.
The grace and resilience of brain cancer patients are a daily source of inspiration for Dr. Portnow. Understanding that the disease they face affects the organ that is essential to our sense of self, she is determined to do everything she can to help these patients.
Dr. Portnow earned her medical degree from the University of Rochester, then pursued a residency in internal medicine at Temple University, where she was chief resident, and then completed fellowships in medical oncology and neuro-oncology at Johns Hopkins Medical Institute.
2012, Recertified, American Board of Internal Medicine, Medical Oncology

2001, Board Certified, American Board of Internal Medicine, Medical Oncology

1997, Board Certified, American Board of Internal Medicine
1994, M.D., University of Rochester School of Medicine, Rochester, NY

1989, B.A., Psychology, Brown University, Providence, RI
1999-2002, Medical Oncology Fellow, The Sidney Kimmel Comprehensive Cancer Center, Johns Hopkins Hospital, Baltimore, MD

1998-1999, Neuro-Oncology Fellow, The Sidney Kimmel Comprehensive Cancer Center, Johns Hopkins Hospital, Baltimore, MD
1997-1998, Chief Resident, Department of Internal Medicine, Temple University Hospital, Philadelphia, PA

1994-1997, Resident, Internal Medicine, Temple University Hospital, Philadelphia, PA
2021-present, Professor, Department of Medical Oncology & Therapeutics Research, City of Hope, Duarte, CA

2021-present, Co-Director, brain Tumor Program, City of Hope, Duarte, CA

2012-2021, Associate Director, Brain Tumor Program, City of Hope, Duarte, CA

2004-present, Member, City of Hope Patient Rights and Organizational Ethics Committee

2012-2021, Associate Clinical Professor, Department of Medical Oncology & Therapeutics Research, City of Hope, Duarte, CA

2010-2012, Chair, City of Hope Data and Safety Monitoring Board

2010-2012, Member, Clinical Research Governance Board

2008-2010, Associate Chair, City of Hope Data & Safety Monitoring Committee
2010-present, Member, City of Hope Physician Well-being Committee

2000-present, Member, Society for Neuro-Oncology

1999-present, Member, American Society of Clinical Oncology

1991-1992, President, Women in Medicine Taskforce, University of Rochester, American Medical Student Association
Portnow J*, Wang D*, Blanchard MS, Tran V, Alizadeh D, Starr R, Dodia R, Chiu V, Brito A, Kilpatrick J, McNamara P, Forman SJ, Badie B, Synold TW, Brown CE. Systemic Anti-PD-1 Immunotherapy Results in PD-1 Blockade on T Cells in the Cerebrospinal Fluid. JAMA Oncol. 2020 Oct 8;6(12):1–5. PMID: 33030521; PMCID: PMC7545351.

Portnow J, Badie B, Suzette Blanchard M, Kilpatrick J, Tirughana R, Metz M, Mi S, Tran V, Ressler J, D'Apuzzo M, Aboody KS, Synold TW. Feasibility of intracerebrally administering multiple doses of genetically modified neural stem cells to locally produce chemotherapy in glioma patients. Cancer Gene Ther. 2020 Sep 8. PMID: 32895489.
Gutova M, Flores L, Adhikarla V, Tsaturyan L, Tirughana R, Aramburo S, Metz M, Gonzaga J, Annala A, Synold TW, Portnow J, Rockne RC, Aboody KS. Quantitative Evaluation of Intraventricular Delivery of Therapeutic Neural Stem Cells to Orthotopic Glioma. Front Oncol. 2019 Feb 19;9:68. PubMed PMID: 30838174.
Sahoo P, Frankel, PH, Ressler J, Gutova M, Annala AJ, Badie B, Portnow J, Aboody KS, D'Apuzzo M, Rockne RC. Early changes in tumor perfusion from dynamic contrast enhanced T1-weighted MRI following neural stem cell-mediated therapy for recurrent high grade gliomas correlates with overall survival. Stem Cells Int. 2018 Mar 14;2018:5312426. PMID: 29731779 PMCID: PMC5872616

Priceman SJ, Tilakawardane D, Jeang B, Murad JP, Park AK, Chang W, Ostberg J, Neman J, Jandial R, Portnow J, Forman SJ, Brown CE. Regional delivery of chimeric antigen receptor-engineered T cells effectively targets HER2+ breast cancer metastasis to the brain. Clin Cancer Res. 2018 Jan 1;24(1):95-105. PMID: 29061641

Portnow J, Synold TW, Badie B, Tirughana R, Lacy SF, D'Apuzzo M, Metz M, Najbauer J, Bedell V, Vo T, Gutova M, Frankel P, Chen M, Aboody K. Neural stem cell-based anti-cancer gene therapy: a first-in-human study in recurrent high grade glioma patients. Clin Cancer Res. 2017 Jun 15;23(12):2951-2960. PMID: 27979915
Brown CE, Alizadeh D, Starr R, Weng L, Wagner JR, Naranjo A, Ostbert JR, Blanchard S, Kilpatrick J, Simpson J, Kurien A, Priceman SJ, Wang X, Harshbarger TL, D'Apuzzo M, Ressler JA, Jensen MC, Barish ME, Chen M, Portnow J, Forman SJ, Badie B. Regression of glioblastoma after chimeric antigen receptor T-cell therapy. N Engl J Med. 2016 Dec 29;375(26):2561-9. PMID: 28029927 PMCID: PMC5390684
Wheele A, Manzanera AG, Bell SD, Cavliere R, McGregor JM, Grecula JC, Newton HB, Lo SS, Badie B, Portnow J, Teh BS, Trask TW, Baskin DS, New PZ, Aguilar LK, Aguilar-Cordova E, Chiocca EA. Phase II multicenter study of gene-mediated cytotoxic immunotherapy as adjuvant to surgical resection for newly diagnosed malignant glioma.
Neuro-Oncology, 2016 Aug;18(8):1137-45. PMCID: PMC4933478
Brown CE, Badie B, Barish ME, Weng L, Ostberg JR, Chang WC, Naranjo A, Starr R, Wagner J, Wright C, Zhai Y, Bading JR, Ressler JA, Portnow J, D'Apuzzo M, Forman SJ, Jensen MC. Bioactivity and safety of IL13Rα2-redirected chimeric antigen receptor CD8+ T cells in patients with recurrent glioblastoma. Clin Cancer Res. 2015 Sep 15;21(18):4062-72. PMID: 26059190 PMCID: PMC4632968
Portnow J, Badie B, Liu X, Frankel P, Mi S, Chen M, Synold TW. A pilot microdialysis study in brain tumor patients to assess changes in intracerebral cytokine levels after craniotomy and in response to treatment with a targeted anti-cancer agent. J Neurooncol. 2014 May;118(1):169-77. PMCID: PMC4581878
Met, MZ, Gutova M, Lacey SF, Abramyants Y, Vo T, Gilchrist M, Ghodoa LY, Barish MD, Brown CE, Najbauer J, Potter PH, Portnow J, Synold TW, Aboody KS. Neural stem cell-mediated delivery of irinotecan-activating carboxylesterases to glioma: implications for clinical use. Stem Cells Transl Med. 2013 Dec;2(12):983-92. PMCID: PMC3841093
Portnow J, Badie B, Markel S, Liu A, D'Apuzzo M, Frankel P, Jandial R, Synold TW. A Neuropharmacokinetic assessment of bafetinib, a second generation dual BCR-Abl/Lyn tyrosine kinase inhibitor, in patients with recurrent high-grade gliomas. Eur J Cancer. 2013 May; 49(7):1634-40. PMID: 23380277 PMCID: PMC4172445

Aboody KS, Najbauer J, Metz MZ, D'Apuzzo M, Gutova M, Annala AJ, Synold
TW, Couture LA, Blanchard S, Moats RA, Garcia E, Aramburo S, Valenzuela VV,
Frank RT, Barish ME, Kim SU, Badie B, Portnow J. Neural stem cell-mediated enzyme-prodrug therapy for glioma: preclinical studies. Sci Transl Med. 2013 May 8;5(184):184ra59. PMID: 23658244 PMCID: PMC3864887
Portnow J, Frankel P, Koehler S, Twardowski P, Shibata S, Martel C, Morgan R, Cristea M, Chow W, Lim D, Chung V, Reckamp K, Leong L, Synold TW. A phase I study of bortezomib and temozolomide in patients with advanced solid tumors. Cancer Chemother Pharmacol. 2012 Feb;69(2):505-14. PMCID: PMC3506384
Blakeley J, Portnow J. Microdialysis for assessing intratumoral drug disposition in brain cancers: a tool for rational drug development. Expert Opin Drug MetabToxicol. 2010 Dec;6(12):1477-91. PMCID: PMC3994531

Portnow J, Badie B, Chen M, Liu A, Blanchard S, Synold TW. The neuropharmacokinetics of temozolomide in patients with resectable brain tumors: potential implications for the current approach to chemoradiation. Clin Cancer Res. 2009 Nov 15;15(22):7092-8. PMCID: PMC2908372
Portnow J, Lim C, Grossman SA. Assessment of pain caused by invasive procedures in cancer patients. J Natl Compr Canc Netw. 2003 Jul;1(3):435-9. PMID: 19761075
Portnow J, Suleman S, Grossman SA, Eller S, Carson, K. A cyclooxygenase-2 (COX-2) inhibitor compared with dexamethasone in a survival study of rats with intracerebral 9L gliosarcomas. Neuro Oncol. Neuro Oncol. 2002 Jan; 4(1):22-5. PMCID: PMC1920630.
Ratings and reviews below are gathered from the Press Ganey Clinician and Group Consumer Assessment of Healthcare Providers and Systems (CG CAHPS) survey. CG CAHPS is a standardized survey that is used to measure a patient's experience in the physician office setting. Ratings are an average of all responses to questions about a provider's care, with 5 stars being the highest.
Ratings
5.0
Show respect for what you say
4.9
Spend enough time with you
4.9
Provider listen carefully to you
4.8
Provider explain in way you understand
4.8
Know important info medical history
4.7
Recommend this provider office
---
Reviews
I was given sheets about the chemo I will be receiving, my boyfriend went the last time with me and he was also explaining everything
- Verified patient
Dr. Portnow was very reassuring during this particularly scary follow up.
- Verified patient
I have been at City of Hope for 14 years. Compared to my friends with bc, I am getting excellent care
- Verified patient
Just WOW! Every question was answered in a kind, caring and informational manner
- Verified patient
Excellent
- Verified patient