Lisa Anne Feldman, M.D., Ph.D.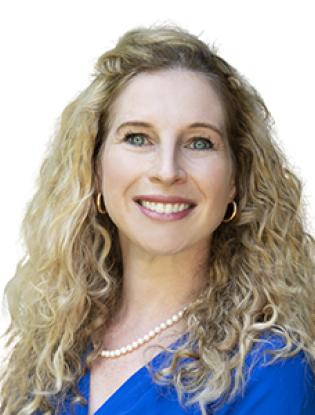 Neurosurgeon
Clinical Expertise
Brain Cancer
Spine Tumors
Degenerative Spine Surgeries
Research Area
Neurologic Oncology
Tumoral Oxygenation
Immunotherapy
Appointments
Assistant Professor, Division of Neurosurgery, Department of Surgery
"I am honored to ... join such a compassionate and driven group of caregivers and trailblazers."

Equally at home in the operating room and the laboratory, Lisa Feldman, M.D., Ph.D., is determined to make a difference in the lives of people with brain and spinal cancer. "I went into medical school with a driven purpose to become a neurosurgeon so that I could combine my operating skills with my desire to care for patients, and use my Ph.D. training to generate new tumor therapies," she says.
Dr. Feldman earned her medical degree at Rush Medical College in Chicago, her Ph.D. in neuroscience at McGill University, Montreal Quebec and her neurosurgery residency at Virginia Commonwealth University in Richmond, Virginia. She's also completed a neuro-oncology fellowship at City of Hope.
The winner of numerous honors and awards throughout her academic and professional career, Dr. Feldman also has several surgical inventions to her credit. She sees City of Hope as a perfect fit, lauding its environment in which "patients are provided a very individualized therapy plan, generated by a multidisciplinary team of experts, including enrollment in leading-edge clinical trials, with a warm, respectful and caring approach."
301 West Huntington Drive
Suite 400
Arcadia, CA 91007

1500 East Duarte Road
Duarte, CA 91010

2012, Ph.D., Department of Neurology and Neurosurgery at the Montreal Neurological Institute, McGill University, Montreal, Quebec

2010, M.D., Rush Medical College, Chicago, IL

2000, Bachelor of Science, Faculty of Psychology, Neurobiology, McGill University, Montreal, Quebec
2019, Neuro-oncology, City of Hope, Duarte, CA

2016, Van Wagenen Fellowship in brain tumor research, New Zealand
2018, Neurological Surgery, Virginia Commonwealth University Health System, Richmond, VA
2019-present, Assistant Professor, Division of Neurosurgery, Department of Surgery, City of Hope, Duarte, CA
Dr. Feldman's research interests focus on both primary and metastatic brain tumors, and how manipulation of tumoral oxygenation can improve radiation therapy, immunotherapies and chemotherapies to treat these tumors.
Feldman L, Brown C, Badie B. Chimeric Antigen Receptor T-Cell Therapy: Updates in Glioblastoma Treatment. Neurosurgery. 2021 Feb 11:nyaa584. doi: 10.1093/neuros/nyaa584. Epub ahead of print. PMID: 33575786.
Feldman LA, Haldankar S, O'Carroll SJ, Liu K, Fackelmeier B, Broaddus WC, Anene-Maidoh T, Green CR, Garbow JR, Guan J. Connexin43 Expression and Associated Chronic Inflammation Presages the Development of Cerebral Radiation Necrosis. J Neuropathol Exp Neurol. 2020 Jul 1;79(7):791-799. doi: 10.1093/jnen/nlaa037. PMID: 32447392.
Feldman LA, Fabre MS, Grasso C, Reid D, Broaddus W, Lanza G, Spiess B, Garbow J, McConnell M, Herst P. Perfluorocarbon emulsions radiosensitise brain tumors in carbogen breathing mice with orthotopic GL261 gliomas. PLOS One 2017 Sep 5;12(9).
Chen M, Ouyang B, Goldstein-Smith L, Feldman LA. Oral Contraceptive and Hormone Replacement Therapy in Women with Cerebral Aneurysms. Journal of Neurointerventional Surgery. 2011 Jun; 3(2): 163-6.
Feldman LA, Shapiro ML, Nalbantoglu J. A novel, rapidly acquired and persistent spatialmemory task that induces immediate early gene expression. Behav Brain Funct. 2010 Jul 2;6:35.
Lichtor T, Glick RP, Osawa G, Hardman J, Feldman LA. Advantages of Intracerebral Versus Systemic Administration of a DNA-Based Vaccine in Treatment of an Intracerebral Tumor. Gene Ther Mol Biol 2008; 12, 1-6.
Lichtor T, Glick RP, Feldman LA, Osawa G, Hardman J, O-Sullivan I, Cohen EP. Enhanced Immunity to Intracerebral Breast Cancer in Mice Immunized with a cDNA-Based Vaccine Enriched for Immunotherapeutic Cells. J Immunother. 2008 Jan;31(1):18-27.
Lichtor T, Glick RP, Feldman LA, Osawa G, Hardman J, Cohen EP. Enhanced Immunity to Intracerebral Tumor on Immunization with an Enriched DNA-based Vaccine: 871. Neurosurgery. 2007 Jan;61(1):217-8.
Zhao B, Khare P, Feldman L, Dent JA. Reversal frequency in Caenorhabditis elegans represents an integrated response to the state of the animal and its environment. J Neurosci. 2003 Jun 15;23(12):5319-28.
Ratings and reviews below are gathered from the Press Ganey Clinician and Group Consumer Assessment of Healthcare Providers and Systems (CG CAHPS) survey. CG CAHPS is a standardized survey that is used to measure a patient's experience in the physician office setting. Ratings are an average of all responses to questions about a provider's care, with five stars being the highest.
Ratings
5.0
Show respect for what you say
5.0
Spend enough time with you
5.0
Recommend this provider office
5.0
Provider listen carefully to you
4.9
Know important info medical history
4.9
Provider explain in way you understand
---
Reviews
Excellent
- Verified patient
All around great
- Verified patient
Dr. Feldman is kind, compassionate, and overall Is a great doctor!!!
- Verified patient
Dr Feldman is a champion in dealing with patients like me. I have only positive things to say where she is concerned. My brother was on the phone listening to my consult and HE TOO LOVES Dr Feldman!!! We are all in with her... ALL IN 100%
- Verified patient
Excellent doctor
- Verified patient