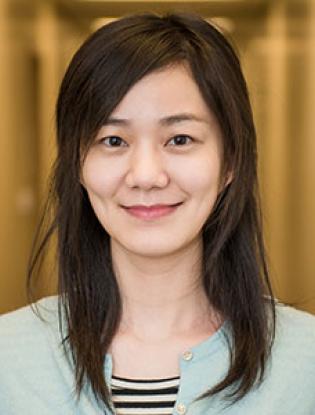 Assistant Research Professor, Department Of Systems Biology
Research Area
Functional Analysis Of Tiling CRISPR Screen In Cancer Research, To Further Dissect Functional Protein Domain Or Novel Domain.
Single Cell Transcriptomic Analysis, In Conjugation With Single Cell CRISPR Screen.
Integrating Systems Biology, Clinical Science, Sequencing Techniques And Bioinformatics To Improve Cancer Research, Diagnosis And Treatment.
Appointments
Assistant Research Professor, Department Of Systems Biology
Lu Yang received her doctoral degree in Pharmacology from University of Louisville, Kentucky in 2010. Her research interest was initially focused on characterizing changes of renal cell gene expression and to identify potential molecular pathways involved in the development of Diabetic Nephropathy, using the OVE26 diabetic mouse model. After additional postdoctoral training in diagnostic informatics before she joined the Functional Genomics Core of the Beckman Research Institute as a staff scientist in 2012. In the core, she provided leadership role in developing in house single cell RNA-seq data analyzing algorithm and published a first-author bioinformatics paper. She was also actively involved in multiple other research projects and was listed as co-author in several high-impact papers.
Dr. Lu Yang joined the Department of System Biology in 2017 as a Research Assistant Professor. Her long-term goal in the Department of System Biology is to integrate basic biology, clinical science, sequencing technology and bioinformatics to improve research in leukemia and lymphoma, diagnostics and drug-discovery. Her recent research interest focuses on search for the potential domain of sgRNA placement which related to maximum phenotype, by interrogating the output of high-density CRISPR screening data.
2010, Ph.D., Pharmacology & Toxicology, University of Louisville, Louisville, KY

2007, M.S., Pharmacology & Toxicology, University of Louisville, Louisville, KY

2004, B.S., Biology, University of Science and Technology of China, Hefei, China,
2011–2012, Postdoctoral Fellow, Department of Pathology and Laboratory Sciences, University of Louisville, Louisville, KY
2010, Intern, Pharmacokinetics and Drug Metabolism Intern, Amgen Inc., Cambridge, MA
2017-present, Assistant Research Professor, Department of Systems Biology, City of Hope Beckman Research Institute, Monrovia, CA

2012–2017, Staff Scientist, Integrative Genomics Core, City of Hope National Medical Center, Duarte, CA
Wang X, Huynh C, Urak R, …, Yang L, .., Forman SJ. The Cerebroventricular Environment Modifies CAR T Cells for Potent Activity against Both Central Nervous System and Systemic Lymphoma. Cancer Immunol Res. 2021 Jan;9(1):75-88.
Pangeni RP, Yang L, Zhang K, Wang J, Li W, Guo C, Yun X, Sun T, Wang J, Raz DJ. G9a regulates tumorigenicity and stemness through genome-wide DNA methylation reprogramming in non-small cell lung cancer. Clin Epigenetics. 2020 Jun 17;12(1):88.
Zhou J, Sun X, Yang L, Wang L, Ran G, Wang J, Cao Q, Wu L, Bryant A, Ling C, Pi L. Hepatocyte nuclear factor 4α negatively regulates connective tissue growth factor during liver regeneration. FASEB J. 2020 Apr;34(4):4970-4983
Wu Y, Yang L, Chang T, Kandeel F, Yee JK. A Small Molecule-Controlled Cas9 Repressible System. Mol Ther Nucleic Acids. 2020 Mar 6;19:922-932
Zhang K, Yang L, Wang J, Sun T, Guo Y, Nelson R, Tong TR, Pangeni R, Salgia R, Raz DJ. Ubiquitin-specific protease 22 is critical to in vivo angiogenesis, growth and metastasis of non-small cell lung cancer. Cell Commun Signal.2019 Dec 16;17(1):167.
Kalvala A, Wallet P, Yang L,..Salgia R. Phenotypic Switching of Naïve T cells to Immune-Suppressive Treg-like Cells by Mutant KRAS. J Clin Med. 2019 Oct 18;8(10)
Zhang K, Wang J, .. Yang L,.. Yen Y. LKB1 deficiency promotes proliferation and invasion of glioblastoma through activation of mTOR and focal adhension kinase signaling pathways. Am J Cancer Res. 2019 Aug 1;9(8):1650-1663
Zhang K, Wang J, Yang L,.. Raz DJ. Targeting histone methyltransferase G9a inhibits growth and Wnt signaling pathway by epigenetically regulating HP1α and APC2 gene expression in non-small cell lung cancer. Mol Cancer. 2018 Oct22;17(1):153
Petrossian K, Kanaya N,Lo C,.. Yang L,.. Chen S. ERα-mediated cell cycle progression is an important requisite for CDK4/6 inhibitor response in HR+ breast cancer. Oncotarget. 2018 Jun 12; 9(45): 27736-27751
Sen S, He Z, Ghosh S, Dery KJ, Yang L, Zhang J, Sun Z. PRMT1 Plays a Critical Role in Th17 Differentiation by Regulating Reciprocal Recruitment of STAT3 and STAT5. J Immunol. 2018 Jul 15;201(2):440-450
Yun X, Zhang K, Wang J, Pangeni RP, Yang L, …, Raz DJ. Targeting USP22 Suppresses Tumorigenicity and Enhances Cisplatin Sensitivity Through ALDH1A3 Downregulation in Cancer-Initiating Cells from Lung Adenocarcinoma. Mol Cancer Res. 2018 Jul;16(7):1161-1171
Dery KJ, Silver C, Yang L, Shively JE. Interferon regulatory factor 1 and a variant of heterogeneous nuclear ribonucleoprotein L coordinately silence the gene for adhesion protein CEACAM1. J Biol Chem. 2018 Jun 15;293(24):9277-9291.
Li S, Ali S, Duan X,.. Yang L,.. Zheng L, Shen B. JMJD1B Demethylates H4R3me2s and H3K9me2 to Facilitate Gene Expression for Development of Hematopoietic Stem and Progenitor Cells. Cell Rep. 2018 Apr 10;23(2):389-403
Wang X, Walter M,..Yang L,..Forman S. Lenalidomide enhances the function of CS1 chimeric antigen receptor redirected T cells against multiple myeloma. Clin Cancer Res. 2018 Jan 1;24(1):106-119
Yang L, Liu JC, Lu Q, Riggs A, X Wu. SAIC: An iterative clustering approach for analysis of single cell RNA-seq data. BMC Genomics. 2017 Oct 18(Suppl 6):689
Gu Y, Zhang JW,.. Yang L,.. Huang W. Stabilization of the c-Myc protein by CAMKIIγ promotes T-cell lymphoma. Cancer cell 2017 July; 32: 115-128
Chang J, Mancuso MR, Maier C,.. Yang L,.. Kuo CJ. Gpr124 is essential for blood-brain barrier intergrity in central nervous system disease. Nat Med. 2017 Apr;23(4): 450-460
Zhang K, Wu X,.. Yang L,.. Kim JY. Circulating miRNA profile in esophageal adenocarcinoma. Am J Cancer Res. 2016 Nov 1;6(11):2713-2721
Zhou L, Dai H,.. Yang L,.. Shen B. Role of FEN1 S187 phosphorylation in counteracting oxygen-induced stress and regulating postnatal heart development. FASEB J. 2016 Sep 30
Li Z, Oganesyan D,.. Yang L.. Gutova M. L-MYC Expression Maintains Self-Renewal and Prolongs Multipotency of Primary Human Neural Stem Cells. 2016 Sep 13;7(3):483-95
Cui Q, Yang S,.. Yang L.. Shi Y. Downregulation of TLX induces TET3 expression and inhibits glioblastoma stem cell self-renewal and tumorigenesis. Nat Communications. 2016 Feb 3;7:10637
Jin SG, Xiong W, Wu X, Yang L, Pfeifer G. The DNA methylation landscape of human melanoma. Genomics. 2015 Dec; 106(6):322-30
Wang J, Zhang K,.. Yang L,.. Yen Y. Underexpression of LKB1tumor suppressor is associated with enhanced Wnt signaling and malignant characteristics of human intrahepatic cholangiocarcinoma. Oncotarget. 2015 May;6(22):18905-18920
Wang C, ..Yang L,.. Tong W. The concordance between RNA-seq and microarray data depends on chemical treatment and transcript abundance. Nat Biotechnol. 2014 Sep; 32(9):926-32.
Yang L, Valdes R Jr, Taubert D, Linder MW. A Diagnostic Informatics Approach for Stratifying risk outcome based on combined genotype effects. Ther Drug Monit. 2012 Jun;34(3):283-8.
Yang L, Brozovic S, Long YS, Kralik PM, Waigel S, Zacharias W, Zheng S, Epstein PN. Inflammatory gene expression in OVE26 diabetic kidney during the development of nephropathy. Nephron Exp Nephrol.2011 May;119(1):e8-e20
Zheng S, Huang Y, Yang L, Chen T, Xu J, Epstein PN. Uninephrectomy of diabetic OVE26 mice greatly accelerates albuminuria, fibrosis, inflammatory cell infiltration and changes in gene expression. Nephron Exp Nephrol. 2011 June;119(1):e21-e23
Kralik PM, Long Y, Song Y, Yang L, Wei H, Coventry S, Zheng S, Epstein PN. Diabetic albuminuria is due to a small fraction of nephrons distinguished by albumin-stained tubules and glomerular adhesions. Am J Pathol. 2009 Aug;175(2):500-9.
Yang L, Zheng S, Epstein PN. Metallothionein over-expression in podocytes reduces adriamycin nephrotoxicities. Free Radic Res. 2009 Feb;43(2):174-82.
Zheng S, Carlson EC, Yang L, Kralik PM, Huang Y, Epstein PN. Podocyte-specific overexpression of the antioxidant metallothionein reduces diabetic nephropathy. J Am Soc Nephrol. 2008 Nov;19(11):2077-85.