Camilla Row, 39, was stunned by her diagnosis, but City of Hope specialist Yanghee Woo, M.D., had a treatment plan for her
The news hit like a lightning bolt.
"I didn't even know you could get cancer in the stomach!"
Back in 2018, Camilla Row, a Korean American clinical psychologist from Orange County, California, was leading a charmed family life. Married to actor Brennan Elliott since 2011, the couple had two small children, Liam, age 5, and Luna, 3. Everyone was happy and healthy.
But Row's stomach had been bothering her for some time. She had heartburn that wouldn't go away. "The pain was burning, stabbing, and most nights I was in tears. I would wonder if I was having a heart attack," she recalled. Though she'd had heartburn each time she was pregnant, this felt different. 
The 39-year-old mother saw her doctor, who put her on antacids. They worked, until she tried to stop taking them and the rebound discomfort was intense.
She went to a gastroenterologist. More antacids. Warnings about too much coffee, spicy foods, etc. But she didn't get better.
A third doctor decided to investigate further, performing an endoscopy to look inside Row's stomach. It revealed an 18-19 millimeter whitish area that resembled an ulcer, or perhaps some scar tissue.
It was neither. Follow-up tests confirmed a much grimmer diagnosis: Row had poorly differentiated gastric adenocarcinoma, an aggressive form of stomach cancer.
"I was in shock. I was in disbelief," she said. "I felt intense panic and fear. And I thought it was a death sentence."
It made no sense, she thought. She had always been the healthy one. The high school athlete who excelled at swimming and track. The young adult who maintained a fit lifestyle. ("I first met my husband at the gym," she said.) Besides, cancer was an old person's disease, she thought. How could this happen to her? 
At Risk
Sadly, it did make sense.
Although it's not one of the top 10 cancers in the U.S., gastric cancer is a global scourge, afflicting more than a million people worldwide each year. Nearly half of those cases are in China, but South Korea's stomach cancer rate is more than twice as high, striking 35 out of every 100,000 people. Kim, born in America but of Korean ancestry, thinks about that, looking back ruefully.
"In South Korea they start testing for gastric cancer at 35. Had I lived in Korea …" her voice trails off.
Nor do people of Asian descent leave their high risks behind when they immigrate to the West. Whether it's a dietary culture that favors salty, smoked foods, certain genetic mutations (especially on the CDH-1 gene) or the stubborn presence of the H. pylori bacteria — the No. 1 risk factor for gastric cancer — Asian Americans have triple the risk of stomach cancer compared to non-Asian, non-Hispanic whites.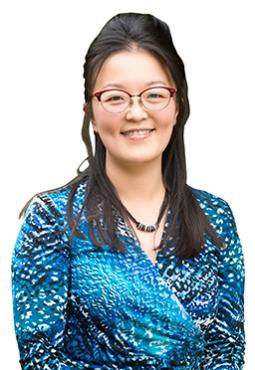 And yes, cancer is often the "old person's disease," but the stomach cancer rate among older Americans is dropping, while studies point to an alarming increase in gastric cancer in people under 50. No one is quite sure why. "My youngest patient was 22," said surgical oncologist Yanghee Woo, M.D., a global authority on gastric cancer and City of Hope's director of the Gastroenterology Minimally Invasive Therapies Program.
Row's cancer was staged 1B. She had surgery to remove her stomach, followed by eight rounds of chemotherapy. It is quite possible to live a normal life without a stomach, and six months after her operation, Row felt normal again. For a while, the cancer stayed away.
But stomach cancer is a stubborn foe. According to the National Institutes of Health, more than 90% of patients relapse within five years after surgery, and 70% relapse within two years.
In late 2021, one of Row's regular blood tests tracking circulating tumor DNA turned up positive, and by January 2022, doctors had found tumors on Row's ovaries. This meant her cancer had progressed to Stage 4, a terrifying prospect.
"It really scared me," she recalled. "My cancer had been hibernating somewhere, even though my stomach was gone."
She had more surgery to remove her ovaries and fallopian tubes, then followed up with a powerful chemotherapy combination known as FLOT, an acronym for fluorouracil, leucovorin, oxaliplatin and docetaxel. Nevertheless, in more than half those cases, cancer will eventually return in the peritoneum, the abdominal lining. 
Doctors told Row that she might need chemotherapy treatments "forever," and with no guarantees. Not good enough, she thought. She wanted to fight for her life, for her family. She wanted more.
A Second Opinion
That's when a friend who is a fellow stomach cancer patient told Row about City of Hope and Woo. At their first meeting, Woo made no promises, but said simply, "I think I can help you."
Row knew she'd found her answer.
"It was emotional for me," she remembered. "I sensed something different in her. I admired her vision, her confidence and her out-of-the-box thinking."
What she was sensing, perhaps, was Woo's single-minded focus: to eradicate gastric cancer.
"It's my life's dedication," said Woo, without the slightest hesitation.
Woo's plan for Row involved yet more surgery to remove any isolated tumor traces that could be found, followed by a sometimes controversial treatment known as HIPEC: hyperthermic intraperitoneal chemoperfusion, in which chemotherapy drugs are heated and pumped directly into the abdominal cavity, where they circulate for a period of time before being flushed out. This method delivers a chemotherapy concentration 40 times stronger than standard intravenous chemotherapy, which can have difficulty reaching the peritoneal area effectively. 
Over the last 40 years, the data on HIPEC has been mixed; it is not yet the standard of care. Nevertheless, Woo believed Row would be a good candidate.
"She had a low PCI [peritoneal cancer index] score," Woo explained, "there was no cancer anywhere else, she had responded well to surgery and chemo, plus she was young, otherwise healthy and driven to live. She met all the criteria."
It wasn't easy. Row needed the procedure four times, each tracked dutifully by husband Brennan and shared on their social media accounts. "There is no one I consider braver, stronger, more fearless," he wrote, "even when you're faced with a sinister opponent who never plays fair." 
The first three tries produced less than ideal results. It was discouraging. And it was personal.
"For better or for worse, I find myself emotionally connected with my patients," said Woo, "but could Camilla feel how devastated I was when we went in for that fourth HIPEC? Yet, as I said a prayer, I thought, 'We were not giving up today.'"
A Second Chance
But the fourth time was the charm. On March 6, 2023, all of the postprocedure tests came back negative. No cancer anywhere. Woo couldn't wait to pick up the phone and share the good news.
"Being able to give hope to a patient with so much to live for — I could not stop smiling during the call. Giving the gift of time is the privilege of cancer surgeons and the best part of my lifetime commitment to curing cancer."
Brennan told the world.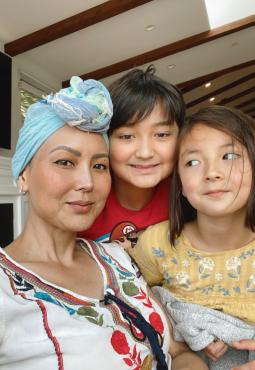 "Today is a day to rejoice in God's mercy and grace," he wrote on Instagram. "From the bottom of my heart, thank you to every one of you who has prayed for us and encouraged us along the way. I can't put into words how thankful and grateful we are as a family for your support! I am on cloud nine!!"
No one has any illusions here. The vast majority of Stage 4 patients do not survive.
"I don't know if this is forever," said Woo. "I have to find a better cure for Camilla before her cancer comes back." 
As for Row, having been knocked down and gotten back up so many times, she is determined to continue the fight and prove that Stage 4 can be defeated. And, she says, so far, so good.
"I'm the luckiest girl in the world," she declared. "Everything came together for me. But I worked really hard. I didn't take no for an answer.
"I feel very fortunate that I found City of Hope and Dr. Woo, who understood my risk. I find solace in that."
"And I hope my story gives other patients hope. 
"You may have to fight for it. Carve your own path."
---