Orange County's Most Integrated Gynecologic Oncology and Urogynecologic Program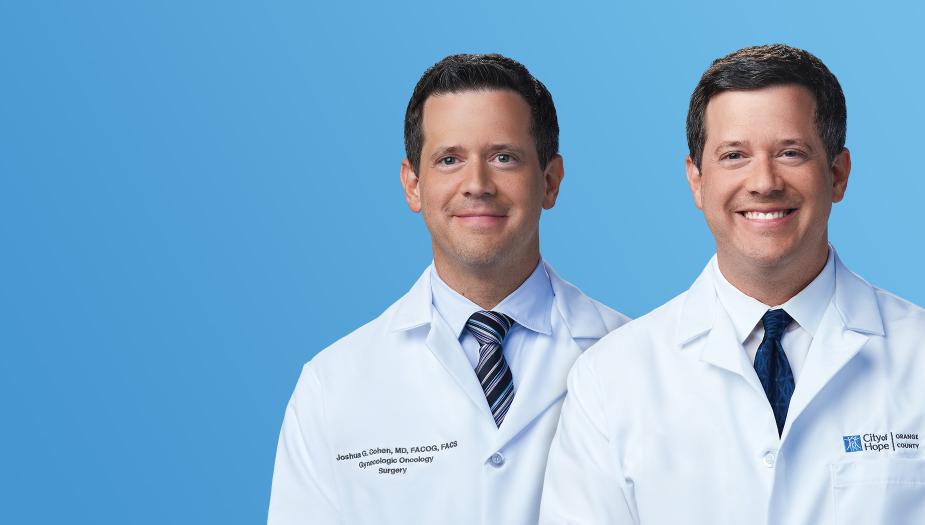 City of Hope has developed Orange County's most integrated program for gynecologic oncology and urogynecologic care. This unique program offers patients a broad range of expertise in cancer treatment, complex non-cancerous gynecologic disorders, urogynecology and pelvic floor dysfunction.
Physician Referral Fax: 949-777-6750
Conditions Treated & Treatment Options
Treatments and Conditions
Gynecologic Oncology Conditions Treated
Basic Text Field
Gynecologic pre-cancer prevention
Ovarian cancer (ovaries, fallopian tubes, etc.)
Uterine cancer (uterus, endometrium, etc.)
Cervical cancer (neoplasms of the cervix, vulva, etc.)
Vaginal cancer, vulvar cancer
Genetic predispositions (BRCA1, BRCA2, Lynch syndrome)
Strong family history of cancer (ovarian, uterine and breast)
Advanced endometriosis
DES exposure in utero
Cervical stenosis
Pelvic and ovarian masses
Cervical, vaginal and vulvar dysplasia
Gynecologic Oncology Treatment Options
Basic Text Field
Diagnosis and surgical management of cancerous conditions
Tumor cytoreduction
Robotic surgery
Advanced laparoscopic procedures
Fertility-preserving surgery
Systemic treatment — chemotherapy, immunotherapy, targeted therapy
Clinical trials
Laser ablation
Risk-reducing surgery for genetic predispositions to cancer
Reconstruction for complex congenital anomalies of the gynecologic tract
Hormone replacement therapy due to premature surgical menopause
Fertility-preserving treatment options
Urogynecologic Conditions Treated
Basic Text Field
Pelvic floor disorders
Urinary incontinence
Fecal incontinence
Pelvic organ prolapse
Recurrent UTI
Urethral diverticulum
Hematuria
Vaginal stenosis
Pelvic pain, interstitial cystitis
Vesicovaginal and rectovaginal fistulas
Overactive bladder syndrome
Congenital anomalies of the genitourinary tract
Neurogenic bladder
Post-delivery pelvic floor dysfunction
Vaginal atrophy
Urogynecologic Treatment Options
Basic Text Field
Medical management of urinary urgency and frequency
Surgical management of stress urinary incontinence
Robotic-assisted laparoscopic surgery
Transvaginal reconstructive surgery
Native tissue vaginal surgery
Fistula repair
Complex reconstruction of the pelvic floor
Pelvic organ prolapse repair
BOTOX® treatment for overactive bladder
Sacral neuromodulation
Percutaneous tibial nerve stimulation (PTNS)
Non-surgical treatment of pelvic floor disorders
Fertility-preserving treatment options
Basic Text Field
A previvor has an elevated risk of being diagnosed with cancer due to cancer genetic markers. As an example, BRCA1 and BRCA2 are two of the most commonly known genes. Our City of Hope care team can reduce or eliminate the cancer predisposition before it develops or is detected through diagnostics.
Basic Text Field
To study and consider the molecular and cellular features of a tumor as well as those of its microenvironment in addition to the individual's traits, such as genetics and lifestyle, in order to develop a customized treatment.
 
Basic Text Field
Experts, among the top in their field in the nation for diagnostic capabilities, can diagnose rare diseases that are difficult to detect.
Basic Text Field
Our industry-leading radiation oncologists utilize their advanced knowledge in combination with external beam radiation techniques such as IMRT and SBRT,
along with high-dose rate brachytherapy, to optimize treatment outcomes.
Clinical Research and Trials
Basic Text Field
Offering access to nearly 1,000 innovative Phase 1–3 clinical trials, bringing patients promising new treatments long before they become the standard of care.
Basic Text Field
Nationally recognized supportive care services and programs helping patients and their families ease the physical, emotional and psychological burdens of a life-changing diagnosis, including social work, support groups, integrative medicine, and physical medicine and rehabilitation.
Compassionate and Inclusive Care
Basic Text Field
Recognized by the Human Rights Campaign Foundation as a 'Leader in LGBTQ+ Healthcare Equality.'
 
Retail and Specialty Pharmacy
Basic Text Field
Fills and dispenses prescriptions and offers over-the-counter medications, alleviating the burden of going elsewhere.
 
Basic Text Field
A full-service salon and specialty shopping experience with oncology trained cosmetologists.
City of Hope Orange County's Gynecologic and Urogynecologic Experts
With a focus on precise imaging and selective, targeted treatments, our physicians and researchers are industry-leading pioneers in harnessing the precision and power of advanced techniques to kill cancer cells while preserving a patient's quality of life.

Gynecologic and Urogynecologic Leadership
Gynecologic and Urogynecologic Specialists
INTERVENTIONAL RADIOLOGY
---
Jason Salsamendi, M.D.
Interventional Radiology
SUPPORTIVE CARE
---
Jessican Cheng, M.D.
Physical Medicine and Rehabilitation
Shui Yu, P.T.
Physical Therapy
Kailey Proctor, M.P.H., R.D.N., C.S.O.
Oncology Dietician
RADIATION ONCOLOGY
---
Amanda Schwer, M.D.
Radation Oncology
ENDOCRINOLOGY
---
Nairi Berner, M.D., M.S.
Endocrinology
Samar Singh, M.D.
Endocrinology
Section Header Title Text
Contact Us
Section Subheader
For more information about our comprehensive cancer programs, or to schedule a one-on-one with a City of Hope cancer expert, please contact one of our physician liaisons:
Expert and compassionate care through our City of Hope network, including City of Hope Orange County Lennar Foundation Cancer Center and seven network locations in Irvine Sand Canyon, Newport Beach Lido, Newport Beach Fashion Island, Huntington Beach, Long Beach and Torrance.
City of Hope believes that patients benefit from a collaboration between us and their referring physicians. We work in partnership with you, communicating with you frequently, and focusing on helping patients return to your care when they complete their treatment. Learn more about our programs and services.