City of Hope Named As One Of Orange County's Best Places To Work
At City of Hope Orange County, caring for the whole person is at the center of our compassionate approach. Not only do we believe this for our patients, but it is the foundation of our approach to the employee experience. We strive to be the best we can be — for you and for each other. That's why the Orange County Business Journal has named City of Hope Orange County as one of the Best Places to Work.
City of Hope, a world-renowned center for cancer research and treatment, is building a comprehensive cancer campus in Irvine and an Orange County network of care. The first clinical location in Orange County is thriving in Newport Beach, with nationally recognized cancer specialists, a state-of-the-art infusion center, and outpatient facilities offering world-class cancer care close to home for local patients and families. At the same time, the Irvine campus' Lennar Foundation Cancer Center is under construction and slated to open in 2022, followed by the county's only specialty cancer hospital in 2025. When completed, City of Hope will bring advanced care, research and groundbreaking cancer treatments to a community with growing needs.
Making the vision a reality requires a special kind of team: physicians, scientists, researchers, nurses and health care professionals who want to be part of transforming the future of health in Orange County all while staying true to the passion, innovation and collaboration that thrives at City of Hope.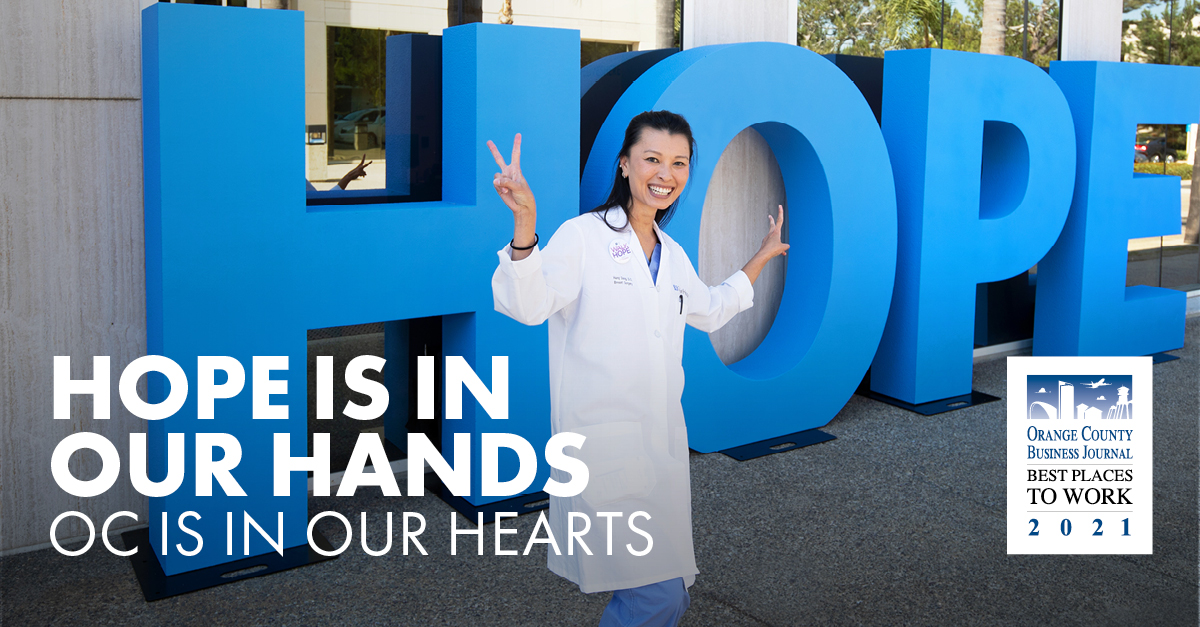 "We're placing a great amount of care to preserve who and what makes City of Hope special as we carry on the mission in Orange County," said Annette Walker, City of Hope Orange County president. "This recognition speaks volumes to City of Hope's 108-year legacy and culture that remains at the forefront of our expansion into this new community." 
Nicole Beltran, project manager at City of Hope Orange County and among the first 10 hires, agrees with this testament. "It is no understatement to say that hope becomes a reality here," said Beltran. "As someone who has personally experienced the impact that cancer has, I understand what it means to truly feel supported by an organization like City of Hope. The holistic level of care and dedication to excellence is what sets City of Hope apart and has inspired my work since day one."
Wade Smith, M.D., a medical oncologist specializing in breast cancer at City of Hope | Newport Beach, says one of the things that makes City of Hope unlike any other cancer center is the science of personalized care. "What's unique about the care we provide is we, as specialists, are disease focused. Some of us specialize in breast cancer, some of us specialize in colon cancer, some of us specialize in blood disorders or diabetes. In addition to being diseased focused, we personalize care specific to the patient's condition. And that begins at level of the DNA, for instance, within a cancer cell on outward so that we can provide directed and focused therapy to their unique condition."
 
Surgery scheduler Lupe Esquivel finds fulfillment in personalizing her patient interactions at our Newport Beach location. "I love working at City of Hope because I'm able to help patients from the beginning, from the time that they enter our doors to the time that they finish with all their treatment. And we're all very family-oriented here, so even our patients feel like our family here."
 
It's our people who make City of Hope the best place to work and the best place to receive cancer care in Orange County. Our team is united in our vision, speeding pioneering cancer treatments and scientific breakthroughs to the people who need them today.
 
Discover world-class cancer care, close to home. Call City of Hope | Newport Beach at (949)-763-2204 or click here to request an appointment.