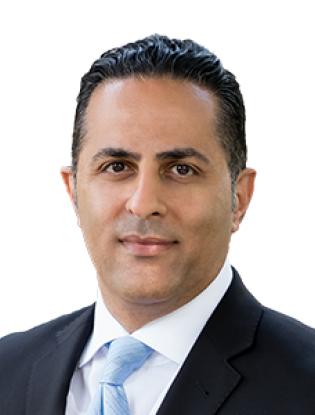 Radiologist
Appointments
Assistant Clinical Professor, Department of Diagnostic Radiology
Pejman Motarjem, M.D., earned his undergraduate degree from California State University Northridge before pursuing his master's in medical sciences from Boston University School of Medicine in Massachusetts. While at Boston University, he received his medical doctorate before starting an internship in internal medicine at Mount Auburn Hospital in Cambridge, Harvard School of Medicine. Dr. Motarjem continued his education with a diagnostic radiology residency at Saint Vincent Hospital in Worcester, Massachusetts, where he was named chief resident. In 2012, he completed his training with a fellowship in Body/Cross-Sectional Imaging at Johns Hopkins School of Medicine in Baltimore.

Board-certified in diagnostic radiology, Dr. Motarjem's skillset includes a wide range of body imaging tools such as magnetic resonance imaging (MRI), computed tomography (CT), positiron emission tomography/CT and ultrasound. His interests are staging of rectal and prostate cancer by MRI. Dr. Motarjem has published several book chapters, articles in peer-reviewed journals and studies.
2011, American Board of Radiology, Diagnostic Radiology

2010, National Board of Medical Examiners
2004, M.D., Boston University School of Medicine, Boston, MA

1999, M.Msc., Boston University School of Medicine, Boston, MA

1995, B.A., Cellular Biology, California State University Northrigdge, Northridge CA
2011-2012, Body/Cross-Sectional Imaging, Department of Radiology, Johns Hopkins Hospital, John Hopkins School of Medicine
2007-2011, Chief Resident, Diagnostic Radiology, Saint Vincent Hospital, Worcester, MA
2006-2007, Internal Medicine, Mount Auburn Hospital, Harvard University School of Medicine, Cambridge, MA
1994, Outstanding Achievement in Field of Biology Award, Department of Biology, California State University Northridge
American College of Radiology

American Medical Association

American Roentgen Ray Society

Radiological Society of North America
Motarjem PM, Targonska BI, Sicard K, Saghir A, Kowal D. Incidental hepatic steatosis on abdominal MRI examinations: A retrospective study. Poster presentation at Society of Computed Body Tomography & Magnetic Resonance. Washington DC, 2011.
Saghir A, Motarjem PM. Annular Pancrease. Radiology Case Reports. 2011.
Johnson TS, O'Neill AC, Motarjem PM, Amann C, Nguyen T, Randolph MA, Winograd JM, Kochevar IE, Redmond RW. Photochemical Tissue Bonding: A Promising Technique for Peripheral Nerve Repair. Journal of Surgical Research. 2007 Dec; 143(2):224-229
Craff MN, Zeballos JL, Johnson TS, Ranka MP, Howard R, Motarjem P, Randolph MA, Winograd JM. Embryonic Stem Cell-Derived Motor Neurons Preserve Muscle after Peripheral Nerve Injury. Plastic and Reconstructive Surgery. 2007 Jan; 119(1):235-45.
Johnson TS, O'Neill AC, Motarjem PM, Nazzal J, Randolph M, Winograd JM. Tumor Formation Following Murine Neural Precursor Cell Transplantation in a Rat Peripheral Nerve Injury Model. Journal of Reconstructive Microsurgery. 2008 Nov; 24(8):545-550.
Xu JW, Johnson TS, Motarjem PM, Peretti GM, Randolph MA, Yaremchuk MJ. Tissue-Engineered Flexible Ear-Shaped Cartilage. Plastic and Reconstructive Surgery. May; 115 (6):1633-41
Tal R, Voelzke BB, Land S, Motarjem P, Munarriz R, Goldstein I, Mulhall JP. Vasculogenic erectile dysfunction in teenagers: a 5-year multi-institutional experience. British Journal of Urology International. 2009 Mar; 103(5):646-50.