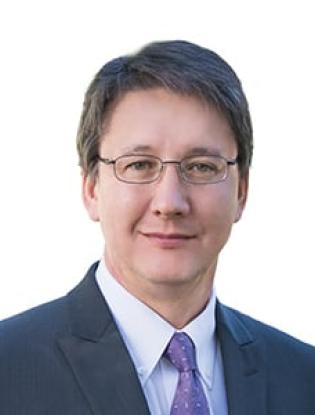 Vice Provost and Deputy Director, Beckman Research Institute; Dr. & Mrs. Allen Y. Chao Chair in Developmental Cancer Therapeutics
Research Area
Driving Drug Discovery through Natural Products, Individualized Medicine, and Creation of New Platform Technologies
COH29: A Novel Small Molecule Inhibitor of Ribonucleotide Reductase and DNA Repair
LEO-12-1406: A Novel Small Molecule Inhibitor of Histone Methyltransferase SUV39H1
Indirubins and Stat3: An active anti-cancer component of the Traditional Chinese Medicine Dang Gui Long Hui Wan
Appointments
Dean of Faculty Affairs
Co-director, Drug Discovery and Structural Biology Core
Professor, Department of Molecular Medicine
David Horne, Ph.D., is vice provost and deputy director of Beckman Research Institute of City of Hope and dean of faculty affairs. In this role, he oversees the International Research Programs and the Office of Faculty Affairs. Dr. Horne and Steven T. Rosen, M.D., provost, chief scientific officer and Morgan & Helen Chu Director's Chair of the Beckman Research Institute, are institutional leaders in all aspects of academic scientific and medical education, shaping the scientific and educational vision for City of Hope. As deputy director, Dr. Horne assists Dr. Rosen in his responsibilities as director of Beckman Research Institute of City of Hope.

Dr. Horne is well-known for his scientific and research expertise, as well as his ability to build strong relationships with faculty and leaders across our organization and at partnering institutions. He has held numerous leadership positions since first joining Beckman Research Institute of City of Hope in 2006, including his most recent role as interim director. Dr. Horne's professional experience is complemented by impressive academic achievements in the area of medicinal chemistry and drug development. Dr. Horne holds a Ph.D. in chemistry from the Massachusetts Institute of Technology and B.S. in chemistry from UCLA. He was a National Institutes of Health postdoctoral fellow at the California Institute of Technology, as well as a Beckman Young Investigator and National Science Young Investigator Awardee.
Ph.D., Massachusetts Institute of Technology

M.S., University of California Los Angeles

B.S., University of California Los Angeles
California Institute of Technology
Driving Drug Discovery Through Synthetic Chemistry, Individualized Medicine, and the Creation of New Platform Technologies
Natural products possess a long and storied history in the discovery of lead compounds and important medicines for the treatment of human disease. This is particularly notable in the area of cancer research, where, according to data published by the National Cancer Institute, 74% of the small molecule chemical entities introduced as new drugs worldwide between 1981 to 2001 can be traced to or were inspired by natural products. Moreover, natural products synthesis is an integral part of the drug development process. Pharmacophore identification, optimization of lead compounds, and creating novel structural scaffolds inspired by nature are achieved by synthetic means.

An integral aspect of our research program at City of Hope involves the application of complex molecule synthesis to the generation and development of novel therapeutic agents for the molecular-targeted treatment of cancer and diabetes. Particular attention is paid to the creation of new pharmacophore scaffolds, physiochemical properties, and understanding the genetic and mechanistic aspects of cancers in order to develop and apply the personalized therapy. Below are representative examples of translational projects that are currently being advanced to early phase clinical trials.
COH29: A Novel Small Molecule Inhibitor of Ribonucleotide Reductase (RR) and DNA Repair
The essential biological processes of DNA replication and repair require 2'-deoxyribonucleotides. Human RR catalyzes the rate-limiting step in the conversion of ribonucleoside 5'-diphosphates into their corresponding 2'-deoxyribonucleotide diphosphates, which are then phosphorylated to form deoxyribonucleotide triphosphates (dNTPs). RR consists of two protein subunits, RRM1 and RRM2, both of which are required for enzymatic activity. RR inhibitors are effective anti-cancer agents. Because rapidly dividing tumor cells have an increased need for dNTPs, they are far more sensitive to the cytotoxic effects of RR inhibition than normal cells. In addition, there is a growing body of evidence that implicating that overexpression of RRM2 is associated with neoplasia, metastatic potential, and poor prognosis in human cancers. Numerous small molecule inhibitors, such as hydroxyurea (HU), gemcitabine (approved for human use) and triapine, interact with the RRM2 subunit and inhibit RR activity. These small molecules, however, are either not completely specific to the RRM2 protein, have unwanted side-effects (e.g., hypoxia from triapine), or develop rapid resistance (HU). Therefore, work continues on improving specificity and efficacy of RRM2 inhibitors.
Through the use of a molecular screening assay for inhibitors of human ribonucleotide reductase, several leads were identified from which COH29 was developed. COH29 is an aromatically substituted thiazole compound [N-(4-(3,4-dihyrophenyl)-5-phenylthiazol-2-yl)-3,4-dihydroxybenzamide] that is a novel small molecule inhibitor of ribonucleotide reductase (RR) activity. COH29 (US Patent No. 7,956,076) was developed from virtual screening of the National Cancer Institute (NCI) Diversity Set with 2000 compounds (NCI2000) for the ability to bind a pocket on the surface of the M2 subunit of RR predicted by protein structural analysis. Candidate compounds identified from this screening were further optimized through medicinal chemistry and structure activity relationship (SAR) analysis to yield COH29.
Preliminary laboratory data at City of Hope suggest that COH29 represents the first agent of a promising new class of RR inhibitors with the advantages of: (a) a unique mechanism and target specificity that interferes with the radical transfer pathway at the RRM1-RRM2 interface, (b) greater potency than HU with an IC50 in the sub-μM range, and (c) lack of iron chelating-related side effects compared to 3-AP. COH29 has been found to be cytotoxic against human epithelioid cancer KB cell lines that display resistance to HU or gemcitabine as well as KB cell lines overexpressing MDR. Interestingly, BRCA1-mutant HCC breast cancer cell lines displayed greater growth inhibition from COH29 in contrast to BRCA1-wildtype stably-transfected HCC cells. COH29 also inhibits PARP1 activity in KB MDR-overexpressing and gemcitabine-resistant cell lines. In vivo experiments have determined COH29 is well tolerated in up to 400 mg/kg oral daily dosing in Balb/c mice. Doses of 500 mg/kg daily led to mice demonstrating > 10% weight loss, establishing 400 mg/kg daily as the No Observed Adverse Effects Level (NOAEL). Twice daily oral dosing of COH29 at 50 to 100 mg/kg inhibited growth compared to control in lymphoma cell line MOLT-4 cancer mouse xenograft models. Significant growth inhibition in ovarian cancer cell line TOV11LD in mouse xenograft models was achieved with once daily oral dosing of 300 to 400 mg/kg. COH29 is currently manufactured at the Chemical GMP Synthesis Facility (CGSF) at City of Hope and formulated as an oral capsule. The promising preclinical activity of COH29 makes it an ideal candidate for continued development in first-in-human trials.


LEO-12-1406: A Novel Small Molecule Inhibitor of Histone Methyltransferase SUV39H1
Epigenetics is defined as heritable changes in gene expression that are not caused by changes in the DNA sequence itself. Epigenetic aberrations are well described in human cancer and many other diseases including autoimmune diseases, asthma, neurological disorders, HIV and diabetes. Although epigenetic targets represent a promising area for molecularly targeted therapy, the field is still developing with only four FDA-approved cancer drugs in the clinic today (two histone deacetylase and DNA methyltransferase inhibitors). Histone methyltransferases (HMTs) have recently emerged as attractive novel drug targets. At least 22 out of the approximately 50 known human HMTs have been associated with cancer and other diseases.
Epipolythiodioxopiperazines (ETPs) are a class of structurally complex natural products produced by fungi. Recent reports disclosing their anti-cancer properties have attracted much attention. Chaetocin A is representative of this family of natural products.

In collaboration with Dr. Overman's group at the University of California Irvine, a series of novel epipolythiodioxopiperazine (ETP) analogs were synthesized and tested for their anti-cancer properties and ability to inhibit the enzymatic activity of a variety of HMTs. Preliminary results demonstrate that one of these analogs, LEO-12-1406, elicits broad and potent anticancer activity in vitro and in vivo with low nanomolar IC50 values in several cancer cell lines including hepatocelluar carcinoma and acute myeloid leukemia. Moreover, LEO-14-1406 was shown to selectively inhibit SUV39H1 both in vitro and in vivo. In xenograft studies with melanoma A2058 tumor-bearing mice, significant growth inhibition was observed with LEO-12-1406 when administered once daily at 20 mg/kg. Pharmacokinetic parameters following a one-time (20 mg/kg) intraperitoneal or oral administration of LEO-12-1406 in male CD-1 mice demonstrate very favorable PK characteristics for LEO-12-1406 for both, IP (A) and oral administration (B) with T1/2 of 2.4 h and oral bioavailability of approximately 62%, respectively. Preclinical data is currently being collected for an IND application submission in the not-too-distant future for this novel analog and drug target.


Indirubins and Stat3: An active anticancer component of the Traditional Chinese Medicine (TCM) Dang Gui Long Hui Wan
Indirubins are derived from the Inidigo plant and is an active ingredient in the TCM Dang Gui Long Hui Wan. This remedy has been widely used to treat chronic myeloid leukemia. Recent studies have also shown that indirubins may improve survival in glioblastoma by blocking tumor-cell invasion and angiogenesis.
The natural product indirubin itself has very poor aqueous solubility. In a multi-national collaboration with Dr. Richard Jove (Vaccine & Gene Therapy Institute, Florida), Dr. Gerhard Eisenbrand (Technische Universitat, Kaiserslautern) and Dr. Alexios-Leandros Skaltsounis (University of Athens) we have synthesized and screened a relatively large number of water soluble indirubin derivatives. Some of these derivatives show very potent (sub-nanomolar) in vitro IC50 values against recombinant Janus kinases (JAKs) and Src family kinases (SFKs) through the interaction with the kinase's ATP binding site. Constitutively-activated JAKs phosphorylate tyrosyl residues on signal transducer and activator of transcript (STAT) family members, including STAT3, which are associated with critical oncogenic signal transductions in a variety of cancers.
Phosphorylation of both Jak2 and Src is substantially inhibited by these indirubin derivatives in cultured human pancreatic tumor cells. This results in blockade of downstream STAT3 activation and downregulation of Mcl-1 and survivin which are associated with induction of apoptosis. Current research at City of Hope is directed at translating a novel and very promising indirubin clinical candidate to early phase clinical trials. In the process, we are developing a corresponding set of biomarkers to predict response to therapy and correlate activity.


Meditopes: A novel monoclonal antibody platform technology for the selective and enhanced delivery of therapeutic and imaging agents for cancer
A novel interaction between a small peptide (meditope) and the cavity within the 'Fab' arm of a monoclonal antibody (mAb) unique to cetuximab has been recently discovered and structurally characterized by X-ray crystallography for the first time by my colleague, Dr. John Williams (Molecular Medicine). Cetuximab is clinically used to treat head and neck and colorectal cancers. The utility of the meditope-Fab interaction is potentially significant in terms of developing a new platform technology for the selective delivery of therapeutics and imaging agents. Importantly, occupancy of the meditope binding site does not affect the ability of the mAb to bind to its target antigen. Moreover, the meditope binding site in cetuximab. which is a murine-human chimeric antibody, can be grafted onto humanized antibodies such as trastuzumab (Herceptin) making this a truly generalized platform technology. In collaboration with Dr. Williams, we are designing and synthesizing novel synthetic meditopes that possess new functionality for imaging and therapeutic applications. A team of investigators from City of Hope comprised of Drs. Williams (Molecular Medicine), Tijana Talisman (Molecular Medicine), Jinha Park (Radiology) and Horne (Molecular Medicine) recently received a prestigious W.M. Keck Foundation Award to pursue and develop this novel platform technology.

In summary, our laboratory is in a unique position to advance drug discovery through the synthesis and biological evaluation of new materials having therapeutic applications. We utilize synthetic organic chemistry, high-through-put screening, molecular modeling, chemical and molecular biology, biophysical characterization, and genomic profiling to develop molecularly targeted therapies. Although translation of these efforts in collaboration with our clinical colleagues to early phase clinical trials is our primary goal, timing is critical with patients diagnosed with incurable or refractory cancers. The speed and accuracy by which we can develop and test new potentially lifesaving therapies at City of Hope is unparallel. In essence, our program embodies a total translational medicinal chemistry (TMC) effort and involves a team of investigators for developing an individualized approach to medicine. The creation and synthesis of new materials is at the cornerstone of developing new therapeutics. TMC at City of Hope is an integral part of the Developmental Cancer Therapeutics Program within our NCI-designated comprehensive cancer center.
Beckman Young Investigator

National Science Young Investigator
Yadav S, Kowolik C, Lin M, Zuro D, Hui S, Riggs A, Horne D. SMC1A is associated with radioresistance in prostate cancer and acts by regulating epithelial-mesenchymal transition and cancer stem-like properties. Molecular Carcinogenesis 2019 58(1): 113-125.
Buettner R, Nguyen LXT, Kumar B, Morales C, Liu C, Chen LS, Pemovsa T, Synold TW, Palmer J, Thompson R, Li L, Hoang DH, Zhang B, Ghoda L, Kowolik C, Kontro M, Leitch C, Wennerberg K, Xu X, Chen CC, Horne D, Gandhi V, Pullarkat V, Marcucci G, Rosen ST. 8-Chloro-Adenosine Activity in FLT3-ITD Acute Myeloid Leukemia." Journal of Cellular Physiology 2019, DOI: 10.1002/jsp.28294. [Epub ahead of print]
Baumann M, Dieskau AP, Loertscher BM, Walton MC, Nam S, Xie J, Horne D, Overman LE. Tricyclic analogues of epidithiodioxopiperazine alkaloids with promising in vitro and in vivo antitumor activity. Chem. Sci. 2015, 6, 4451-4457.
Singhal SS, Singhal J, Figarola JL, Riggs A Horne D, Awasthi S. 2'-Hydroxyflavanone: A promising molecule for kidney cancer prevention. Biochem. Pharmacol. 2015 (pages ahead of print).
Singhal SS, Singhal J, Figarola J, Horne D, Awasthi S. LIP76 Targeted Therapy for Kidney Cancer. Pharmaceut. Res. 2015, (pages ahead of print)
Wen W, Wu J, Liu L, Tian Y, Buettner R, Hsieh M-Y, Horne D, Dellinger TH, Han ES, Jove R, Yim, JH. Synergistic anti-tumor effect of combined inhibition of EGFR and JAK/STAT3 pathways in human ovarian cancer. Mol Cancer, 2015, 14, 1-21.
Korch KM, Eidamshaus C, Behenna DC, Nam S, Horne D, Stoltz BM. Enantioselective Synthesis of α-Secondary and α-Tertiary Piperazin-2-ones and Piperazines by Catalytic Asymmetric Allylic Alkylation. Angew. Chem. Int. Ed. 2015, 54, 179-183.
Wen W, Liang W, Wu J, Kowolik CM, Buettner R, Scuto A, Hsieh M-Y, Hong H, Brown CE, Forman SJ, Horne D, Morgan R, Wakabayashi M, Dellinger TH, Han ES, Yim JH, Jove R. Targeting JAK1/STAT3 Signaling Suppresses Tumor Progression and Metastasis in a Peritoneal Model of Human Ovarian Cancer. Mol. Cancer Ther. 2014, 13(12), 3037-3048.
Wang Y, Han E, Xing Q, Yan J, Arrington A, Wang C, Tully D, Kowolik CM, Lu DM, Frankel PH, Zhai J, Wen W, Horne D, Yip MLR, Yim JH. Baicalein upregulates DDIT4 expression which mediates mTOR inhibition and growth inhibition in cancer cells. Cancer Lett. 2015, 358, 170-179.
Wu Z, Li L, Liu S, Yakushijin F, Yakushijin K, Horne D, Conti PS, Li Z, Kandeel F, Shively JE. Facile preparation of a thiol-reactive 18F-labeling agent and synthesis of 18F-DEG-VS-NT for PET imaging of a neurotensin receptor-positive tumor. J. Nucl. Med. 2014, 55, 1178-1184.
Fan Y, Nam S, Zhao R, Ma Y, Xie J Horne DA, Brown CE, Starr R, Malkas LH, Jove R, Hickey R. J. A Novel Berbamine Derivative Inhibits Cell Viability and Induces Apoptosis in Cancer Stem-Like Cells of Human Glioblastoma, via Up-Regulation of miRNA-4284 and JNK/AP-1 Signaling. PLoS One 2014, 9, e100708.
Shubbir A, Xie J, Horne D, Williams JC. Photocleavable Dimerizer for the Rapid Reversal of Molecular Trap Antagonists. J. Biol. Chem. 2014, 289, 4546-52.
Donaldson JM, Zer C, Avery KN, Bzymek KP, Horne DA, Williams JC. Identification and Grafting of a Unique Peptide-Binding Site in the Fab Framework of Monoclonal Antibodies. Proc. Natl. Acad. Sci. 2013, 110, 17456-61.
DeLorbe JE, Horne D, Jove R, Mennen SM, Nam S, Zhang F-L, Overman LE. General Approach for Preparing Epidithiodioxopiperazines from Trioxopiperazine Precursors: Enantioselective Total Syntheses of (+)- and (-)-Gliocladine C, (+)-Leptosin D, (+)-T988C, (+)-Bionectin A, and (+)-Gliocladin A. J. Am. Chem. Soc. 2013, 135, 4117-4128.
Zhou B, Su L, Hu S, Hu W, Yip MLR, Wu J, Gaur S, Smith DL, Yuan Y-C, Synold TW, Horne D, Yen Y. A Small-Molecule Blocking Ribonucleotide Reductase Holoenzyme Formation Inhibits Cancer Cell Growth and Overcomes Drug Resistance. Cancer Res 2013, 73, 6484-6493.
Lu L, Zhang W, Nam S, Horne DA, Jove R, Carter RG. Amphidinolide B: Total Synthesis, Structural Investigation, and Biological Evaluation. J. Org. Chem. 2013, 78, 2213-2247.