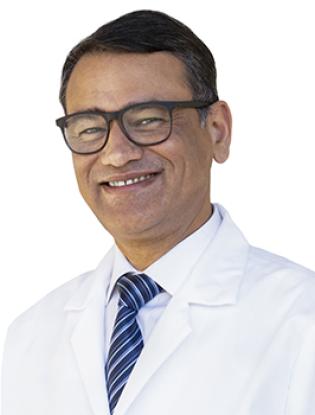 Pathologist
Clinical Expertise
Surgical Pathology
Gastrointestinal Pathology
Research Area
Colon cancer
Appendiceal Mucinous Neoplasms
Gastric/GE Junction Cancers
Appointments
Assistant Clinical Professor, Department of Pathology
Director, Oncologic Surgical Pathology Fellowship
I envision a future where computational pathology will be at the vanguard of personalized medicine
Rifat Mannan, M.D., brings a global perspective and a wealth of expertise to his role as pathologist at City of Hope. Much-honored throughout his career, Dr. Mannan has worked in India, Kuwait and here in the U.S. He specializes in gastrointestinal and liver pathology and is at the forefront of the newest trends in digital and computational pathology.

Raised in Assam in northeastern India, Dr. Mannan received his initial training at Assam Medical College and All India Institute of Medical Sciences in New Delhi. He practiced in India and Kuwait before arriving in the U.S., where he completed residency in anatomic and clinical pathology at New York's Icahn School of Medicine at Mount Sinai, followed by a gastrointestinal and liver pathology fellowship at the Johns Hopkins University.

Prior to City of Hope, Dr. Mannan was a faculty at the Perelman School of Medicine at the University of Pennsylvania, where he also served as director of Pennsylvania Hospital Pathology Residency and Selective Pathology Fellowship programs.

Dr. Mannan is a gifted teacher who is passionate about bringing pathology education to professionals across the world. He co-founded pathCast, an online platform designed "to bridge the knowledge gap in professional pathology education on a global scale."

Dr. Mannan is excited to join City of Hope which he calls a "Center of Excellence." "It is an honor and privilege for me to be part of a team that has a high reputation as a leader in the global fight to conquer cancer."
2017, American Board of Pathology, Anatomic and Clinical Pathology
1997, Bachelor of Medicine, Bachelor of Surgery (M.B.B.S.), Assam Medical College, Dibrugarh, Assam, India
2017-2018, Gastrointestinal and Liver Pathology, Johns Hopkins University, Baltimore, MD
2013-2017, Anatomic and Clinical Pathology, Mount Sinai/St. Luke's Roosevelt Hospital Center, Icahn School of Medicine of Mount Sinai, New York, NY

1998-2001, Pathology, All India Institute of Medical Sciences, New Delhi, India
2021-present, Assistant Clinical Professor, Division of Anatomic Pathology, Director, Oncologic Surgical Pathology Fellowship, Department of Pathology, City of Hope, Duarte, CA

2018-2021, Assistant Professor of Pathology, Perelman School of Medicine at the University of Pennsylvania, Philadelphia, PA

2005-2013, Consultant Histopathologist, Ministry of Health, Kuwait
2019, Honoree, The Pathologist's Power List

2017, Peer Mentorship Award, Department of Pathology at Mount Sinai

2016, Best Resident of the Year, Department of Pathology at Mount Sinai
Mannan R, Waters K, Montgomery E. Drug induced gastrointestinal tract injury. In Wang HL, Chen ZE (Eds). Practical Gastrointestinal Pathology: Frequently Asked Questions. Springer Nature Switzerland; 2021: 267-288.
Waters K, Mannan R, Montgomery E. Non-Barrett Esophagitis. In: Wang HL, Chen ZE (Eds). Practical Gastrointestinal Pathology: Frequently Asked Questions. Springer Nature Switzerland; 2021: 33-54.
Gui H, Husson MA, Mannan R. Correlations of morphology and molecular alterations in traditional serrated adenoma. World J Gastrointest Pathophysiol. 2020 Jun 20;11(4):78-83.
Cima L, Mannan R, Madrigal E, Barbareschi M. Towards a "Net" generation of Pathologists: the pathCast online remote learning platform. Pathologica. 2020 Dec;112(4):160-171. Madrigal E, Mannan R. pathCast: An Interactive Medical Education Curriculum that Leverages Live Streaming on Facebook and YouTube. Acad Med. 2020; 95: 744-750.
Faghih M, Noë M, Mannan R, Kamel IR, Zaheer A, Kalyani RR, Hall E, Afghani E, Warren D, Desai N, Sun Z, Walsh C, Makary MA, Goggins M, Hruban RH, He J, Singh VK. Pancreatic volume does not correlate with histologic fibrosis in adult patients with recurrent acute and chronic pancreatitis. Pancreatology. 2020 Sep;20(6):1078-1084.
Dhorajiya P, Mannan R. Russell Body Barrett's Esophagus. ACG Case Rep J. 2020 Apr 29;7(4): e00367.
Byrnes K, Khararjian A, Mannan AASR, Arnold M, Voltaggio L. Young-Onset Ischemic Colitis: A Condition of Elusive Etiology Frequently Associated With Immune Dysregulation. Int J Surg Pathol.2020Jun;28(4):361-366.
Chatterjee SB, Hou J, Ratnam Bandaru VV, Pezhouh MK, Syed Rifat Mannan AA, Sharma R. Lactosylceramide synthase β-1,4-GalT-V: A novel target for the diagnosis and therapy of human colorectal cancer. Biochem Biophys Res Commun.2019 Jan 8;508(2):380-386.
Khararjian A, Mannan R, Byrnes K, Barker N, Voltaggio L. Are Upfront Levels for Colon "Polyps" Necessary? A Pragmatic Review. Int J Surg Pathol. 2019; 27: 15-18.
FMannan AASR, Khandakar B, Yuan S. Cutaneous Angiomyolipoma of the Ear: A Case Report and Literature Review. Am J Dermatopathol. 2019; 41:144-147.
Mannan AASR, Vieth M, Khararjian A, Khandakar B, Lam-Himlin D, Heydt D, Bhaijee F, Venbrux HJ, Byrnes K, Voltaggio L, Barker N, Yuan S, Montgomery EA. The outlet patch: gastric heterotopia of the colorectum and anus. Histopathology. 2018; 73:220-229.
Matoso A, Khandakar B, Yuan S, Wu T, Wang LJ, Lombardo KA, Mangray S, Mannan AASR, Yakirevich E. Spectrum of findings in orchiectomy specimens of persons undergoing gender confirmation surgery. Hum Pathol. 2018;76:91-99.
Oltulu P, Mannan AASR, Gardner JM. Effective use of Twitter and Facebook in pathology practice. Hum Pathol 2018; 73: 128-143.
Fu P, Mercado D, Malezhik V, Mannan AASR. Case Study: Rare Case of Mantle Cell Lymphoma with Extranodal Involvement in the Foot. J Foot Ankle Surg 2017;56: 1104-8.
Yamada Y, Rodriguez C, Mannan AA, Harrington M. Not so obvious: Acute Herpes Esophagitis. Am J Med 2017; 130: 1161-1162.
Mannan AA, Chen B, Hsieh F, Patil D. Ileal Pouch Biopsy Triggers Investigation and Diagnosis of Systemic Mastocytosis. ACG Case Rep J. 2016; 3: e94.
Mannan AA, Peng JS, Morris-Stiff G, Walsh RM, Hart J, Liu X. Mucinous Cystic Neoplasm of the Pancreas with Extensive Squamous Metaplasia. J Med Cases 2016; 7:187-190.
Pinn DM, D'souza LS, Mannan AA, Benias P, Carr-Locke DL. A rare case of non-Epstein-Barr virus associated lymphoepithelioma-like carcinoma of the esophagus treated with endoscopic submucosal dissection. Gastrointest Endosc 2016; 83: 471-2.
Okoji OY, Mannan AA, Holt PR, Kotler DP. Extranodal T-NK (Natural Killer) cell lymphoma, nasal type masquerading as ileal inflammatory bowel disease. Int J Case Rep Images 2015; 6: 738- 742.
Kim E, Voaklander R, Kasmin FE, Brown WH, Mannan R, Siegel JH. Autoimmune pancreatitis: a multiorgan disease presenting a conundrum for clinicians in the west. Gastroenterol Hepatol 2015; 11: 606- 611.
Mannan AA, Yuan S. Extra pancreatic Solid Pseudopapillary Neoplasm in the Subhepatic Region: a diagnostic dilemma. Pancreat Disord Ther 2015; 5: 2( DOI: HYPERLINK "http://dx.doi.org/10.4172/2165-7092.1000152" 10.4172/2165-7092.1000152).