Sean Maroongroge, M.D., M.B.A.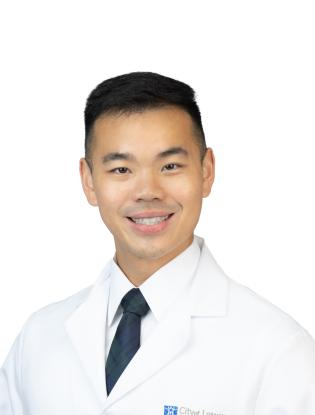 Radiation Oncologist
Clinical Expertise
Radiation Oncology
Head and Neck Cancers
Appointments
Assistant Clinical Professor, Department of Radiation Oncology
Sean Maroongroge, MD, MBA, is a radiation oncologist and assistant clinical professor at City of Hope's Duarte and Orange County campuses, where he is involved in many stages of patient care, from tumor detection through treatment and survivorship. He is an expert in treating head and neck, gynecologic, and prostate cancer and works closely with his patients to find the best solution for their individual needs.
Dr. Maroongroge received his medical degree and master's in business administration from Yale University. He completed his internship at St. Joseph Mercy Hospital Ann Arbor and subsequent training in radiation oncology at MD Anderson Cancer Center. There, he was awarded special recognition for the compassionate care that he delivered to patients.
In his clinical practice, Dr. Maroongroge is a proponent of focused radiation treatments to provide disease control and symptom palliation while placing special emphasis on maintaining a patient's quality of life while controlling the disease. He is highly regarded for utilizing a wide range of techniques that allow him to minimize radiation dose to nearby healthy structures, including Stereotactic Body Radiation Therapy (SBRT), Image-Guided Radiation Therapy (IGRT), Volumetric Modulated Arc Therapy (VMAT), and Brachytherapy. He has applied his background in business administration and certification in medical quality management from the American Board of Medical Quality to lead initiatives to improve access to care and study how technology can best be incorporated to deliver consistently high-quality treatments. His research contributions include numerous peer-reviewed articles and presentations on radiation oncology.
Dr. Maroongroge grew up minutes away from City of Hope's Duarte campus and is honored to serve the Southern California community that he calls home. Outside of the clinic, he enjoys rock climbing and running, exploring new restaurants, and following the NFL and NBA through fantasy sports.

1500 East Duarte Road
Duarte, CA 91010

2017-2018, Master of Business Administration, Yale School of Management, New Haven, Connecticut

2013-2018, Doctor of Medicine, Yale School of Medicine, New Haven, Connecticut
2019-2023, Residency, Radiation Oncology, University of Texas MD Anderson Cancer Center, Houston, Texas

2018-2019, Transitional Year Internship, Saint Joseph Mercy Ann Arbor, Ypsilanti, Michigan
2023-present, Assistant Clinical Professor, Department of Radiation Oncology, City of Hope, Duarte, California
2022, ASTRO Advocacy Day Travel Grant Award

2022, Dr. Mary Fletcher Memorial Award for Compassionate Patient Care

2022, Oncology Fellows Program Travel Grant Award, National Comprehensive Cancer Network

2021, Texas Society of Clinical Oncology Fellows Abstract Competition Award

2017, Yale School of Management Merit Scholarship
American Society of Radiation Oncology

American Society of Clinical Oncology
Maroongroge S, De B, Woodhouse KD, Bassett RL, Lee P, Bloom ES, Smith GL, Frank SJ, Li J, Perkins GH, Das P, Koong AC, Smith BD, Wang C. Physician perspectives on telemedicine in radiation oncology. Adv Radiat Oncol. In Press.
Maroongroge S, Weissferdt A, Buszek S, Rice DC, Smith BD, Gandhi SJ. Management of bronchial adenoma/ciliated muconodular papillary tumor with definitive stereotactic body radiation therapy (SBRT): a case report. Clin Lung Cancer. In Press.
Maroongroge S, Pinnix CC, Wallington DG, Taylor PA, Zhu D, Guadagnolo BA, Smith BD, Yu JB, Ballas LK. Int J Radiat Oncol Biol Phys. In Press.
De B, Fu S, Chen YS, Das P, Ku K, Maroongroge S, Woodhouse KD, Hoffman KE, Nguyen QN, Reed V, Chen A, Koong AC, Smith BD, Smith GL. Patient, physician, and policy factors underlying variation in use of telemedicine for radiation oncology cancer care. Cancer Med. 2022 Mar 16 (online ahead of print)
Maroongroge S, Wallington DG, Taylor PA, Zhu D, Guadagnolo BA, Smith BD, Yu JB, Ballas LK. Geographic access to radiation therapy facilities in the United States. Int J Radiat Oncol Biol Phys. 2022;112(3):600–610.
Mokhtech M, Laird JH Jr, Maroongroge S, Zhu D, Falit B, Johnstone PAS, Mantz CA, Ennis RD, Sandler HM, Dosoretz AP, Yu JB. Drivers of Medicare spending: A 15-year review of radiation oncology charges allowed by the Medicare Physician/Supplier Fee-for-Service Program compared to other specialties. Int J Radiat Oncol Biol Phys. 2021;110(2):322–327.
Maroongroge S, Smith BD, Bloom ES, Ning MS, Wang C, Das P, Koong AC, McAleer MF, Woodhouse KD. Telemedicine for radiation oncology in a post-COVID world. Int J Radiat Oncol Biol Phys. 2020;108(2): 407–410.
Hsiang WR, Gross CP, Maroongroge S, Forman H. Trends in compensation for primary care and specialist physicians after implementation of the Affordable Care Act. JAMA Netw Open. 2020;3(7):e2011981.
Boyce-Fappiano D, Bathala TK, Ye R, Pasalic D, Gjyshi O, Pezzi TA, Noticewala SS, McGinnis GJ, Maroongroge S, Kuban DA, Nguyen QN, McGuire SE, Hoffman KE, Choi S, Tang C, Kudchadker RJ, Frank SJ. Predictors of urinary toxicity with MRI-assisted radiosurgery for low-dose-rate prostate brachytherapy. Brachytherapy. 2020;19(5):574–583.
Maroongroge S. The economics of residency application fees. Acad Med. 2017;92(9):1218.Shih AF, Maroongroge S. The importance of grit in medical training. J Grad Med Educ. 2017;9(3):399.
Hall MK, Hall J, Gross CP, Harish NJ, Liu R, Maroongroge S, Moore CL, Raio CC, Taylor AR. Use of point-of-care ultrasound in the emergency department: Insights from the 2012 Medicare national payment data set. J Ultrasound Med. 2016;35(11):2467–2474.
See more publications on PubMed
See more publications on Google Scholar