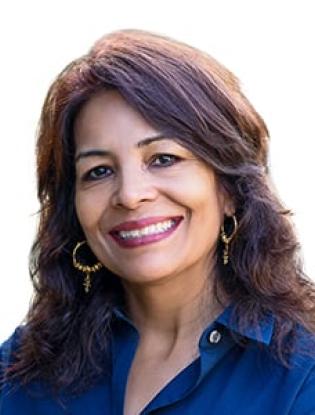 Associate Professor, Department of Supportive Care Medicine
Ratings are pending and will be posted once we receive a sufficient number of surveys.
Clinical Expertise
Neuropsychology
Clinical Psychology
Behavioral Medicine
Research Area
Risk and protective factors of neurocognitive and behavioral outcomes in cancer patients
Inflammatory biomarkers of neurobehavioral functioning
Interventions to improve cancer-related neurocognitive late effects
Validation of psychosocial and neurocognitive screening tools
Parent and family functioning in childhood cancer
Appointments
Associate Professor, Department of Population Sciences and Department of Supportive Care Medicine
Sunita Patel, Ph.D., is a neuropsychologist whose research focuses on the risk and protective factors of cancer-related neurocognitive morbidities. Her research has been funded by grants from the National Institutes of Health, American Cancer Society and California Breast Cancer Research Program. She has conducted interdisciplinary projects to identify inflammatory biomarkers of cognitive dysfunction in adult-onset cancer patients, examined functional outcomes into long-term survivorship, and evaluated interventions to improve health-related quality of life in children with cancer. She has collaborated on funded multicenter studies focused on web-based caregiver interventions, neurocognitive late effects and neuroimaging correlates of treatment-associated cognition.
California Board of Psychology
1996, Ph.D. in clinical psychology, Alliant University, Los Angeles, CA

1989, M.A. in clinical psychology, East Carolina University, Greenville, NC

1985, B.S. in psychology, Barton College, Wilson, NC
1995-1996, Neuropsychology fellowship (adult focus), Reed Neurological Research Center, Department of Neurology, UCLA School of Medicine

1997-1998, Neuropsychology fellowship (pediatric focus), Children's Hospital Los Angeles, Department of Pediatrics, USC School of Medicine
1994-1995, Health Psychology Intern (APA Accredited), Kaiser Permanente Los Angeles Medical Center, Department of Psychiatry

1993-1994, Neuropsychology Intern, Cedars-Sinai Medical Center, Department of Physical Medicine and Rehabilitation
2015-present, Associate Professor, Division of Psychology, Department of Supportive Care Medicine, and Department of Population Sciences, City of Hope, Duarte, CA

2008-2015, Assistant Clinical Professor, Division of Psychology, Department of Supportive Care Medicine, and Department of Population Sciences, City of Hope, Duarte, CA

2003-present, Staff Psychologist, Department of Supportive Care Medicine, City of Hope, Duarte, CA
Research Grants Since 2019
R01CA26193 (Patel) 07/05/2022 to 06/30/2027
National Institutes of Health/National Cancer Institute
Leveraging Digital Solutions to Reduce Learning and Functional Disparities in Children with Cancer
Role: Principal Investigator
RSG-17-023-01 (Patel) 7/1/2017 to 6/30/2022
American Cancer Society
Reducing Learning and HRQOL Disparities in Latino Children With Cancer
To conduct a randomized clinical trial across three pediatric centers comparing a parent-training intervention to standard of care services to improve learning and HRQOL outcomes in Latino children with CNS-directed therapies.
Role: Principal Investigator
R01 CA129769 Mandelblatt (PI) 12/01/2015 to 11/30/2021
NIH NCI
Older Breast Cancer Patients: Rick for Cognitive Decline
The overall goal of this study is to evaluate the risk of cognitive decline in older patients with breast cancer.
Role: Co-Investigator/Site Principal Investigator
2UG1CA189955-06 COG Work Order for NCORP Adamson (PI) 08/01/2019 to 12/31/2020
National Institutes of Health/National Cancer Institute
ACNS1123: Phase 2 Trial of Response-Based Radiation Therapy for Patients with Localized Central Nervous System Germ Cell Tumors
The overall goal is to evaluate reduced cranial radiation on survival and neurocognitive outcomes.
Role: Study Chair for Neurocognitive Component
R01 CA172119 (PI: Hurria & Ahles) 09/01/13 to 08/30/19
Cognition in Older Breast Cancer Survivors: Treatment Exposure, APOE, & Smoking
Examine the association of APOE status, smoking history, and therapeutic exposures on the cognitive performance at study entry and longitudinal change among older breast cancer survivors compared to age- and education-matched controls
Role: Co-Investigator
2021, City of Hope Excellence Award

2018, Health Equity Pilot Research Award

2017, ACS: Giants of Science Hope Award

2013, California Breast Cancer Research Program, Innovative, Developmental, Exploratory Award

2012, American Cancer Society Research Scholar

2007, Blue Ribbon Award, Neuropsychology Division, American Psychological Association

2004, Hope Street Kids Foundation Research Award

2003, University of Southern California, Pilot See Award

2002, American Cancer Society, California Division Special Projects Award

2001, Junior Investigator Research Presentation Award, Pediatric Psycho-oncology Research Summit, Austin
2015-present, American Association of Cancer Research

2015-present, American Congress of Rehabilitative Medicine

2011-present, American Society of Clinical Oncology

2011-present, Psychoneuroimmunology Research Society

2007-2010, American Psycho-Oncology Society

2000-present, Society of Pediatric Psychology

1999-present, National Academy of Neuropsychology

1997-present, International Society of Neuropsychology

1996-present, American Psychological Association
Mandelblatt JS, Zhou X, Small BJ, Ahn J, Zhai W, Ahles TA, Graham D, Jacobsen P, Jim H, McDonald B, Patel, SK, Root JC, Saykin AJ, Cohen HJ, Carroll JE, et al. Deficits accumulation frailty trajectories of older breast cancer survivors and matched non-cancer controls: The Thinking and Living with Cancer (TLC) study. Journal of National Cancer Institute, in press.
Scheper S, Schulte FM, Patel SK, Vannatta K. Cognitive impairment and family functioning of pediatric cancer survivors: a systematic review. Journal of Clinical Oncology, April 22, 22:JCO2002516. doi: 10.1200/JCO.20.02516. Online ahead of print.
Van Dyk K, Zhou X, Small BJ, Ahn J, Zhai W, Ahles, T, Graham D, Jacobsen PB, Jim H, McDonald BC, Nudelman Holohan K, Patel SK, Rebeck GW, Root JC, Saykin AJ, Cohen HJ, Mandelblatt JS, Carroll JE. Protective Effects of APOE ε2 Genotype on Cognition in Older Breast Cancer Survivors: The Thinking and Living With Cancer Study. JNCI Cancer Spectr. 2021 Jan 27; 5. eCollection 2021 April.
Reb AM, Borneman T, Economou D, Cangin MA, Cope DG, Ma H, Ruel N, Sharpe L, Patel SK, Cristea M, Koczywas M, Ferrell B. A nurse-led intervention for fear of cancer progression in advanced cancer: A pilot feasibility study. European Journal of Oncology Nursing. 2020 Dec;49:101855. doi: 10.1016/j.ejon.2020.101855. Epub 2020 Oct 7. PMID: 33120211.
Patel SK, Johansen C, Gold AO, Delgado N, Xu S, Dennis J. Social-ecological predictors of school functioning in Hispanic children treated for cancer with central nervous system-directed therapies. Pediatric Blood and Cancer. 2020 Oct;67(10):e28320. doi: 10.1002/pbc.28320. Epub 2020 Jul 31. PMID: 32735373.
Patel SK, Kim SH, Johansen C, Mullins W, Nolty A, Fernandez N, Delgado N, Folbrecht J, Dekel N, Meier A. Threshold score for the self-report Pediatric Distress Thermometer Rating Scale in childhood cancer patients. Psychooncology. 2020 Oct 25. doi: 10.1002/pon.5583. Epub ahead of print. PMID: 33103298.
Patel SK, Miranda L, Delgado N, Barreto N, Nolty A, Kelly NC, Wilson K, Toomey D, Pawlowska A. Adaptation of an Intervention to Reduce Disparities in School HRQOL for Latino Childhood Cancer Survivors. Journal of Pediatric Psychology. 2020 Sep 1;45(8):921-932. doi: 10.1093/jpepsy/jsaa048. PMID: 32735009; PMCID: PMC7438961
Rebb A, Borneman T, Economou D, Patel S. Cangin M, Sharp L. Fear of Cancer Progression Intervention: Findings from Case Studies and a Nurse-Led intervention. Clinical Journal of Oncology Nursing, 2020 Aug 1;24(4):400-408. doi: 10.1188/20.CJON.400-408. PMID: 32678373
Wong FL, Stiller T, Obenchain R, David C, Patel SK, Xie B, Loscalzo M, Clark K. Validation of a biopsychosocial distress screening tool, "You, Your Family and Are a Team". Psychooncology. 2019 Dec;28(12):2396-2405. doi: 10.1002/pon.5266. Epub 2019 Nov 12. PubMed PMID: 31659816.
Buchbinder D, Patel SK, Casillas JN, Nugent DJ, Neudorf S, Sender LS, Torno L,Huszti H, Zeltzer LK, Parsons SK. Parent proxy assessment of sibling quality of life following pediatric hematopoietic cell transplantation. Health Qual Life Outcomes. 2019 Oct 29
Chen BT, Ye N, Wong CW, Patel SK, Jin T, Sun CL, Rockne RC, Kim H, Root JC,Saykin AJ, Ahles TA, Holodny AI, Prakash N, Mortimer J, Sedrak MS, Waisman J,Yuan Y, Li D, Vazquez J, Katheria V, Dale W. Effects of chemotherapy on aging white matter microstructure: A longitudinal diffusion tensor imaging study. JGeriatr Oncol. 2020 Mar;11(2):290-296
Mandelblatt JS, Zhai W, Ahn J, Small BJ, Ahles TA, Carroll JE, Denduluri N, Dilawari A, Extermann M, Graham D, Hurria A, Isaacs C, Jacobsen PB, Jim HSL, Luta G, McDonald BC, Patel SK, Root JC, Saykin AJ, Tometich DB, Zhou X, Cohen HJ. Symptom burden among older breast cancer survivors: The Thinking and Living With Cancer (TLC) study. Cancer. 2020 Mar 15;126(6):1183-1192.
Sharafeldin N, Richman J, Bosworth A, Chen Y, Singh P, Patel SK, Wang X, Francisco L, Forman SJ, Wong FL, Bhatia S. Clinical and Genetic Risk Prediction of Cognitive Impairment After Blood or Marrow Transplantation for Hematologic Malignancy. J Clin Oncol. 2020 Feb 21
Murdaugh DL, Bosworth A, Patel SK, Sharafeldin N, Chen Y, Francisco L, Forman SJ, Wong FL, Bhatia S. Self-endorsed cognitive problems versus objectively assessed cognitive impairment in blood or bone marrow transplantation recipients: A longitudinal study. Cancer. 2020 Feb 25.
Chen BT, Jin T, Patel SK, Ye N, Ma H, Wong CW, Rockne RC, Root JC, Saykin AJ, Ahles TA, Holodny AI, Prakash N, Mortimer J, Waisman J, Yuan Y, Li D, Sedrak MS, Vazquez J, Katheria V, Dale W. Intrinsic brain activity changes associated with adjuvant chemotherapy in older women with breast cancer:a pilot longitudinal study. Breast Cancer Res Treat. 2019, July 176(1):181-189.
Chang HA, Barreto N, Davtyan A, Beier E, Cangin MA, Salman J, Patel SK. Depression predicts longitudinal declines in social support among women with newly diagnosed breast cancer. Psycho oncology, 2019 Mar:28(3):635-642