Susan J. Brown, Ph.D., R.N.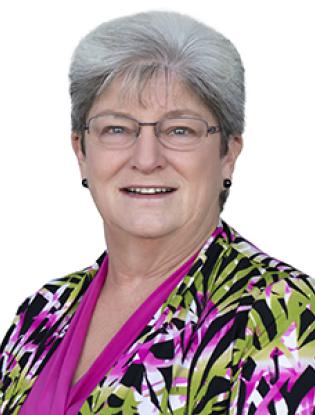 Senior Vice President Of Patient Care Services And Chief Nursing Officer
Susan J. Brown, Ph.D., R.N., CENP, senior vice president of patient care services and chief nursing officer provides vision, leadership and guidance to the practice of nursing and patient care at City of Hope. Dr. Brown, with more than 30 years of executive and senior leadership experience in oncology at academic medical centers, community hospitals and health care systems, also brings a decade of clinical experience as a staff nurse and clinical nurse specialist in the field.
At City of Hope, she leads the delivery of patient care for nursing, clinical nutrition, rehabilitation services, and respiratory and cardiac diagnostic laboratory services, and is responsible for patient care standards, professional practice standards, and the delivery of efficient and cost-effective care in inpatient and outpatient settings. As a passionate advocate for oncology nursing, with a strong interest in scientific research, she also supports City of Hope's clinical research mission and leads transformational work redesign within her area.
Dr. Brown served as executive director for the Oncology Service Line at Mercy Health where she was responsible for cancer services in five hospitals in the Cincinnati region. In this role, she focused on building infrastructure and processes, and collaborating with private practice oncologists to establish the service line. Dr. Brown facilitated breast program certification in the hospitals, established a regional group for lung cancer and negotiated contracts for linear accelerators for the Mercy system.
Prior to joining Mercy Health, Dr. Brown was the chief nursing officer for The James Cancer Hospital at The Ohio State University, a National Cancer Institute-designated comprehensive cancer center. In this role, she led the hospital to their first Magnet designation, a major achievement they had been pursuing for years. She was also instrumental in the go-live of their Epic launch institution-wide. Prior to James, Dr. Brown served as the associate vice president for cancer at Scottsdale Healthcare, as well as various leadership and clinical positions in other organizations.
Dr. Brown received her Ph.D. from the University of Arizona, College of Nursing, her Master of Science degree in Nursing at Widener University in Chester, Pennsylvania, and her bachelor's degree in nursing from Nazareth College in Kalamazoo, Michigan.
Dr. Brown was honorably discharged from the Air Force having attained the rank of captain.
Basic Text Field
Nurse Executive Advanced-Board Certified
Basic Text Field
2011, Ph.D., Nursing Systems, University of Arizona, Tucson, AZ
1985, MSN, Oncology Nursing, Widener University, Chester, PA
1980, B.S.N., Nazareth College (records sent to Davenport College), Kalamazoo, MI
Basic Text Field
2017-present, Senior Vice President Patient Care Services, Chief Nursing Officer, City of Hope, CA
2014-2017, Executive Director, Oncology Service Line, Cincinnati, OH
2009-2014, Chief Nursing Officer, The James Cancer Hospital, The Ohio State University, Columbus, OH
American Organization of Nurse Executives
Association of Cancer Executives
American College of Oncology Administrators
Association of Community Cancer Centers
Oncology Nursing Society
South Jersey Chapter of ONS