When she was diagnosed with breast cancer at age 36, Natasha Shows turned to her mom, longtime City of Hope nurse Bella Adeimy, who knew just the doctor to page
City of Hope has been a part of Natasha Shows' life for almost as long as she can remember. Her mom, Bella Adeimy, spent nearly 36 years as a nurse with City of Hope, retiring in 2022. And Shows was working for Providence Holy Cross Medical Center when it partnered with City of Hope in 2016 to open a clinical network site in Mission Hills, California. "I was part of the business development and marketing team that worked on that partnership," says Shows, who joined Dignity Health in Glendale as a division director in internal communications in October 2021. 
Still, she never imagined she would experience City of Hope from the patient's perspective. But just before Christmas 2017, when she was 36, Shows felt a lump in her breast while taking a shower. "I thought, 'Is this real? Or is it just in my head?'" Her husband felt something as well, but Shows assumed it was nothing life-threatening: One of her best friends had just experienced a similar scare, but her lump ended up being fibroid tissue. 
Shows' doctor suggested she come in for an appointment before she left for vacation. "So, I went in to see him and he said, 'You're young, you're healthy — it probably is a fibroid. Let's check it when you get back from vacation. We'll have to do an ultrasound and a biopsy — that's just the standard procedure to rule out cancer.'" Shows had those procedures done in January 2018.
Four days after her biopsy, Shows' doctor called with the "unfortunate news" that she had human epidermal growth factor receptor 2 positive (HER2+) breast cancer. Even as someone who talks to cancer patients frequently for her work, Shows was shocked by the diagnosis. "I have a good diet. I'm super healthy. I have no family history of cancer. How is this possible?" she remembers thinking.
A Rare Form of Breast Cancer
About 10-20% of breast cancers test positive for a protein called HER2, according to the American Cancer Society. These cancers can be more aggressive, but the protein they express can also be specifically targeted by certain cancer drugs.
Ever the nurse, Shows' mom immediately sprang into action. "She literally overhead-paged Dr. Benjamin Paz at City of Hope, who's one of the top breast surgeons there, and he got me in right away," she says. "And because I'm in health care, I went into work mode. I pulled together a rock star team. I got the best plastic surgeon, the best surgical oncologist and the best medical oncologist. I did it all in a very short time. My first chemo was exactly a month later." 
At the time of Shows' Stage 2 diagnosis, doctors found two lumps. By the time she started chemotherapy and had a computed tomography scan, the cancer had already spread, and now there were four tumors. Her medical oncologist, Mohammad Fekrazad, M.D., set up a treatment plan for Shows, including six rounds of chemotherapy between March and June 2018 to shrink the tumors at City of Hope's Santa Clarita clinical network site, less than 5 miles from her house. 
She made every effort to keep her children's routines in place, even as she was undergoing treatment. "My daughter was 4 and my son was 8, and they really didn't understand what was going on," she recalls. "We didn't tell them I had cancer. We kept it very much like, 'Mom's sick. She's taking these medicines. It makes her really tired and makes her hair fall out. She can't go to work.' My son still went to soccer practice and games every week, and my daughter still went to preschool and dance. We had lots of family and friends helping us keep their lives as normal as possible."
After completing chemotherapy, Shows had a double mastectomy that July at the main City of Hope campus in Duarte. Ten lymph nodes were removed during the surgery. "The double mastectomy was my personal choice, and it also was recommended by my breast oncologist," says Shows, who underwent genetic testing (no inherited mutations were found). "My cancer seemed to be more on the aggressive side, especially since I was diagnosed young and it was HER2+ cancer," she continues. "I really feel like I caught it at the right time. If it was any farther along, my story could have been different."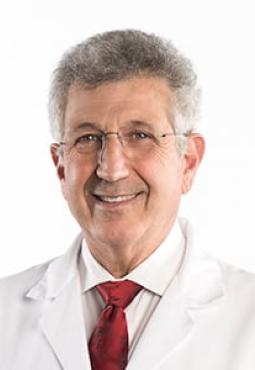 With Paz, clinical professor in the Division of Surgical Oncology, Department of Surgery, as her surgical oncologist, working alongside a plastic surgeon, Shows was able to undergo her mastectomy and reconstruction concurrently. "Everything was going great," she says — until she developed a "super rare infection" in one of her breasts. Sanjeet S. Dadwal, M.D., professor and chief in the Division of Infectious Diseases, diagnosed the type of infection she had and started IV antibiotics. Emergency surgery in February 2019 and removal of her implant followed. It was replaced after six months of healing. 
But it wasn't over. Shows still had to endure 12 months of infusions of a monoclonal antibody called Herceptin that specifically targets the HER2+ protein on cancer cells — going once every four weeks. The drug works by blocking the ability of the cancer cells to receive chemical signals that tell the cells to grow.
"It's like an extension of your chemo, but it doesn't make you as sick," Shows explained. After her last Herceptin infusion, on May 24, 2019, she rang the bell at the Santa Clarita site. She has remained cancer free ever since: "I do blood tests every six months, an ultrasound annually and I am taking tamoxifen [an estrogen modulator] for the next 10 years."
"When I was diagnosed with cancer, there was just no doubt in my mind that I was going to City of Hope," Shows said. Her medical oncologists — first Fekrazad, and later Thomas Joseph, M.D., both of whom worked out of the Santa Clarita clinical network site — "were so helpful in explaining everything and keeping me informed. They knew I worked in health care, but I think they do it with all their patients."
"I've always loved my job, meeting our patients and working with our doctors," Shows said. Her experiences as a cancer survivor may not have changed her work, but having walked in the shoes of a patient, "I see it from the other side now."
---
Main photo by Julie Andress Photography.