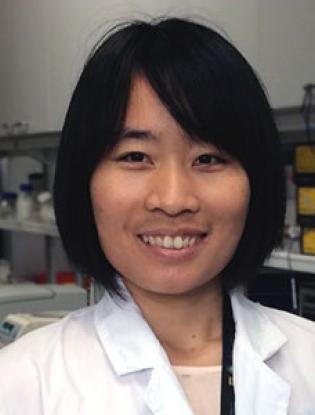 Postdoctoral Fellow, Department Of Computational And Quantitative Medicine And Department Of Systems Biology
Zhilian Jia, Ph.D., received her bachelor's degree in nursing in 2009 from Peking University Health Science Center in Beijin, China. Then she joined Dr. Qiang Wu's lab for her Ph.D. training in Shanghai Center for Systems Biomedicine, Shanghai Jiao Tong University in Shaghai, China.
She received her Ph.D. degree in molecular biology in 2015 and began her postdoc training in pursuing the regulatory mechanism of the architectural protein CTCF.
She joined the lab of Zhaohui Gu, Ph.D., in 2021 to study the functional impact of the driver genetic lesions in ALL. Her current projects are using in vitro and in vivo models, coupled with multiple functional genomics platforms, to study the role of different Pax5 mutations in driving leukemogenesis.
2015, Ph.D., Molecular Biology, Shanghai Jiao Tong University, Shanghai, China

2009, Nursing, Peking University, Beijing, China
2021-present, Postdoctoral Fellow, Beckman Research Institute of City of Hope, Duarte, CA

2017-2020, Research Fellow, Shanghai Jiao Tong University, Shaghai, China

2015-2017, Postdoctoral Fellow, Shanghai Jiao Tong University, Shanghai, China
2018, First prize of Natural Science Award of Ministry of Education of China

2018, First prize of Natural Science Award of Shanghai

2015, Outstanding Graduates of Shanghai City

2015, National Scholarship for Excellent Students

2013, Fung Scholarship

2011, Koguan Encouragement Scholarship

2007, Outstanding Student Award for Medicine
Jia Z*, Li J*, Ge X*, Wu Y, Guo Y, Wu Q. Tandem CTCF sites function as insulators to balance spatial chromatin contacts and topological enhancer-promoter selection. Genome Biology. 2020; 21. Doi: 10.1186/s13059-020-01984-7.
Jia Z, Wu Q. Clustered Protocadherins Emerge as Novel Susceptibility Loci for Mental Disorders. Front Neurosci. 2020 Nov 12;14:587819.
Wang N, Jia Z, Wu Q. RFX5 regulates gene expression of the Pcdha cluster. Hereditas (Beijing). 2020 Aug 20;42(8):760-774.
Wu Q, Jia Z. Wiring the Brain by Clustered Protocadherin Neural Codes. Neuroscience Bulletin. 2020 Sep 17. doi: 10.1007/s12264-020-00578-4
Wu Y, Jia Z, Ge X, Wu Q. Three-dimensional genome architectural CCCTC-binding factor makes choice in duplicated enhancers at Pcdhα locus. Science China Life Science. 2020; 63. Doi: 10.1007/s11427-019-1598-4.
Lu Y*, Shou J*, Jia Z, Wu YH, Li JH, Guo Y, Wu Q. Genetic evidence for asymmetric blocking of higher-order chromatin structure by CTCF/cohesin. Protein Cell. 2019; 10: 914-920.
Shen X, Lu Y, Jia Z, Wu Q. N-WASP regulates cortical neuron migration through its polyPro and VCA domains. Hereditas (Beijing). 2018; 40(5): 390-401.
Shu L, Jia Z, Wu Y, Suo L, Jia L. The application of CRISPR/Cas9 in brain research. Acta Veterinaria Zoolechnica Sinica. 2016; 47(7): 1316-1323
Guo Y*, Xu Q*, Canzio D, Shou J, Li J, Gorkin D, Jung I, Wu H, Zhai Y, Tang Y, Lu Y, Wu Y, Jia Z, Li W, Zhang MQ, Ren B, Krainer AR, Maniatis T, Wu Q. CRISPR inversion of CTCF sites alters genome topology and enhancer/promoter function. Cell. 2015;162(4): 900-910.
Li J*, Shou J*, Guo Y, Tang Y, Wu Y, Jia Z, Zhai Y, Chen Z, Xu Q, Wu Q. Efficient inversions and duplications of mammalian regulatory DNA elements and gene clusters by CRISPR/Cas9. Journal of Molecular Cell Biology. 2015: p. mjv016.
Jia Z, Guo Y, Tang Y, Xu Q, Li B, Wu Q. Regulation of the protocadherin Celsr3 gene and its role in globus pallidus development and connectivity. Molecular and Cellular Biology. 2014; 34: 3895-391