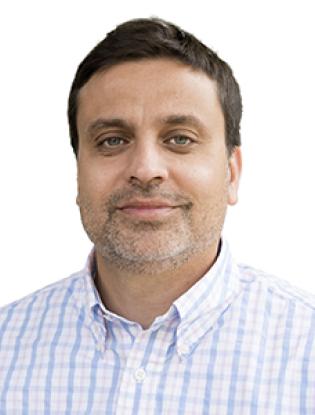 Surgical Oncologist
Clinical Expertise
Malignant and Benign Gastrointestinal Disease
Appointments
Assistant Clinical Professor, Division of Surgical Oncology, Department of Surgery
Clinical Teams
Surgery — Surgical Oncology
My greatest pleasure comes from the deep trust that develops between me and the patient when they are most vulnerable.
Aziz Ahmad, M.D. is renowned for his surgical skills, his compassion and his sense of humor! Patients routinely heap praise on Dr. Ahmad, calling him "an angel," "a surgeon's surgeon" and proclaiming, "I have never trusted another physician as much as I trust Dr. Ahmad."
Specializing in
colorectal cancer
but also well-versed in procedures for stomach, liver, pancreatic and other cancers, Dr. Ahmad treats patients at our Glendora and Rancho Cucamonga facilities.
Dr. Ahmad received his medical degree from The Chicago Medical School at Rosalind Franklin University. He completed his internship and residency at Lenox Hill Hospital in New York City, followed by a surgical oncology fellowship at John Wayne Cancer Institute in Santa Monica, California.
Dr. Ahmad spent eight years with the Palo Alto Medical Foundation, a health care organization serving 1 million patients in the Bay Area. He joined the City of Hope to be part of its talented and dedicated staff.
"If there is help that I am not able to offer," he says, "I am surrounded by caregivers who may be able to, with the same passion as myself."
2006, 2016, American Board of Surgery

2005-present, Medical Board of California
2000, Doctor of Medicine, The Chicago Medical School, North Chicago, IL

1997, Master of Physiology, The Chicago Medical School, North Chicago, IL

1995, Bachelor of Science, Molecular and Cellular Biology, University of Arizona, Tucson, AZ
2005-2007, Surgical Oncology, John Wayne Cancer Institute, Santa Monica, CA
2004-2005, Chief Resident, Department of Surgery, Lenox Hill Hospital, New York, NY

2001-2004, Categorical Resident, Department of Surgery, Lenox Hill Hospital, New York, NY
2000-2001, Lenox Hill Hospital, New York, New York
2017-present, Assistant Clinical Professor, Division of Surgical Oncology, Department of Surgery, City of Hope, Glendora, CA

2007-2015, Surgical Oncologist, Department of Surgery, Palo Alto Medical Foundation, Burlingame, CA

2005-2007, General Surgeon, St. John's Hospital, Santa Monica, CA
2004, Vieta Award, Lenox Hill Hospital, New York, New York
2005-present, Society of Surgical Oncology

2004-resent, American College of Surgeons
Ahmad A, Chen SL, Kavanagh MA, Allegra DP, Bilchik AJ. Radiofrequency Ablation of Hepatic Metastases from Colorectal Cancer: Are Newer Generation Probes Better? American Surgeon, 2006; 72(10):1386-139
Iddings DI, Ahmad A, Elashoff D, Bilchik AJ. The Prognostic Effect of Micrometastases in Previously Staged Lymph Node-Negative Colorectal Carcinoma: A Meta Analysis. Annals of Surgical Oncology, 2006;13(11):1386-1392
Amersi F, Garza AM, Ahmad A, Zogakis T, Allegra DP, Krasne R, Bilchik AJ. Long-term Survival after Radiofrequency Ablation of Complex Unresectable Liver Tumors. Arch Surg. 2006;141:581-588
Ratings and reviews below are gathered from the Press Ganey Clinician and Group Consumer Assessment of Healthcare Providers and Systems (CG CAHPS) survey. CG CAHPS is a standardized survey that is used to measure a patient's experience in the physician office setting. Ratings are an average of all responses to questions about a provider's care, with five stars being the highest.
Ratings
5.0
Show respect for what you say
5.0
Recommend this provider office
5.0
Provider explain in way you understand
5.0
Provider listen carefully to you
4.9
Know important info medical history
4.9
Spend enough time with you
---
Reviews
A very HEALTHY two way dialogue between the Provider & myself resulting in a logical decision for me and expectation on the scheduled follow up visit.
- Verified patient
Dr. Ahmad is outstanding at putting you at ease and addressing your concerns.
- Verified patient
I'm very satisfied with Dr. Ahmad.
- Verified patient
Excellent provider!
- Verified patient
When you describe and talk about City of Hope there is no negative all good
- Verified patient