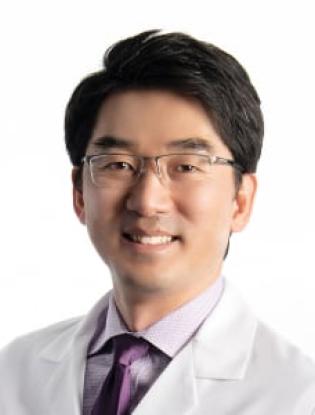 Medical Oncologist and Hematologist
Clinical Expertise
Medical Oncology
Hematology-Oncology
Appointments
Assistant Clinical Professor, Department of Medical Oncology & Therapeutics Research
Clinical Teams
Medical Oncology & Therapeutics Research
I am especially interested in improving patients' experience with the health care system – and what we can do to improve the delivery of cancer care.

Daniel Jae Kim, M.D., originally studied to be an engineer but switched to medicine because the human element – the person-to-person contact – attracted him.

Specializing in hematology and oncology, Dr. Kim treats patients in our South Pasadena facility. One of his goals is to make the entire process as understandable as possible. "A new diagnosis of cancer is devastating enough," he says, "but the patient has to then navigate through the complexities of insurance, referrals, laboratory testing, different treatment modalities and perhaps even hospitalizations ... it may actually cause significant and unnecessary stress."

Dr. Kim is a University of California, Berkeley graduate who received his medical degree from Loma Linda University. He went on to complete his internship, residency and fellowships at UCLA-Olive View and Cedars-Sinai hospitals.

Dr. Kim is committed to giving back anywhere a need exists. He works with Global Health Outreach and has volunteered for medical missions in Honduras, Mexico and North Korea.
2011-present, Diplomate, American Board of Internal Medicine subspecialty in Hematology

2010-present, Diplomate, American Board of Internal Medicine subspecialty in Medical Oncology
2003, M.D., Loma Linda University School of Medicine, Loma Linda, CA

2001, M.S., Epidemiology and Biostatistics, Dartmouth College, Hanover, Hew Hampshire

1998, M.A., Intercultural Studies, with High Honors, Biola University, La Mirada, CA

1997, B.A., Molecular Cell Biology, with High Honors, University of California Berkeley, Berkeley, CA
2007-2010, Hematology/Medical Oncology, UCLA-Olive View Program, Sylmar, CA 
2004-2006, Internal Medicine, UCLA-Olive View Program, Sylmar, CA
2003-2004, Internal Medicine, UCLA-Olive View Program, Sylmar, CA
2018-present, Assistant Clinical Professor, Department of Medical Oncology & Therapeutics Research, City of Hope, South Pasadena, CA

2016-2017, Medical Director, Adult Hematology/Oncology, Infusion Center, Ventura County Medical Center, Ventura, CA

2010-2015, Staff Physician, The Oncology Institute, Anaheim, CA
2007-present, American Society of Hematology

2007-present, American Society of Clinical Oncology

2003-present, American College of Physicians
Kim, DJ, Otap, D., Ruel, N., Gupta, N., Khan, N., & Dorff, T. NCI-Clinical Trial Accrual in a Community Network Affiliated with a Designated Cancer Center. J Clin Med. 2020 Jun 24;9(6):1970. doi: 10.3390/jcm9061970. PMID: 32599694
Kim DJ, Kwok B, Steinberg A. First reported case of simultaneous acute myeloid leukemia and multiple myeloma successfully treated with allogeneic stem cell transplantation. Southern Medical Journal, 2010;103(12):1246-9. PMID 21037523.
Mikhail N, Pirouz S, Borneo HT, Kim A, Kim D, Feldman N, Miller J, Lovato L, Heinze E, Wali S, Cope D. Burkitt lymphoma presenting with hypercalcemic emergency. Southern Medical Journal, 2008;101(5):565. PMID 18414169..
Kim DJ, Melamed O. A typical presentation in an atypical patient: a case of myeloma back pain in a 34-year old woman. Journal of General Internal Medicine, 2005;20(April supplement 1):226-227. 
Kim DJ, Powell L; Hereditary Elliptocytosis. www.emedicine.com, 2005.
Russell PT, Church CA, Jinn TH, Kim DJ, John EO, Jung TT. Effects of common topical otic preparations on the morphology of isolated cochlear outer hair cells. Acta Otolaryngologica, 2001;121(2):135-9. PMID 11349764.
Ratings and reviews below are gathered from the Press Ganey Clinician and Group Consumer Assessment of Healthcare Providers and Systems (CG CAHPS) survey. CG CAHPS is a standardized survey that is used to measure a patient's experience in the physician office setting. Ratings are an average of all responses to questions about a provider's care, with five stars being the highest.
Ratings
5.0
Show respect for what you say
5.0
Spend enough time with you
5.0
Provider explain in way you understand
5.0
Provider listen carefully to you
4.9
Know important info medical history
4.9
Recommend this provider office
---
Reviews
I enjoy recommending City of Hope and the doctors to friends, family and to others!!
- Verified patient
Enjoy seeing Dr Kim
- Verified patient
Everyone at this clinic is professional and courteous
- Verified patient
Dr Kim was very knowledgeable and explained things clearly.
- Verified patient
Consider myself so very fortunate to be a patient with So. Pasadena, City of Hope
- Verified patient