A former City of Hope nursing student turned to City of Hope experts for breakthrough lung cancer treatment 40 years later
In fall 2021, Cece Nudelman had a routine visit with a new primary care doctor. "And it just came up that I had the cough — a smoker's cough. People knew me by that cough: 'Here comes Cece.'"
Then in her mid-sixties, Nudelman started smoking when she was 15. Many of her family members had also smoked, but no one developed lung cancer. And Nudelman, a nurse, had even worked in oncology care. "In those days, we smoked in the nursing lounge! People would say, 'I can't believe you nurses are smoking.' Nothing would stop me."
She was able to quit during her three pregnancies, and at other times. When she turned 60, she quit for good. "I just started thinking about mortality. I had less energy than most people my age. I was very ashamed of the addiction, especially around my kids. I'm proud of myself for quitting."  
Timing Is Everything
Earlier in 2021, the U.S. Preventive Services Task Force had updated its lung cancer screening criteria: The 30-year pack-a-day history requirement for screening was changed to 20 years. Nudelman wouldn't have qualified before, but now she did. 
"So I got a CT scan," she said. "And I didn't hear from the doctor. Ever." Two months later, she was finally able to reach someone at the office and was told, "You need to see a specialist immediately."
As a nursing student in the 1970s, Nudelman had trained at City of Hope. "I have fond memories. I also had two friends who'd been treated there, and they are surviving very well." So she made the call. 
When she met Jae Kim, M.D., chief and associate professor in the Division of Thoracic Surgery, Nudelman recalls, "I've always felt guilty for smoking. I'd wonder if people were saying, 'She should've known.' I kept trying to get Dr. Kim to say that. But he didn't."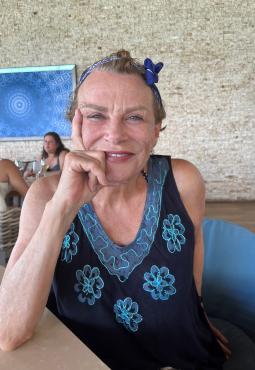 "Most people who smoke start when they're young," said Kim. "And it's one of the most difficult things to quit. To blame someone in their sixties for decisions made when they were 15 — that's not fair. We have to erase that stigma. Studies show that if you get help from a program or prescription medicine, you're more likely to abstain."
Nudelman's scan had showed two spots in her right lung, in the upper and middle lobes. Kim recommended robotic bronchoscopy, a technique used in over 90% of lung biopsies at City of Hope — one of the first health care organizations in Southern California to offer robotic-assisted endoscopy for early-stage lung cancer diagnosis. 
Unlike traditional bronchoscopy, robotic bronchoscopy uses a much thinner and more flexible catheter with a tiny camera, inserted through the nose or mouth. The surgeon operates console controls and uses a CT scan-based 3D map of the lung to navigate within 1-2 millimeters of a tumor to remove cells. City of Hope has performed over 400 robotic bronchoscopies.
Results confirmed that the middle-lobe spot was benign and nearby lymph nodes free of cancer cells, but cancer was found in the upper lobe. Nudelman's reaction was surprisingly stoic. "I never really had much of a breakdown," she said. "I already knew something was there, and my MO is to meet it head on."  
The next step was robotic lung surgery. One of the world's most experienced robotic cancer surgery centers, City of Hope has performed more than 16,000 robotic surgeries, including more than 1,000 robotic lung cancer surgeries. 
Nudelman retired from nursing in order to focus on her health. In February 2022, her daughter traveled from Israel to be with her. "I had a lot of support from my kids and my ex-husband. And my friends at work were very, very supportive," she said.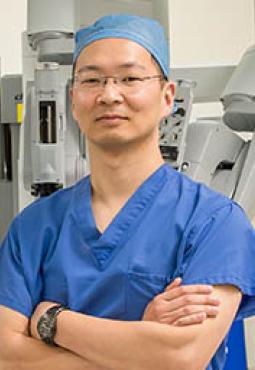 For the surgery, Kim used console controls to insert a camera and robotic tools through small incisions in Nudelman's upper right lung. He saw spiculations, like tentacles, coming out of the spot. "Some cells had started to move away from the main tumor to form what we call a satellite nodule," he said. "It was still contained within the lobe we removed, but it increased the stage." 
Pathology confirmed a 3.3 cm Stage 2B nonsmall cell lung cancer (NSCLC) with a 1 cm satellite nodule. The cancer was an adenocarcinoma, a common type that can develop in different areas of the lung and spread to other parts of the body. About 80-85% of lung cancers are adenocarcinomas. 
Nudelman underwent genetic counseling and testing for high-risk mutations, both inherited and within the tumor itself. At City of Hope, genetic testing is offered to free to every patient. Her germline (inherited) results were negative, but actionable mutations were found in the tumor cells.
Even with the cancer removed, the risk of recurrence was about 30-40%. Tumor testing showed a 1% level of PD-L1, a protein that regulates immune response. The cancer tested negative for mutations in another protein, epidermal growth factor receptor. This combination made Nudelman eligible for chemotherapy plus a newly available immunotherapy called atezolizumab (Tecentriq). 
Perfect Timing — Again 
Atezolizumab was approved to treat Stage 2-3A NSCLC with a PD-L1 level of 1% or more in October 2021. "In this cancer type, the cells use PD-L1 to hide from immune system cells," said Erminia Massarelli, M.D., Ph.D., M.S., Nudelman's medical oncologist. When atezolizumab blocks PD-L1, immune cells can recognize and kill the cancer cells. "Atezolizumab takes off the natural brakes of the immune system and activates it," Massarelli said. Once again, a new standard of care arrived just in time for Nudelman to benefit.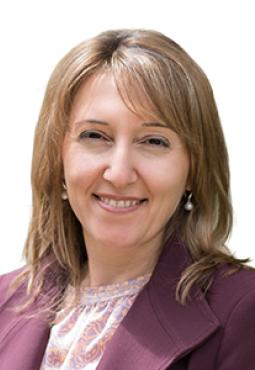 Nudelman completed four cycles of pemetrexed and cisplatin chemotherapy. Then, she began a year of atezolizumab infusions every three weeks. "In the trial, adding atezolizumab to chemotherapy reduced recurrence by about a third for patients who had increased PD-L1 expression," Kim said. 
In the last 15 years, Kim added, "there have been dramatic targeted therapy and immunotherapy advances for later-stage lung cancer. It's only recently that some of these have become available for earlier stages." 
Now 68, Nudelman has follow-up scans every three months. She takes advantage of many of the supportive care services City of Hope offers, including physical therapy  and counseling. "I'm a caregiver, so I don't do a lot for myself. I'm trying to think more about me. I don't have that internal voice now. No shame."