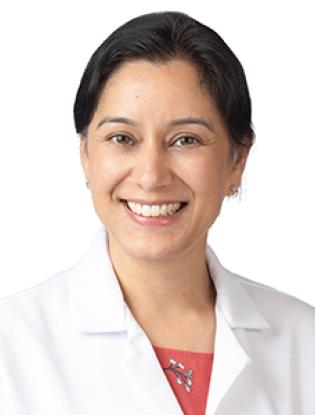 Endocrinologist
Appointments
Associate Clinical Professor, Department of Diabetes, Endocrinology & Metabolism
Samar Singh, M.D., grew up in a family full of physicians. Inspired both by their passion for their career paths and the difference she saw them make in the community, she continued the tradition, ultimately choosing endocrinology as her specialty.
Dr. Singh treasures her interactions with patients and works diligently to relieve the burdens of chronic metabolic disease with a treatment approach based in shared decision-making. She puts listening first, and she makes certain to explain medical concepts to patients in a way that they can understand.
For her medical training, Dr. Singh went to East Carolina University's Brody School of Medicine. Her residency in internal medicine and fellowship in endocrinology took place at the University of California, Irvine, where she served as chief resident and was honored as fellow of the year.
Prior to City of Hope, Dr. Singh was associate clinical professor and program director in the Department of Endocrinology at UC Irvine, which named her a top 20 doctor for achieving outstanding results in patient communications. She has also been recognized as a Southern California Top Doctors Rising Star.
Dr. Singh, who is fluent in Punjabi, enjoys spending her free time with her family.
Basic Text Field
2003-2007,  Doctorate of Medicine, Brody School of Medicine; Greenville, NC
Basic Text Field
2011-2013, Endocrinology, University of California, Irvine; Orange, CA
Basic Text Field
2007-2010, Internal Medicine, University of California, Irvine; Orange, CA
Chahal R, Shah P, Singh S, Rosenblit P. Connecting Dots: Hypoglycemia, Cardiovascular Outcomes, and All-Cause Mortality. http://www.acc.org. Mar 26, 2020. https://www.acc.org/latest-in-cardiology/articles/2020/03/25/13/03/connecting-dots.
Sheu I, Choi Y, Singh S, Wang P. Maturity-Onset Diabetes of the Young (MODY)-4 Presenting as Gestational Diabetes. Diabetes in Practice. Case 2. 2021.
Singh S, Bhat J, Wang P. Cardiovascular effects of anti-diabetic medications in type 2 diabetes mellitus. Current Cardiology Reports. 2013. 15:327.
Ahern S, Nguyen H, Lyou Y, Singh S, Wang P. Case 56: Type B Insulin Resistance Syndrome. Atypical Diabetes: Pathophysiology, Clinical Presentations, and Treatment Options. 2017
Ratings and reviews below are gathered from the Press Ganey Clinician and Group Consumer Assessment of Healthcare Providers and Systems (CG CAHPS) survey. CG CAHPS is a standardized survey that is used to measure a patient's experience in the physician office setting. Ratings are an average of all responses to questions about a provider's care, with 5 stars being the highest.
Ratings
5.0
Provider explain in way you understand
5.0
Provider listen carefully to you
5.0
Show respect for what you say
5.0
Spend enough time with you
5.0
Recommend this provider office
4.9
Know important info medical history
---
Reviews
Dr. Singh is more than great. She took her time explained to me and listened carefully to my concerns. I am more than happy to be under her care. Thank you
- Verified patient
All I had experienced was the Best.
- Verified patient
I'm satisfied,and I highly recommend your clinic to others.
- Verified patient
I followed Dr. Singh to City of Hope from UC Irvine Health Center. I kept looking for her until I located her! She is a wonderful person. Caring. Smart. I am so happy I located her again and that she was accepting new patients.
- Verified patient
Dr. Singh has met me right where I am at in my health journey. I feel she listened to my concerns and provided every effort to include me in the decisions for my future health care. She has restored my trust in the medical field and I look forward to having her at my side during my recovery to a healthy me :)
- Verified patient