Stacy W. Gray, M.D., A.M.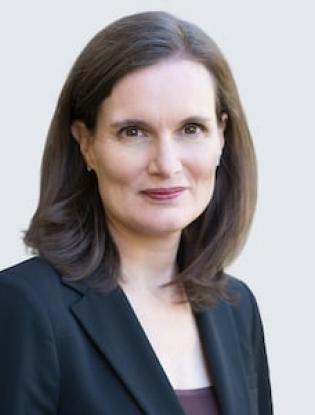 Deputy Director, Center for Precision Medicine; Physician
Research Area
Translational Genomics
Understanding the Factors that Drive the Use of Novel and Established Cancer Genomic Tests and Therapies
Identifying Gaps in Lung Cancer Prevention, Research and Care
Designing Interventions to Improve the Delivery of Cancer Medicine
Appointments
Professor Medical Oncology & Therapeutics Research, Population Sciences
Deputy Director, Center for Precision Medicine
Division Chief, Clinical Cancer Genomics
Clinical Teams
Clinical Cancer Genomics
Medical Oncology & Therapeutics Research
Stacy W. Gray, M.D., A.M., is professor and chief of the Division of Clinical Cancer Genomics within the Department of Medical Oncology & Therapeutics Research and a secondary appointment in the Department of Population Sciences.

Dr. Gray earned her undergraduate degree from Brown University. She received both her master's degree in public policy and her medical doctorate from University of Chicago. She completed her internal medicine residency and hematology/oncology fellowship at University of Chicago Hospitals.

During her clinical training, she was awarded an Irving B. Harris Fellowship. Subsequently, she completed a research fellowship at the National Cancer Institute-funded Center of Excellence in Cancer Communication Research at University of Pennsylvania's Annenberg School for Communication.

She continued her research training through a second postdoctoral fellowship at Massachusetts General Hospital, simultaneously joining Dana-Farber as a medical oncologist and cancer outcomes researcher in the Division of Population Sciences and the Lowe Center for Thoracic Oncology.

Dr. Gray's research is in translational genomics. She is working to understand the factors that drive the use of novel and established cancer genomic tests and therapies, identify gaps in lung cancer prevention, research and care, and design interventions to improve the delivery of precision cancer medicine.

Dr. Gray served on the ASCO Cancer Research Committee, holds multiple leadership roles in an National Institutes of Health research consortium, and has presented her research both nationally and internationally. She has numerous peer-reviewed publications in such journals as Journal of Clinical Oncology, Journal of the National Cancer Institute, Journal of Oncology Practice, and Genetics in Medicine.

Dr. Gray also has a strong track record of research funding and has been supported by National Human Genome Research Institute, Agency for Healthcare Research and Quality, American Cancer Society, American Society of Clinical Oncology and Robert Wood Johnson Foundation.
1500 East Duarte Road
Duarte, CA 91010

2006-present, Diplomate, American Board of Internal Medicine, Subspecialty in Medical Oncology

2002, Diplomate, American Board of Internal Medicine
2005, A.M., Public Policy, University of Chicago, Chicago, IL

1999, M.D., Medicine, University of Chicago, Chicago, IL

1994, B.A., History, Brown University, Providence, RI
2008-2010, Research Fellow, Program in Cancer Outcomes Research Training, Institute for Technology Assessment, Massachusetts General Hospital, Boston, MA

2005-2007, Research Fellow, Cancer Communication Research, Annenberg School for Communication at University of Pennsylvania, Philadelphia, PA

2002-2005, Clinical Fellow, Hematology/Oncology, University of Chicago, Chicago, IL
1999-2002, Resident, Internal Medicine, University of Chicago
2023 to present, Professor, Division of Clinical Cancer Genomics, Department of Medical Oncology & Therapeutics Research, and Department of Population Sciences, City of Hope, Duarte, CA 

2021 to present, Division Chief, Clinical Cancer Genomics, Department of Medical Oncology & Therapeutics Research, and Department of Population Sciences, City of Hope, Duarte, CA

2016-2022, Associate Professor, Division of Clinical Cancer Genomics, Department of Medical Oncology & Therapeutics Research, and Department of Population Sciences, City of Hope, Duarte, CA

2016-present, Staff Physician, Department of Medical Oncology & Therapeutics Research, City of Hope,
Duarte, CA

2012-2016, Assistant Professor, Medicine, Harvard Medical School, Boston, MA

2008-2016, Active Staff, Medical Oncology, Dana-Farber Cancer Institute, Boston, MA

2008-2016, Associate Physician, Medicine/Oncology, Brigham and Women's Hospital, Boston, MA

2008-2012, Instructor, Medicine, Harvard Medical School

2007-2008, Research Associate, Annenberg School for Communication, University of Pennsylvania

2007-2008, Staff Physician, Medicine/Hematology and Oncology, The Hospital of the University of Pennsylvania

2007-2008, Instructor, Medicine, University of Pennsylvania
2022, LA Business Journal 2022 Top Doctors List

2022, Fellowship- Carol Emmott Fellow – National Fellowship for Women Leaders in Health

2019, Transformational Leadership Development Program – Leadership Training, City of Hope

2019, NIH, Genomic Innovator Award

2015, Harvard Catalyst Training Institute – Leadership Training, Hard Clinical and Translational Science Center

2014, GRASP Program – Research, Harvard Clinical and Translational Science Center

2009, "Rising Star" Award – Research, Dana-Farber Cancer Institute

2008, Loan Repayment Program – Research-based Loan Forgiveness, National Institutes of Health

2006, Young Investigator Award – Research, American Society for Clinical Oncology

2004, Merit Award – Research, American Society for Clinical Oncology

2003, Irving B. Harris Fellowship – Academic Achievement, University of Chicago, Harris School of Public Policy

2003, Fellow Award – Clinical and Teaching, University of Chicago, Internal Medicine Residency

2002, Resident Award – Clinical and Teaching, University of Chicago, Internal Medicine Residency

2001, Hilger Perry Jenkins Award: Excellence in Academic and Patient-Oriented Service – Academic, Clinical and Teaching, University of Pritzker School of Medicine
2022-present, Member, Annual Meeting Scientific Committee: Cancer Care Delivery and Regulatory Policy

2022-present, Co-Chair, Guideline Committee: cfDNA Testing in Solid Tumors and Lymphoma, ASCO

2022-present, Member, American Association for Cancer Research

2019-present, Member, American College of Genetics and Genomics

2019-2022, Member, Guideline Committee: Somatic Genomic Panel Testing in Metastatic Disease, ASCO

2019-2020, Member, World Conference on Lung Cancer Pathology, Molecular Pathology and Diagnostic Biomarker Committee, IASLC

2018-present, Member, International Association for the Study of Lung Cancer

2018, Member, Lung Cancer Research Foundation

2017-2021, Member, TAPUR Molecular Tumor Board, ASCO

2016-2019, Member, Cancer Research Committee, ASCO

2015-2020, Member, TAPUR Physician Perceptions and Use of Molecular Testing Study Advisor Group, ASCO

2012-present, Member, American Society of Human Genetics

2011, Member, International Communication Association

2011, Member, Society for Medical Decision Making

2006-present, Member, American Society for Preventive Oncology

2002-present, Member, American Society of Clinical Oncology
Gray SW, Hlubocky F, Ratain M, and Daugherty CK. Attitudes toward research participation and investigator conflicts of interest among advanced cancer patients participating in early phase clinical trials. J Clin Oncol. 2007 August 10; 25 (23): 3488-94. PMID: 17687154 
Gray SW, Armstrong K, DeMichele A, Schwartz JS, Hornik R. Colon cancer patient information seeking and the adoption of targeted therapy for on-label and off-label indications. Cancer. 2009 Apr 1;115 (7):1424-34. PMID: 19235785 
Gray SW, O'Grady C, Karp L, Smith D, Schwartz JS, Hornik R, Armstrong K. Risk information exposure and direct-to-consumer genetic testing for BRCA mutations among women with a personal or family history of breast or ovarian cancer. Cancer Epidemiol, Biomarkers and Prev. 2009 Apr; 18(4): 1303-11. PMID: 19318436 
Gray SW, Landrum MB, Lamont EB, McNeil BJ, Jaklitsch MT, Keating NL.  Improved outcomes associated with higher surgery rates for older patients with early-stage non-small cell lung cancer. Cancer. 2012. Mar 1;118 (5):1404-1411. PMID: 21800285 
Gray SW, Hornik R, Schwartz JS, Armstrong K. The impact of risk information exposure of women's beliefs about direct-to-consumer genetic testing for BRCA mutations. Clin Genet. 2012 Jan;81(1):29-37. PMID: 21992449 
Gray SW, Hicks-Courant K, Lathan C, Garraway L, Park ER, Weeks JC. Attitudes of patients with cancer about personalized medicine and somatic genetic testing. J Oncol Pract 2012; Nov 1, 2012 (329-335) Epub 2012 August 7. PMID: 23598841 
Tarczy-Hornoch P, Amendola L, Aronson SJ, Garraway L, Gray S, Grundmeier RW, Hindorff LA, Jarvik G, Karavite D, Lebo M, Plon SE, Van Allen E, Weck KE, White PS, Yang Y., A survey of informatics approaches to whole-exome and whole-genome clinical reporting in the electronic health record. Genet Med. 2013 Oct;15(10):824-32, Epub 2013 Sep 26. PMID: 24071794 
Berg JS, Amendola LM, Eng C, Allen EV, Gray SW, Wagle N, Rehm HL, Dechene ET, Dulik MC, Hisama FM, Burke W, Spinner NB, Garraway L, Green RC, Plon S, Evans JP, Jarvik GP. Processes and preliminary outputs for identification of actionable genes as incidental findings in genomic sequence data in the Clinical Sequencing Exploratory Research Consortium. Genet Med. 2013 Nov;15(11):860-7, Epub 2013 Oct. PMID: 24195999 
Gray SW, Hicks-Courant K, Cronin A, Rollins BJ, Weeks JC, Physicians' attitudes about multiplex tumor genomic testing, J Clin Oncol. 2014 May 1;32(13):1317-23. Epub 2014 Mar 24. PMID: 24663044 
Gray SW, Martins Y, Feuerman LZ, Bernhardt BA, Biesecker BB, Christensen KD, Joffe S, Rini C, Veenstra D, McGuire AL, Social and Behavioral Research in Genomic Sequencing- Approaches from the Clinical Sequencing Exploratory Research Consortium Outcomes and Measures Working Group, Genet Med. 2014 Oct;16(10):727-35. Epub 2014 Mar 13. PMID: 24625446