The shift is part of an effort to deliver "One City of Hope" experience to patients across the national clinical network
A year after it joined forces with Cancer Treatment Centers of America® (CTCA), City of Hope has announced that CTCA will fully transition its clinical locations to the City of Hope brand. CTCA locations will now be called City of Hope Phoenix, City of Hope Atlanta and City of Hope Chicago. 
The move further solidifies City of Hope's transformation into a national cancer research and treatment system, with locations in five major cities across the country. With the integration of CTCA's well-established and geographically broad clinical network, City of Hope accelerates its ability to increase community-based access to the most advanced treatments, including its renowned hematology and bone marrow transplantation programs, clinical trials and advanced precision medicine and cellular therapies. City of Hope's growing national system also includes its main Los Angeles campus, a network of clinical care locations across Southern California, and a new cancer center in Orange County, California. 
This expansion means that nearly 90 million Americans are now within driving distance of a City of Hope location. 
"This past year, we have made tremendous progress to connect more patients, families and communities to our leading-edge research, treatment and care," said Robert Stone, City of Hope CEO and the Helen and Morgan Chu Chief Executive Officer Distinguished Chair. "Through our acquisition of CTCA, City of Hope is now able to share its expertise with a greater number of patients in even more communities, including our world-renowned bone marrow transplant and immune effector cell therapy programs. By transitioning these locations to the City of Hope brand and bringing together 11,000 team members in one shared mission, we underscore our commitment to delivering a consistent patient experience as 'one City of Hope' across our national clinical network."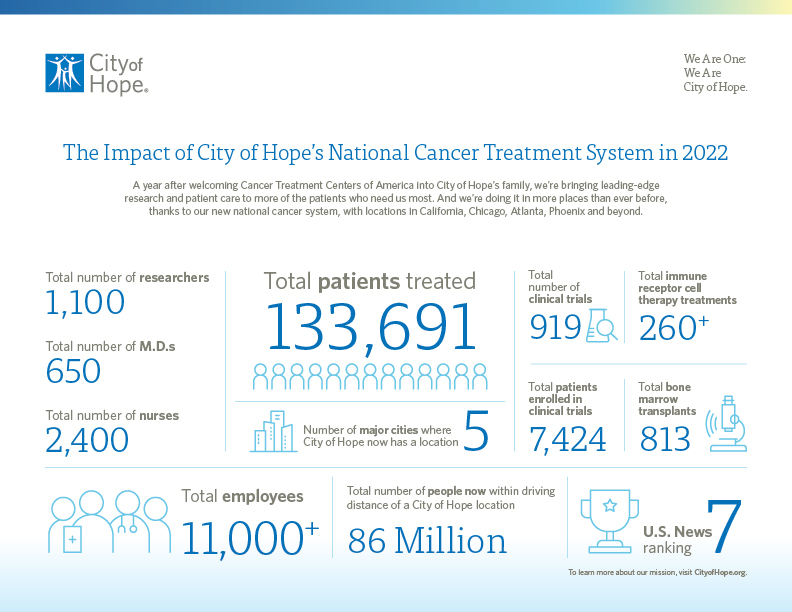 In recent years, City of Hope has grown substantially with the expansion of its clinical network in Southern California, the addition of genomics leader TGen, launch of its employer cancer care benefits offering AccessHope™, the acquisition of CTCA and opening of its new cancer center in Orange County. City of Hope's system of provider and research entities now serves approximately 136,000 patients each year, with more than 600 physicians and more than 1,000 scientists and researchers across its network of locations in California, Arizona, Illinois and Georgia.
While City of Hope has grown into a national organization, it remains true to the foundation and principles present at its founding 110 years ago — serving others and providing hope. The institution's focus on the patient experience, from intake to appointment to treatment to aftercare, drives its mission to create a best-in-class national system to reach, and ultimately serve, more patients who will benefit from its compassionate care and services. This expansion and transformation are geared toward broadening its reach and impact. The purpose of its growth is to further its mission. The progress City of Hope has made, and will make in the coming months and years, sets it squarely on a path to achieve its goals to democratize cancer care and rapidly translate innovative research and discovery into better care and prevention for even more patients, families and communities.