Precision medicine, which leverages the genetic and genomic features that contribute to the development of cancer, has led to the greatest progress in cancer medicine that we've yet seen, according to City of Hope's Stephen Gruber, M.D., M.P.H.
Unlocking the genomic mysteries of cancer — that's the lifelong passion that has driven the career of Stephen Gruber, M.D., Ph.D., M.P.H. 
He's the Eva and Ming Hsieh Family Director's Chair of the Center for Precision Medicine, and thanks to the Hsieh family's generous $5 million endowment, Gruber, working closely with Deputy Director Stacy Gray, M.D., can further expand City of Hope's groundbreaking program — accelerating research efforts, advancing the work of his team to improve outcomes for patients and recruiting key hires. The future of cancer care is becoming a present-day reality.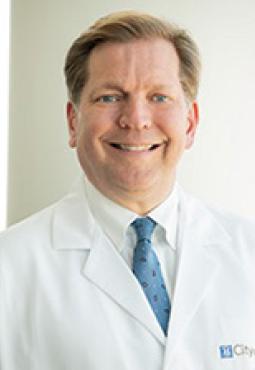 "Cancer is essentially a disease of DNA," Gruber said. "That's why precision medicine, which leverages the genetic and genomic features that contribute to the development of cancer, has led to the greatest progress in cancer medicine that we've yet seen — targeted treatments and immunotherapies, as well as effective new approaches to prediction and prevention."
Precision medicine uses two types of analysis. One is genetic (or germline), which looks for inherited genes that predispose people to certain types of cancer. The other is genomic (or somatic), which identifies DNA mutations and other aberrations in a patient's tumor cells. Both types of analysis can tell us what mutations are driving a particular cancer and whether a targeted treatment or immunotherapy might provide the most effective treatment. 
Unlike more traditional cancer treatments, many of these remarkable new drugs can destroy cancer cells without harming healthy tissue, and they generally have far fewer side effects.
2 Patients' Stories
Gruber relayed a story about a melanoma patient who had already been treated with surgery and radiation. That treatment had produced short-term results, but the cancer recurred — and this time, it metastasized to her brain. 
Testing showed that she did not have an inherited mutation, but she did have highly informative mutations in the DNA of her tumor cells.
"We found two very distinct, actionable mutational fingerprints associated with her tumor, which gave us several very good choices for treatment. She was treated on a clinical trial with a combination of the immunotherapy drugs ipilimumab and nivolumab," Gruber said. The patient has been disease-free for eight years.
This combined treatment has since been Food and Drug Administration approved, and is now the standard of care for metastasized melanoma.
Another patient was referred to Gruber with newly diagnosed pancreatic cancer that was already too advanced for surgery. What's more, chemotherapy was not likely to be effective. 
Through the Center for Precision Medicine, she discovered that she had inherited a BRCA2 mutation, which predisposed her to pancreatic cancer.
She was enrolled in a trial headed by City of Hope oncologist Vincent Chung, M.D., a world-renowned expert in pancreatic cancer, and was given a combination of two drugs targeted to BRCA mutations: lenvatinib and pembrolizumab.
She went into a sustained remission for almost two years before requiring additional therapy. 
Through the offering City of Hope provides to patients' families, her son and several other family members were also tested and learned that they, too, were carrying the BRCA2 mutation — knowledge that can help them prevent the disease from ever occurring.
Genetic Testing for All Patients
"Genetics is not destiny," Gruber said. 
What this means is that knowing you have inherited a gene associated with cancer is the first step in preventing it. That's why City of Hope is committed to offering genetic testing to every  patient. 
"This type of initiative takes a huge investment on our part. We believe it's the right thing to do for our patients because it has a major impact on improved outcomes," he said. "We've been ahead of the curve, but the ground is shifting, and increasingly these types of tests are being covered by insurers."
Genetic testing identifies the approximately 15% of patients whose cancer arose due to an inherited DNA mutation. These patients are offered a clinical consultation with a genetic counselor and cancer geneticist. This consultation determines who else in the family might benefit from genetic cancer risk assessment, then offers testing and an individually designed program for reducing their risk of cancer. 
In less than two years, City of Hope has screened more than 10,000 patients for genetic mutations, and the numbers are growing. It now has 21 genetic counselors on staff to meet the need.
The BRCA-positive family of the woman with pancreatic cancer will undergo screening each year — alternately magnetic resonance imaging one year and an endoscopic ultrasound the next — to look for any abnormalities in the pancreas. They'll also have regular checkups and bloodwork to detect signs of the disease.
For some types of cancers, there are other methods of prevention. For example, birth control pills can cut the risk of ovarian cancer in half, and low-dose aspirin can reduce the likelihood of colon cancer, especially in those with inherited risk. Another measure some people choose is the surgical removal of the organ at risk. One of the most famous of these is Angelina Jolie. She inherited the BRCA1 mutation from her mother, Marcheline Bertrand, who died of ovarian and breast cancer, and underwent a preventive double mastectomy, later choosing to have her ovaries removed as well. 
"When you take care of the whole family, you can unequivocally reduce the incidence and mortality of cancer within that family, using existing strategies," said Gruber. "It's enormously powerful and gratifying, and it leads to sustained relationships with families over decades, giving us the opportunity to protect the health of many people in the future."
Screenings for patients' at-risk family members are currently available at City of Hope's main Los Angeles campus in Duarte and at its Orange County facility. In 2023, the screening program will be gradually expanded to its other clinical network locations in Southern California, as well as to sites in Phoenix, Chicago and Atlanta through its acquisition of Cancer Treatment Centers of America.
An Amazing Thing About Inherited Mutations
Inherited mutations have been passed down not just for generations, but for millennia.
In 1997, when Gruber was completing his postdoctoral fellowship at Johns Hopkins Hospital, the research team discovered an incredibly common form of inherited susceptibility to colon cancer that was quite specific to people of Jewish descent — and they made a remarkable historical discovery as well.
"We were able to trace this gene back in history to a person living in or near Jerusalem approximately 2,200 to 2,950 years ago. So, we now know that every person on planet Earth with this mutation is actually carrying that same piece of DNA," he said. 
It's not just a fascinating factoid, though. For Gruber, the story has another important message.
"The important thing is to understand that your genetic profile can help modify the risk [of cancer], and the differences can be measured in improved outcomes."
While tumor mutations are only discovered after cancer is present, we do know a great deal about the causes of cancer. Among them are damage from environmental sources and lifestyle choices — such as smoking, obesity and lack of exercise — factors that are within our power to change. 
Precision medicine can even identify specific signatures of tumors that arose due to smoking. 
"Smoking continues to be a leading cause of cancer, and we know that quitting smoking begins to lower the risk of cancer right away," Gruber said. "Most importantly, we need to continue our progress in reducing the number of children and young adults who ever start to smoke."
Diversifying Precision Medicine
Until very recently, genetic research has largely centered on people of European heritage, but the Center for Precision Medicine, like all of City of Hope, is dedicated to diversity, equity and inclusion. 
"It's embedded in everything we do because we have to make sure that the information we use to take care of patients is specific to who they are ancestrally, individually, personally and socially," Gruber said. "And this is infused into how we deliver precision medicine."
His commitment to diversity was evident in a recent study he supervised with colleagues from around the world — the largest ever of its kind, encompassing a quarter of a million people  — published in Nature Genetics. 
The study was not only huge, it — unlike most past studies — it did not focus solely on people of European ancestry, but on Asians and diverse populations in the Americas as well. 
Thanks to this wide net, it discovered 50 new genetic variants for colon cancer, bringing the total to 205 — which will have an enormous impact on precision medicine across various ethnic and racial groups.
"I think the future is very, very bright," Gruber said. "We continue to be on the edge of discovery and, working with an incredible team here at City of Hope, we're making progress every single day. We see it with our patients."