Luncheon to take place on Thursday, June 8, at The Plaza with special guest Candice Bergen
CONTACT
Katherine Ramirez
626-678-4163
katramirez@coh.org
Magrino PR:
John Rice, john.rice@magrinopr.com
John Roth, john.roth@magrinopr.com 
NEW YORK— The East End Chapter/Jeanne Kaye League of New York City announced today that they will honor actor and advocate Jane Fonda and Delta Air Lines Senior Vice President, Sustainability Performance and Strategic Partnerships Gail Grimmett with 
City of Hope's Spirit of Life® Award at their upcoming luncheon on Thursday, June 8, 2023, 
at The Plaza. Actress Candice Bergen will be featured as a special guest, and Linda Malkas, Ph.D., a professor in the Department of Molecular Diagnostics & Experimental Therapeutics and the M.T. & B.A. Ahmadinia Professor in Molecular Oncology at City of Hope, will provide remarks., sharing personal examples of the impact on research made possible by City of Hope's supporters. The event will raise awareness and support for cancer research and treatment innovation at City of Hope, one of the largest cancer research and treatment organizations in the United States and a leading research center for diabetes and other life-threatening illnesses.
The Spirit of Life Award is City of Hope's most prestigious honor and is presented to an esteemed community of industry leaders around the world who have made a significant commitment to improving the lives of others through the advancement of research and clinical innovation and the delivery of personalized, compassionate care. The award recipients' professional and humanitarian accomplishments are worthy of celebration. Recipients of this prestigious award include a broad range of leaders from the world of business, entertainment, science and philanthropy. What connects them is a shared commitment to elevating the human condition and a profound belief in the power of each individual to effect change.
 
The Spirit of Life, by its very name, represents the intangible qualities that make an individual's life worthy of admiration: their generous ability to inspire and their desire to make a difference in the world. 
 
The East End Chapter/Jeanne Kaye league comprises 500 New York women and is led by President Lisa Kaye Fuld. The chapter has been raising money to advance cures and novel therapies at City of Hope for more than 40 years. In that time, the chapter has been able to raise more than $40 million in support of new medical innovations for cancer patients and their families. 
"We look forward to honoring Jane Fonda and Gail Grimmett with City of Hope's Spirit of Life Award on June 8th," said Fuld. "Both women have been touched by cancer, and we are honored that they are joining us to support the advancement of innovative care and treatments. Their bravery and strength are to be admired." 
"This luncheon provides a wonderful opportunity to celebrate the strong example Jane Fonda and Gail Grimmett have set on the power of philanthropy partnership, which is so key to fueling City of Hope's mission," said City of Hope Chief Philanthropy Officer Kristin Bertell. "The precedent they both set helps to highlight the importance and impact of the donor and volunteer community."
Jane Fonda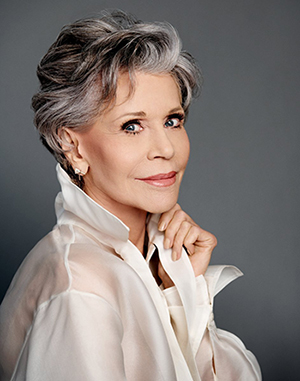 Jane Fonda is a two-time Academy Award-winning actor (Best Actress in 1971 for "Klute" and in 1978 for "Coming Home"), producer, author, activist and fitness guru. Her career has spanned over 50 years, accumulating a body of film work that includes over 50 films and crucial work on behalf of political causes, such as women's rights, Native Americans and the environment. She is a seven-time Golden Globe winner and was honored with the Cecil B. DeMille Award in 2021. Fonda will be honored with The Harry Belafonte Voices for Social Justice Award at this year's 2023 Tribeca Film Festival.
2023 marked a triumphant return to the big screen with three films already released and another on the way. She most recently reunited with Diane Keaton, Mary Steenburgen and Candice Bergen for Focus Features' "Book Club 2." Before that, she starred in the highly anticipated "80 For Brady" opposite Lily Tomlin, Sally Field and Rita Moreno, released by Paramount Pictures. Then there was Paul Weitz's "Moving On" for Roadside Attractions in which Fonda stars opposite longtime friend and colleague, Tomlin. This summer, she will lend her voice as "Grandmama' in DreamWorks' animated film "Ruby Gillman, Teenage Kraken" set to release June 30. Other notable credits include "Grace & Frankie," which is Netflix's longest running original series. It is for her work on the series that she received an Emmy nomination for Outstanding Lead Actress in a Comedy Series in 2017. She also released "Jane Fonda in Five Acts," a documentary for HBO chronicling her life and activism.
Fonda continues to lead the charge on Fire Drill Fridays, the national movement to protest government inaction on climate change she started in October 2019 in partnership with Greenpeace USA. In 2022, she launched the Jane Fonda Climate PAC, which is focused on defeating political allies of the fossil fuel industry. Her latest book, "What Can I Do? My Path From Climate Despair To Action" details her personal journey with the movement and provides solutions for communities to combat the climate crisis. Fonda also notably celebrated her 85th birthday by raising $1 million for her nonprofit, Georgia Campaign for Adolescent Power & Potential.
Gail Grimmett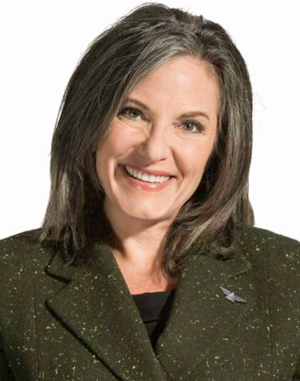 Gail Grimmett is Delta Air Lines senior vice president, Sustainability Performance and Strategic Partnerships.
  
Grimmett leads Delta's efforts to drive forward innovative, sustainable solutions that will empower the next chapter of aviation, which includes next generation technologies, and partnerships with educational institutions and other corporations. 
  
Grimmett has spent over 20 years at Delta Air Lines, serving in multiple key executive functions including SVP of Global New York, SVP of Pricing and Yield Management and managing director of Investor Relations.
  
In addition to playing an integral role in the Delta JFK and LGA redevelopment plans, Grimmett served as Governor Andrew Cuomo's appointee on both the New York State Tourism Board and the New York City Regional Economic Development Council for a decade.   
  
From 2013 through 2019, Grimmett was consecutively named among the Top 50 Most Powerful Women in New York by Crain's Business.    
  
Grimmett holds an undergraduate degree from Indiana University and an M.B.A. from George Washington University.  
Candice Bergen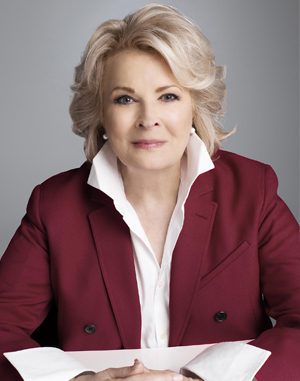 Candice Bergen shined as the feisty eponymous broadcast news legend of the critically acclaimed CBS comedy series "Murphy Brown," for which she received five Emmy Awards and two Golden Globe Awards over the 10-year run. She served as an executive producer when she returned to that iconic role in the CBS revival in fall 2018. She starred that same year in the box office hit "The Book Club," alongside Jane Fonda, Diane Keaton, and Mary Steenburgen and stars alongside the same cast in its upcoming sequel "Book Club: The Next Chapter" — out this May. Her most recent work includes The HBO Max film "Let Them All Talk" with Meryl Streep and Diane Wiest, directed by Steven Soderbergh and "As Sick As They Made Us" with Dustin Hoffman, directed by Mayim Bialik.
Film credits include Starting Over," for which she received an Academy Award nomination for Best Supporting Actress, "Gandhi," "Rich and Famous," "Home Again," "Sweet Home Alabama" and "Miss Congeniality," among many others. Additional television credits include "Boston Legal," which garnered her two Emmy nominations, as well as Golden Globe and SAG nomination. Broadway credits include the original production of "Hurly Burly," Gore Vidal's 2012 production of "The Best Man" and "Love Letters" opposite Alan Alda.
Bergen's autobiography, "Knock Wood," was released in 1984 to critical acclaim and became a New York Times bestseller, as did its sequel, "A Fine Romance," published in 2015.
In 2017, Candice created Bergen Bags, a personal customization business for which she hand paints renderings of beloved images onto handbags. That business has been expanded to include designs on apparel and accessories at www.candicebergenartstuff.com.  All proceeds are donated to charity. Follow her on Instagram @bergenbags.
City of Hope's Spirit of Life Award luncheon will be produced by Tony Award winner Scott H. Mauro for Scott Mauro Entertainment Inc. 
About City of Hope
City of Hope's mission is to deliver the cures of tomorrow to the people who need them today. Founded in 1913, City of Hope has grown into one of the largest cancer research and treatment organizations in the U.S. and one of the leading research centers for diabetes and other life-threatening illnesses. City of Hope research has been the basis for numerous breakthrough cancer medicines, as well as human synthetic insulin and monoclonal antibodies. With an independent, National Cancer Institute-designated comprehensive cancer center at its core, City of Hope brings a uniquely integrated model to patients spanning cancer care, research and development, academics and training, and innovation initiatives. 
City of Hope's growing national system includes its Los Angeles campus, a network of clinical care locations across Southern California, a new cancer center in Orange County, California, and treatment facilities in Atlanta, Chicago and Phoenix. City of Hope's affiliated group of organizations includes Translational Genomics Research Institute and AccessHopeTM. For more information about City of Hope, follow us on Facebook, Twitter, YouTube, Instagram and LinkedIn.