Pro dodgeball player Michael Davies was just 24 when he was diagnosed with gliosarcoma and given six months to a year to live. Thanks to an innovative treatment plan, eight years later, no traces of cancer remain
When you meet Michael Davies for the first time, you're struck by his high energy, engaging personality, ever-present smile and straight-from-the-gym athletic build. 
Then you find out he is indeed a pro athlete, a fixture on the USA Dodgeball circuit, playing a grown-up version of the kids' game we all remember (and some of us dreaded). Davies, a legal assistant by day, calls the sport his "passion," and he and his equally energetic teammates (team name: "Toxic Masculinity") compete in tournaments across the U.S. 
The image before you simply does not match the shocked, terrified 24-year-old who was told by his doctors he had maybe six  to 12 months to live.
That was eight years ago.
Always Athletic
Growing up, Davies, an only child, remembers being healthy and active in sports. He also recalls being bullied as the one queer kid in a conservative environment. "But I'd just go with the flow, and I found my friends," he said. He would deflect some of the taunts with jokes: "I was always a clown." For a time, he even toyed with the idea of a career as a comedy writer and standup comic.
Starting in college, Davies began suffering from persistent migraine headaches. Nothing the doctors prescribed helped, and the migraines continued. "They would come and go," he recalled.
Then, just before Mothers Day weekend in 2015, Davies was driving home from work when he felt something "pop" in his head. He pulled over.
"Suddenly my head felt super heavy, like a super bad migraine.
"And I lost some eyesight."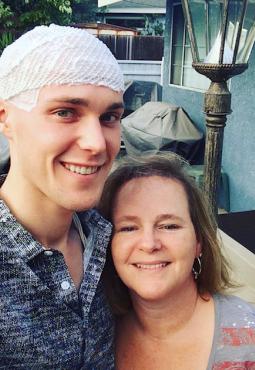 This migraine didn't go away, despite Davies taking pills all day long. The next day, when his vision hadn't improved either, Davies called his mother. She called his ophthalmologist, who urged them to rush to the emergency room.
A magnetic resonance imaging (MRI) scan revealed the cause: Davies had a golf ball-sized tumor lodged in the back of his head, and it had to come out, the doctors said. Now.
"Everything stopped," he remembered. "I could not wrap my head around this. Mom was insanely worried."
An understatement.
"Everything froze around me. Time stopped. I couldn't believe it," said Tracy Bologa, adding that she tried to stay strong, or at least appear so, for her son's sake. Not easy. "It was a very humbling moment to hear the doctor say 'brain tumor.' I lost it, but I had to handle it."
She prayed it wasn't cancer. Davies prayed he'd survive the surgery. "I felt like my life was over," he said, his voice cracking a bit. "I was so scared, I wondered if I'd come out alive, or if something would happen [during surgery] that would ruin my life."
The surgery went well. So well, in fact, that the surgeon could barely contain himself, excitedly telling the family he'd been able to extract the entire tumor, a feat not always possible, depending on the tumor's location.
But the pathology report revealed the worst possible news.
A Grim Prognosis
Davies' tumor was a gliosarcoma, a rare, especially aggressive and frequently treatment-resistant form of brain cancer. Though it can strike at any age, gliosarcoma typically turns up in much older people.
"Michael's case was unusual; he's so young," said neuro-oncologist Jana Portnow, M.D., co-director of City of Hope's Brain Tumor Program. "It's more normal to see this in patients in their 60s."
It's not clear what causes gliosarcoma. Davies' migraines may or may not have been related to his tumor, nor were there any telltale risk factors involved. "Ninety-five percent of the time we don't know why," said Portnow.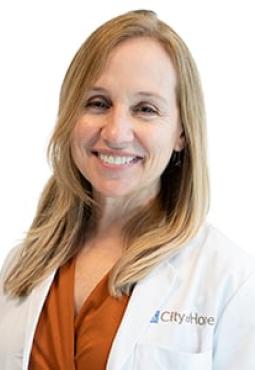 In most cases, the prognosis is grim. Even with surgical removal, cancerous "weeds" almost always remain. Barely 5% of all gliosarcoma patients live for five years. Most succumb in less than two.
The cancer diagnosis brought Davies and his family to City of Hope and a meeting with Portnow.
"Michael's a very emotional person," Portnow said, adding that it was difficult to see him so sad and anxious. "He understood he was in trouble."
Apparently, he also understood that in meeting Portnow, he'd reached a turning point.
"She was so warm and caring," he remembered. "I felt so well taken care of, almost as though she were a second mom. This was a hard day, one of the hardest of my life, hearing that I may have only a year to live.
"But Dr. Portnow made me feel good about the plan."
Therapy Begins
The plan, laid out by Portnow, mirrored the standard of care given to patients with conventional glioblastoma: radiation five days a week for a month or longer, accompanied by low doses of the chemotherapy drug temozolomide (developed in England and approved for use in the U.S. in 1999). When radiation is completed, higher doses of temozolomide are given for another six cycles, five days a week, followed by 23 days of rest each time.
Davies was also treated with Novocure's Optune Tumor Treating Fields device, a wearable cap with electrodes that send impulses to the brain, disrupting cancer cell growth. In fact, Davies continued using Optune years after his other treatments were done, becoming a bit of a "poster child" for the device. He's featured prominently, smiling at the camera, cap snugly in place, in Novocure's annual reports. 
'She was so warm and caring. I felt so well taken care of, almost as though she were a second mom.'
Brain cancer survivor Michael Davies, on Jana Portnow, M.D.
Though he followed the standard of care, what happened to Davies  — or better, what didn't happen — is anything but standard.
Every six months, Davies returns to City of Hope for an MRI scan. At no time during his treatment or following it have any of his scans detected the presence of cancer. It has been eight years since his surgery, and doctors are hard-pressed to explain Davies' remarkable and highly unusual success. 
"He's amazing," marveled Portnow. "He's done so much better than I would have predicted."
The Star Treatment
Portnow and her staff look forward to those twice-a-year visits, crowding around Davies when he arrives, fussing over him like a member of their extended family. Because that's what he is.
Rather than try to understand why he's remained cancer free for so long, Davies and his family simply accept it as a gift, while remaining realistic about the future.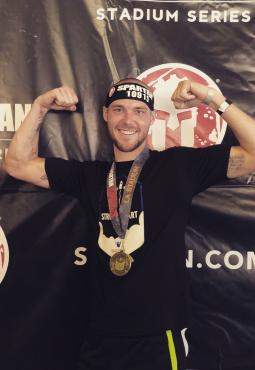 "We're just happy every year we've got him," said Bologa. "We know one day it could come back, but he's going to live his life."
And whether it's rocking his dodgeball passion or simply enjoying each day, Davies is determined to take it all in.
"I was given a death sentence," he says, barely controlling the tears now. "But eight years later, I try not to focus on where I was. I focus on positive things. I work out. I eat healthy, I'm living my best life. It's my way of combating this."
And he's grateful.
"City of Hope is the reason I'm here today," he said. "I'm so thankful to Dr. Portnow and all the people there.
"This is a place that saves lives." 
Main photo: Davies, back row center, with his dodgeball team.