Philanthropic gift will accelerate critical research at TGen and City of Hope to improve early detection and survival outcomes for a deadly blood cancer with limited treatment options
Translational Genomics Research Institute (TGen), part of City of Hope, has forged a new partnership with actress, singer-songwriter and advocate Lynda Carter Altman to help improve diagnosis and treatment of a deadly and difficult-to-treat form of blood cancer.
Carter Altman is providing a philanthropic gift to support this work, which honors her late husband of 37 years, Robert Altman, who passed away last year after his myelofibrosis, a malfunction of cells in the bone marrow, transformed into secondary myeloid leukemia (sAML), a rare blood cancer for which early detection is critical and treatment options limited. As a caregiver for her husband, Carter Altman experienced firsthand the unique challenges associated with treating and managing a rare cancer — and the need to better monitor and understand disease progression.
Lynda Carter Altman discusses her husband's battle with cancer on the "Today" show.
"One day, Robert came home from his physical appointment and told me that he had a rare blood disease, myelofibrosis, and he needed checkups every few months," Carter Altman recalled. "It didn't make sense to me that you would just watch the disease progress until it became life-threatening."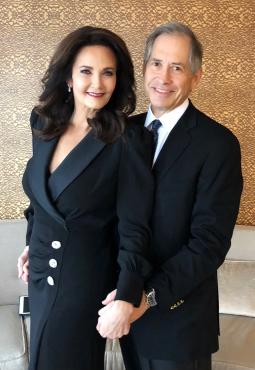 The experience led her to seek answers and national expertise in precision medicine research, eventually extending her partnership and a gift to TGen and City of Hope to advance diagnostic and treatment options for patients and their families. Carter Altman has also been appointed to the Foundation Board of Directors for TGen.
"When I lost Robert, I was left with so many questions. I wanted to understand why rare cancers are so difficult to treat, what research or treatment advances were being made to change that and, most importantly, how I could help lessen the challenges for other families facing a rare cancer diagnosis," said Carter Altman. "In researching, I developed a great appreciation and respect for the work that TGen and City of Hope were doing, and I'm thrilled to be partnering with them to make advances on both the diagnostics and treatment that I believe will change the future of rare cancer diagnoses."
"I wish I had more answers then," she added. "Now, I just want the next family to have the answers that I didn't."
Click here to read more about Lynda's story on WebMD
A Two-Pronged Approach
Carter Altman's gift will establish The Robert & Lynda Carter Altman Family Foundation Research Fund. This fund will support TGen and City of Hope's two-track approach to developing leading-edge diagnostic and treatment technologies for myelofibrosis and its transition into sAML. The first track will fund a diagnostic project at TGen using genomic sequencing to uncover strategies to pinpoint and prevent disease progression. The second track will fund accelerated development of new therapies at City of Hope with the goal of enabling a first in-human clinical trial of an investigational new drug to mitigate disease progression.
Combined, the research will help scientists and physicians better understand a patient's risk of developing more life-threatening forms of cancer, allowing for earlier intervention. This precision medicine approach will translate into personalized treatment plans that harness genomic insights, clinical expertise and advanced analytics to ensure optimal outcomes.
Jeffrey Trent, Ph.D., president and research director of TGen and a longtime friend of Carter Altman, leads the collaboration with Michael Caligiuri, M.D., president of City of Hope National Medical Center and the Deana and Steve Campbell Physician-in-Chief Distinguished Chair, to advance genomic research and medical treatment. Together, TGen and City of Hope will leverage TGen's innovative development of genomic technologies that identify biomarkers in a patient's DNA to predict disease progression and City of Hope's extensive research in blood cancers and experience implementing treatments to prevent disease progression.
Lynda Carter Altman discusses being selected to receive TGen's John S. McCain Leadership Award in 2022.
"It's an exciting time to be studying cancer diagnostics and treatment. Building on the research and innovation of our colleagues and the pioneers in this space, we're able to apply genomics in new ways, reaching breakthroughs at an unprecedented pace," said Trent. "Lynda has spent decades inspiring people, first with her iconic roles on screen, and now as she joins us in the battle to end cancer. We are grateful to have her involvement with this work, and are confident that we can achieve her goals of helping other families avoid some of the challenges she personally experienced in her journey with her husband and his cancer battle."
City of Hope's deep expertise in blood cancers will play a crucial role in helping to evolve the insights and research advances into the clinical treatment setting. "This partnership and gift from Lynda ultimately support expedited and more precise care for all cancer patients. With City of Hope's unique bench-to-bedside approach, we can move at unparalleled speeds to find solutions to challenging cases," said Caligiuri. "We are thrilled to have additional support and resources needed to further our commitment to ensuring all patients have timely access to appropriate care, including specialized care such as genomic testing and precision medicine-based care."
For Carter Altman, the personalized medicine approach could not make more sense, because her mission is highly personal. She calls her late husband "truly a gift," adding, "I have always said, 'If you were a friend of Robert's, you were one of the luckiest people in the world.'"
Main photo: Lynda Carter Altman, with TGen's Jeffrey Trent, Ph.D., left, and City of Hope's Michael Caligiuri, M.D., right, receives the John S. McCain Leadership Award.at the TGen Founders Dinner in April 2022.