An immigrant from Trinidad and Tobago and a onetime homeless domestic abuse survivor, Mary Poitier wants others to know that there is always hope — especially when you have a dedicated doctor by your side
Bahareh Bahadini, M.D., has plenty to say about Mary Poitier, one of her favorite patients.
"She's my hero!" said Bahadini, assistant clinical professor in the Department of Medical Oncology & Therapeutics Research. "Seeing her on that flyer gives me chills."
The flyer depicts a smiling, confident Poitier and carries the message: "Mary Poitier for Mayor."
Poitier, a longtime resident of Simi Valley, California, and a two-time cancer survivor, hopes to lead the city that gave her sanctuary so many years ago when she landed in a battered women's shelter. She wants to do for others what's been done for her.
"I want to bring more compassion to the job," she says.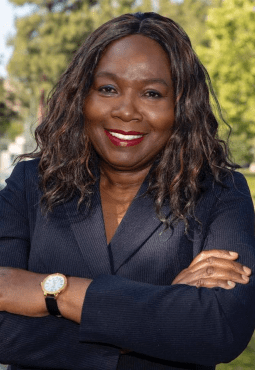 Win or lose, the very idea that Poitier could even seek the mayoralty would have been preposterous not too long ago.
 A native of Trinidad and Tobago, Poitier emigrated to New York City at 17 to find work and help support her large family following the unexpected death of her father.
Things did not go well in New York. Poitier soon found herself broke and homeless. At 22, hoping for better luck elsewhere, she spent three and a half days on a Greyhound bus bound for Los Angeles. 
Over the next several years, Poitier married, had three sons and managed to rack up an impressive list of educational achievements. She studied nursing, earned a degree as a paralegal, flirted with journalism, completed an M.B.A. in public administration and a master's in communication management, and eventually found fulfillment in a string of student leadership roles, first at Moorpark College and later for the California community colleges.
Every step in her path, however, was fraught with personal pain, first inflicted by an abusive husband, then later, after a divorce, the backbreaking challenges of raising her sons alone. Her impressive academic resume notwithstanding, she was often forced to subsist on minimum wage jobs and, sometimes, no jobs at all. She persevered.
And then the cancer came.
She Just Knew 
In 2011, she was losing weight for no apparent reason. Her doctors ran tests, which showed nothing. Poitier, growing weaker and more anxious, knew deep down something was wrong. When one doctor told her, "You're fine," Poitier broke down and cried, "I am not fine!" A mammogram decades earlier had detected swollen lymph nodes deemed benign, but ever since, Poitier had lived in terror of developing cancer and now, somehow, she just knew.
She was right.
Further tests found a lump in her thyroid. Half of her thyroid was removed. A month later, an ultrasound discovered cancer at the site of those previously enlarged lymph nodes. Poitier would need surgery.
Poitier received a lumpectomy, along with chemotherapy and radiation. She began a maintenance course of the anti-hormonal drug tamoxifen. In many patients, this is more than enough to keep cancer at bay and prevent a recurrence. For a couple of years that seemed to be the case with Poitier, although she recalls, "All my cancer markers remained high." So did her anxiety level.
That's when she switched to City of Hope and met Bahadini.
Listening to Poitier tell her story in her now calm, measured, in-control voice, it seems hard to picture the frightened person Bahadini encountered at their first meeting back in 2016.
"It was quite emotional," recalled Bahadini, "the sight of this mom raising two teens. She was very anxious, an overthinker who really needed help. She felt a bit lost."
Bahadini tried to calm and reassure her new patient. But the next diagnosis was shattering. Poitier's cancer had spread to her liver.
A Doctor Ready to Take Charge
"That was such a blow," said Poitier. "Here I thought I'd been doing everything right. And now, even though Dr. Bahadini was ready for action, I really wasn't."
Bahadini was determined to change that. Aside from pulling together a multidisciplinary team to treat Poitier's cancer (liver surgery and the targeted therapy drug Ibrance), Bahadini also became Poitier's secret weapon, going the extra mile again and again to bolster Poitier's mental state with constant reassurance, tips on anxiety and stress management and, above all, always being there when Poitier needed a shoulder.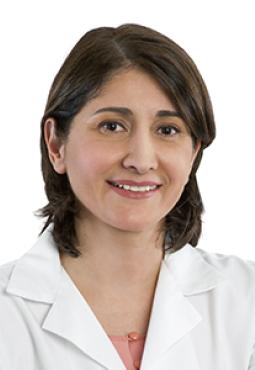 "She was more into me than I was into myself!" marveled Poitier, adding that whenever she felt low, Bahadini "snapped me out of it." 
She even helped calm Poitier's children. 
"My oldest son was traumatized by my cancer. He'd ask me, 'Mom, are you going to be here when I graduate, when I get married, when I have kids?' Dr. Bahadini heard that and said to me, 'You tell him you will be there!' 
"She has such a good, positive, analytical bedside manner," continued Poitier. "She gave me hope. Every time I would come in to see her, she would give me something positive to do or think about. I don't know any other doctor who does that."
Their conversations went far beyond the typical doctor-patient variety, forming a bond Bahadini says she's rarely encountered with others. "As time passed, I saw Mary becoming more calm and collected. And now, she's just about as normal as you can get."
Pride in Each Other
She's proud of her star patient, so much so that she's even asked Poitier to speak at events like a recent roundtable forum in commemoration of International Women's Day. "She's much more than just a cancer patient to me," Bahadini said, adding that she's learned a great deal from Poitier.
"When I see this strong woman raising kids, going to school, serving her community, it strengthens my own role as a mom — and I complain less."
Bahadini is even more proud of her City of Hope colleagues at the Simi Valley and Thousand Oaks facilities where Poitier was treated.
"We took her in and jumped right on this," recalled Bahadini. "We didn't take our time. We did state-of-the art treatment. We quickly removed her liver tumor, something not every community practice is equipped to do." 
Poitier has remained in remission for some six years now, a happy outcome, albeit a bit unusual, especially in African American women. "Step by step," said Bahadini, "they tend to have a worse prognosis and a higher rate of relapse." She's delighted that Poitier is doing so well.
But not nearly as delighted as Poitier. As she contemplates the possibility of realizing her dream of public service as mayor, she's grateful to Bahadini and City of Hope's pros who made it possible.
"They are the elites of cancer treatment," she said. "I'm proud to tell people I'm being treated there."