When Huntington Beach resident Judy McAllise was diagnosed with a rare form of cancer in 2019 at age 71, she sought out exceptional expertise in cancer treatment and research.
McAllise's friend, who had been treated at City of Hope, recommended the world-renowned cancer treatment and research organization. McAllise did her own personal research and quickly determined the clear choice was City of Hope.
"It was very important for me to find a place that is a leader in cancer research and innovation," said McAllise. "Knowing that City of Hope's scientists are hard at work every day developing breakthroughs gives me confidence in their expertise. If there is a clinical trial or a new type of treatment that could benefit me, my physician will be one of the first to know about it."
McAllise's diagnosis came after a biopsy of a tumor in her gastrointestinal tract. She learned she had stage 4 duodenal adenocarcinoma, a rare but fast-spreading cancer.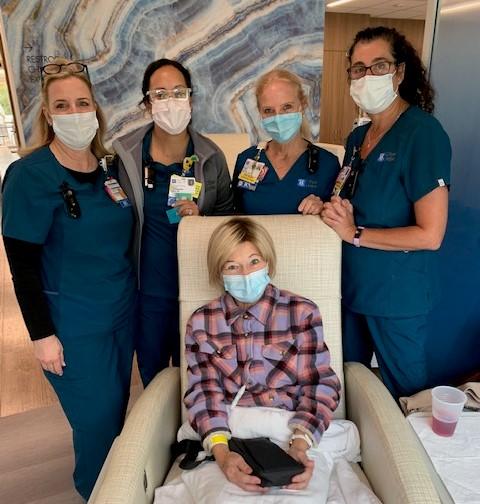 Considering the aggressive nature of the disease, McAllise knew how important it was to find physicians with expertise in this cancer. "I read that City of Hope has specialists in my type of cancer, even though it's uncommon. The depth of knowledge here is greater than anything I have seen," McAllise said. She first saw Vincent Chung, M.D., an expert in pancreatic and gastrointestinal cancers at City of Hope's Duarte campus.
When City of Hope Newport Beach Fashion Island opened in 2020, she was eager to receive care closer to her home. Dr. Chung arranged for her to meet
Misagh Karimi, M.D.
, who specializes in gastrointestinal cancers. The two quickly formed a great bond.
"Dr. Karimi has the ability to make me feel so comfortable in sharing my deepest concerns and questions," McAllise said. "I completely trust him with my care."
"It's so reassuring and advantageous that Dr. Karimi is experienced in my specific type of cancer," McAllise said. "I've found the three major issues in dealing with cancer are the physical, mental, and emotional needs, and Dr. Karimi and the extraordinary nursing team work extremely well together to provide the personalized care and support that I and others need in each of those areas."
In addition to the exceptional health care she receives, McAllise is also comforted by her faith. "I have so much peace, and even joy; my motto is, 'Let go, let God,'" McAllise said. "I've learned to take a day at a time, and I'm grateful for each one." Her purpose now, she said, is "to share my experiences with others who are in need of comfort and support. I never feel alone and am eager to share positivity to help others. Remember to count your blessings; there is always something to be thankful for."
She also finds strength to enjoy everyday activities like journaling, walking, home decorating, gardening, and most importantly, spending time with friends and family. "They are extremely loving and supportive, and they continually pray for me," she said.
McAllise says she can't imagine receiving care anywhere other than City of Hope.
"I came to City of Hope because they are always searching for new discoveries, new answers, new ways to do more for their patients. Knowing that they're walking with me keeps me motivated and on track," McAllise said. "I won't let cancer steal my joy. I'll continue to live my life to its fullest."
Hope is growing at 
City of Hope Orange County
. Our new 
locations
 in Huntington Beach, Newport Beach Lido and Irvine Sand Canyon join City of Hope Newport Beach Fashion Island to form a four-location network of highly specialized cancer care. To make an appointment at any of our four Orange County locations, 
click here
 or call: