Caregivers walk alongside beloved cancer patients, answering a call they hear to make sure the patient's physical and emotional needs are being met.
Whether motivated by love or a sense of familial obligation, compassionate caregivers put the patient first. In many instances though, the caregiver's own needs for self-care can be an afterthought or be set aside. The caregiver may even feel a pang of guilt if they take time away to tend to themselves.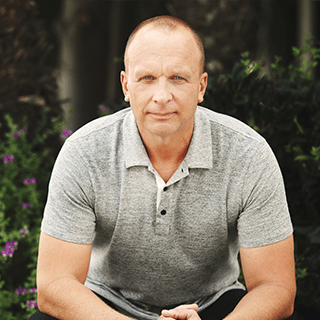 Simon Bray came to this realization after being diagnosed with multiple myeloma in 2015. "When you get a cancer diagnosis, a lot of people feel sorry for you," Bray explained. "But the caregiver, your spouse, your primary caretaker, they go through just as much as the patient, I think sometimes worse because they're watching from afar. They're sitting there seeing you in pain, you don't feel well, you're struggling. And they feel they can't really do anything about it."
 
A caregiver's challenges

Bray saw his wife struggle with trying to retain a sense of normalcy while still giving him the care he needed. His overnight stays at the hospital were especially hard on her, he said.
"She was worried about coming to visit me every day and I said, 'Danielle, just take care of the kids,'" Bray recalled. "'I'll be fine here. I'm at City of Hope, and I've got the best care in the world.' And so she would try and make it all happen. Get a babysitter, do work, and then drive to the hospital, and then head back home. And finally, I just said, 'Look, just stay home. It's fine. We can FaceTime. The kids can FaceTime. We can make it work. And we did, with City of Hope at our side.'"
Finding ways to "make it work" without neglecting your own psychological and emotional health are crucial to staying strong and healthy for the patient, said Sadikoff. "You function better as a caregiver to others when you devote time and energy to focus on your own well-being," Sadikoff said. She offers these self-care tips for caregivers:
 
Own the part. It's entirely normal for caregivers to feel some fear about a new role they were not expecting and to be anxious about their ability to do the job. Participate in medical appointments with the patient, listen, ask questions, be their advocate.  Recognize the important part you play in the care of your loved one. You are part of their team and our team. Taking ownership of the caregiving role is the first step to building confidence and reducing stress.
 
Nurture your support system. The go-to source for caregiver support is a personal network of family members and/or friends. When you want to talk to someone who has been in your shoes, mutual support can be found in networks of other caregivers. Participating in a caregiver support group has been very helpful to many caregivers; it provides them with a sense of community and belonging, validation that they are not alone in their experiences, and new coping strategies to best support themselves and their loved one with cancer.
 
Make "me time" mandatory. Promising to take time for yourself is easy to say and hard to do. But every caregiver needs to recharge and reconnect with his or her own life. Find a physical or mental space that's yours and yours alone for hobbies, friends, and relaxation. Feeling depleted and not at your best can interfere with your ability and even the desire to care for your loved one. Caregiver fatigue is real and something you need to be mindful of. Taking "me time" reduces this fatigue and provides us an opportunity to "refuel", refocus and reconnect.
 
Ask others for help. Acknowledge and accept that you cannot do everything, nor should you be expected to do everything. There is no shame in asking for help and seeking out counseling if you feel overwhelmed. In fact, it's the healthy thing to do.
When you are at your best, you can give your best. Taking care of yourself is more than a valid goal, it is a must to be able to care for someone you love. Give yourself credit for the hard work of caregiving and allow yourself time each day to practice self-care in a healthy way that relieves stress and restores balance.
At City of Hope Orange County, our supportive care services address the many physical and emotional issues that patients, families, and caregivers may face. We take a holistic approach to cancer treatment — mind, body and spirit —which includes helping you find the personalized support and resources you need to take care of yourself or a loved one who needs you. It is one of the many ways we deliver on our promise to our patients — when we take your hand, we never let go.
Hope is growing at 
City of Hope Orange County
. Our new
locations
in Huntington Beach, Newport Beach Lido and Irvine Sand Canyon join City of Hope Newport Beach Fashion Island to form a four-location network of highly specialized cancer care. To make an appointment at any of our four Orange County locations,
click here
or call:
Newport Beach Fashion Island: (949) 763-2204
Newport Beach Lido: (949) 999-1400
Irvine Sand Canyon: (949) 333-7580
Huntington Beach: (714) 252-9415