As we welcome the patients, physicians, and staff of the clinically acclaimed Pacific Shores Medical Group to the City of Hope Orange County family, thousands of patients now have more convenient local access to breakthrough research, leading-edge treatments, and highly specialized cancer experts, free of the burden of having to travel to pursue such options.
This is reason for celebration, said Elizabeth Lucas, 84, of Long Beach. "When I think of City of Hope, I think of excellence," Lucas said. "As a Pacific Shores Medical Group patient for 23 years, I am grateful that I will continue to have my trusted physician's care now at City of Hope — known for saving the lives of people with cancer. This is care that is the best of all possible combinations. I'm getting world-renowned care close to my home."
Lucas, a retired artist, was 62 years old when she was diagnosed with breast cancer. She was raising a family and running a successful business making greeting cards and gifts that were sold in every state in the U.S. and in many other countries.
Over the course of her 23- year journey, Lucas forged an unbreakable bond with her physician, 
N. Simon Tchekmedyian, M.D.
, founder and CEO of Pacific Shores Medical Group and a cancer care pioneer.
"Our friendship grew over the years," Lucas said of Dr. T (as she affectionately calls him). "His daughter used to do ballet performances for the patients. I watched his children all grow up."
A Second Set Of Challenges
Her hope was tested in 2004 when she was diagnosed with kidney cancer, unrelated to her breast cancer. Years of advanced therapies, clinical trials, and surgery followed, with Dr. T always alongside her. Through it all, Lucas maintained her optimism. "Today, 17 years after I was given 12 to 18 months to live, I may be cancer free," Lucas proudly said.
Perhaps the best summary of Lucas's view is one of the most popular greeting cards she created, "What Cancer Cannot Do," an anonymous poem. "The entire poem resonates with me, and I feel that it has been helpful to a lot of people receiving care," Lucas said. "It speaks to people in many ways. What it means to me is comfort and hope. I love every line, especially '[Cancer] cannot shatter Hope…It cannot conquer the Spirit.'"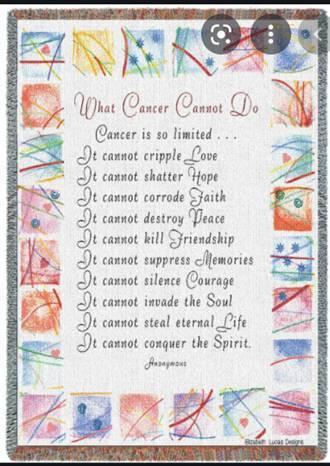 The Aromo Tree
Dr. T. vividly remembers telling Elizabeth his plan to care for her with a complex treatment given to her in a way that was individualized to address her situation. It would not be easy, he told her. "I explained it briefly to see what she would say, and she looked at me and said, "Okay, Dr. T. Let's do that." And then, without missing a beat, she proceeded to give him a special and beautiful gift: A first edition mug with "What Cancer Cannot Do" written on it.
Dr. T. was touched. It got him thinking about a poem he learned as a child growing up in Uruguay. The poem, "El Aromo," was about a tree that was growing out of a broken rock on top of a small mountain. It had many bright yellow flowers, so many that it spreads them all around.
"The tree is under incredible stress as the rock presses on it, and yet it produces so many beautiful flowers," he said. "The conclusion is that this tree has a beautiful soul and is able to make flowers out of hardship."
Dr. T. and Elizabeth made it a symbol of their deep bond. Together with others, he translated the poem and Elizabeth drew the tree and the flowers, and produced a magnificent artistic rendition of the entire poem, both in the Spanish and English. It hangs on the wall at City of Hope Long Beach Elm.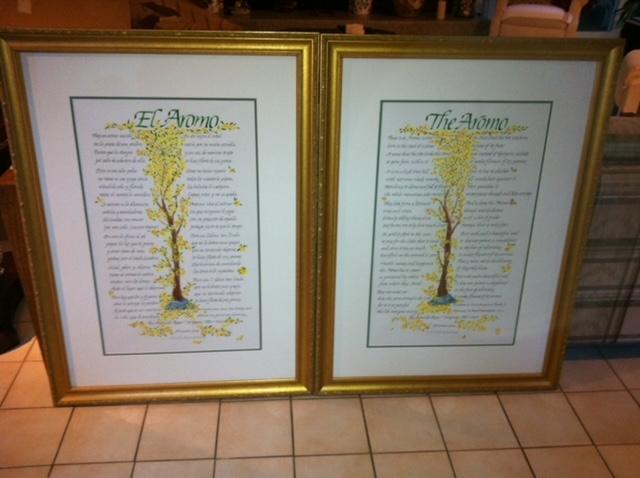 A Shared Legacy Of Compassionate Care
Excited to be joining the City of Hope community, Lucas is also looking forward to keeping her care in the family. For her bi-monthly follow-ups, she now sees Dr. T's son, hematologist-oncologist and City of Hope Orange County physician
Nishan Tchekmedyian, M.D.
, who practices in Huntington Beach, Irvine, Newport Beach Lido and Torrance and is closely monitoring Lucas's survivorship.
"The most important thing I tell people facing a serious illness is to have hope and expect miracles. You can do it when you have a physician who you believe in and who has the science and resources behind them to provide you the best care," Lucas said.
"One of the things Dr. T said to me when I was very ill was, 'Liz, I'm going to be with you through all this; you will never have to be alone.' That's why I know City of Hope is bringing something very special to Orange County and Los Angeles area patients. The same promise Dr. T made to me is the promise every doctor and cancer professional at City of Hope makes to us, the patients — to hold our hand and never let go."
Hope is growing at 
City of Hope Orange County
. Our new
locations
in Huntington Beach, Newport Beach Lido and Irvine Sand Canyon join City of Hope Newport Beach Fashion Island to form a four-location network of highly specialized cancer care. To make an appointment at any of our four Orange County locations,
click here
or call:
Newport Beach Fashion Island: (949) 763-2204
Newport Beach Lido: (949) 999-1400
Irvine Sand Canyon: (949) 333-7580
Huntington Beach: (714) 252-9415