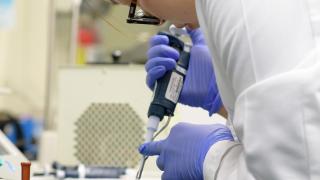 At City of Hope, philanthropy powers our mission – underpinning everything we do and every discovery we make. As we advance pioneering research, work to democratize cancer care across the country, and scale our ability to serve more patients and families, philanthropic investments in the following strategic areas will have the greatest and most far-reaching impact.
Investing in Talent and Research
Brilliant research scientists and forward-thinking health professionals are the catalyst for breakthrough discoveries that can mean everything for millions of people facing serious illness. City of Hope is a place where pioneering, action-oriented researchers and caregivers want to be, in no small part because of our unique, speed-to-cure research pipeline. We can move new discoveries from laboratories to patients' bedsides at a pace that is simply not possible elsewhere. Philanthropy is a vital accelerator of high-impact research across the enterprise, and plays a critical role in our ability to recruit and support the leading clinicians, gifted scientists and skilled teams who stand behind the cures we deliver, the discoveries we make, and the hope we bring.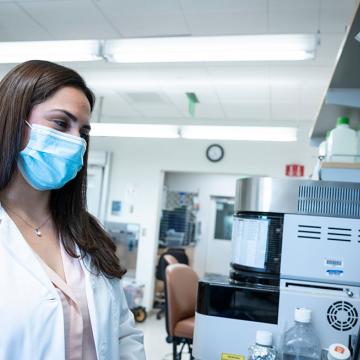 City of Hope has long been at the forefront of immunotherapy, which has made once-fatal forms of cancer curable and holds the potential to revolutionize treatment for every type of cancer. Immune cell therapies harness the power of a patient's own immune system to eliminate cancer in the same way that it clears routine infections from the body. These personalized immunotherapies can produce lasting cures with minimal side effects compared to surgery, chemotherapy or radiation. Philanthropy helps speed the progress of novel immunotherapies through critical milestones in the research process, making new treatments available to cancer patients months or years faster than would otherwise be possible.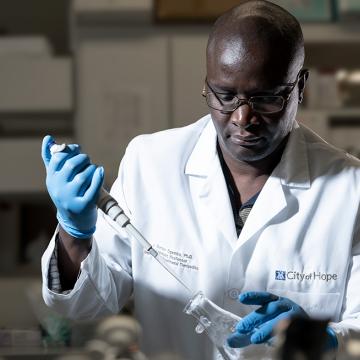 The rapidly evolving field of precision medicine is revolutionizing cancer care and research. Today's best treatment options are increasingly determined by sophisticated analysis of a patient's exact tumor variation and the identification of specific markers in the patient's genes. City of Hope is building an international leadership position in precision medicine, and we are expanding access to cancer genomic profiling and genetic testing in ways that have not been attempted by any other cancer center to date. This is transforming care for today's patients, while advancing research that will improve diagnosis, treatment and prevention for people around the world. Philanthropy provides powerful support for our precision medicine initiatives, including strategic programs focused on family cancers, early detection and prevention, and health equity.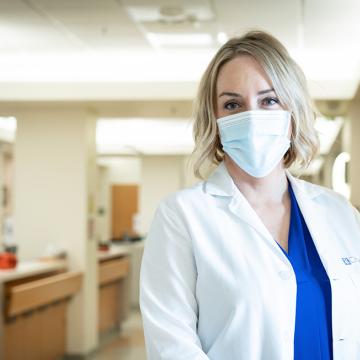 Hematologic Malignancies Research Institute
City of Hope's Hematologic Malignancies Research Institute leads the field in blood cancer research and treatment. We operate one of the largest bone marrow and stem cell transplant programs in the U.S., and we have the best patient outcomes in the nation. We were pioneers in bone marrow and stem cell transplantation and were instrumental in dramatically advancing survival rates for blood disorders. Today, the passionate experts at the Hematologic Malignancies Research Institute are developing a host of innovative new approaches to combat lymphoma, multiple myeloma, leukemia and other blood cancers. Philanthropy has long been a critical driver of our progress and remains vital in helping us advance research and support the Institute's exceptional physicians and scientists.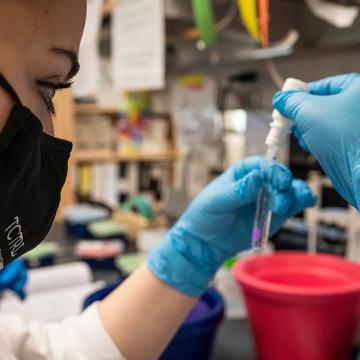 Arthur Riggs Diabetes & Metabolism Research Institute
Synthetic human insulin, essential to millions of diabetics worldwide, was developed through research at City of Hope. Today, investigators at our Arthur Riggs Diabetes & Metabolism Research Institute are advancing some of the world's most promising approaches to treat type 1 diabetes and to prevent and slow the progression of type 2 diabetes. Given City of Hope's distinctive focus on cancer and diabetes, we are also uniquely well positioned to study the intersections of the two diseases, an exciting area of discovery with the potential for life-saving innovation. Philanthropic partnership is helping City of Hope advance promising translational research and clinical trials, and supporting the talented investigators who stand behind this important work.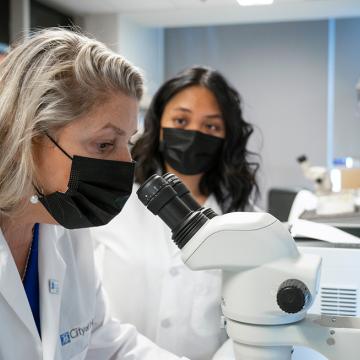 While exciting scientific advances are transforming cancer care, too many communities are being left behind. Diverse communities face unique obstacles to the pursuit of advanced cancer care, and rates of death and disease are disproportionately higher among communities of color. City of Hope's vision for democratizing cancer care includes a keen focus on health equity. We are deepening our engagement in underserved communities, expanding access to genetic testing and increasing diversity in clinical trials. Philanthropic partners can help us bring more people into care and ensure that progress against cancer benefits everyone.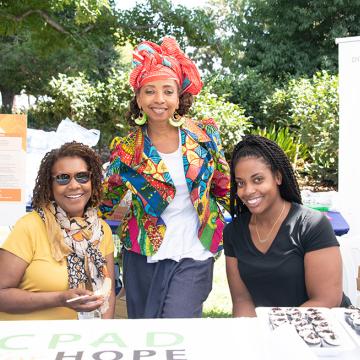 Supportive care focuses on everything surrounding a specific disease – the physical, psychological, spiritual, and social needs of patients and their loved ones. City of Hope's integrated, interdisciplinary supportive care medicine program is recognized as a national model. We teach our methods to health care professionals from around the world. We believe that supportive care should be an essential part of cancer care for every patient and family, no matter where they live or receive care. We are advocating for this right on a national level and making ambitious plans to expand the reach of supportive care medicine across City of Hope's growing clinical network. Philanthropic partnership will accelerate our progress and help us ease the treatment journey for patients and families.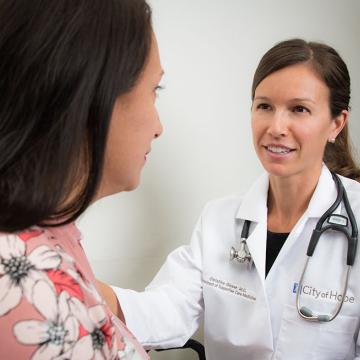 City of Hope Orange County
City of Hope is developing a world-class, comprehensive cancer campus and network in Orange County that will speed leading-edge medical advances directly to where people live and work. City of Hope Orange County will be a greenfield of innovation and serve as a best-practice model for the nation. Our new 11-acre academic campus, under development in Irvine, will offer convenient access to subspecialty care, a range of treatment options including phase 1-3 clinical trials, City of Hope's new precision prevention program and our nationally recognized supportive care. In 2025, we will open the county's only specialty hospital exclusively focused on treating and curing cancer. Philanthropic partnership is helping us realize our vision for expanding access to highly specialized cancer care across one of the most populous counties in the nation.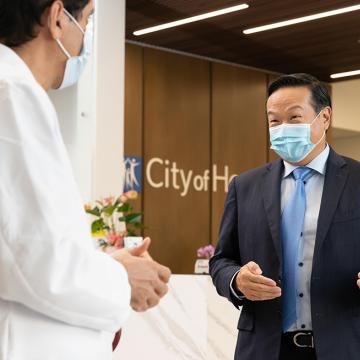 Campus Transformation (Duarte Campus)
City of Hope is in the midst of a comprehensive transformation of our Los Angeles campus in Duarte that includes new patient-centric facilities and a reimagining of the entire campus to increase our capacity to serve more people, provide the best possible patient experience, and bolster our ability to develop and deliver the most advanced therapies. Our plans include new state-of-the-art clinical facilities, a beautiful new patient hotel, new spaces for collaboration among our faculty and leaders, convenient visitor parking and a beautiful new green space for patients, visitors and staff. This exciting initiative and the ongoing expansion of our clinical network support City of Hope's enterprise-wide vision for democratizing access to world-class cancer care. Philanthropy is an essential driver of our campus transformation and will help us deliver life-saving care to more patients and families in need.