Patients at City of Hope are Seeing Optimal Results From Our Prostate Cancer Program
With one of the largest prostate cancer programs in the western United States, City of Hope is committed to providing patients who have prostate cancer with optimal outcomes. As a founding member of the National Comprehensive Cancer Network, City of Hope experts have helped develop evidence-based prostate cancer treatment guidelines for patients nationwide.
We have been consistently ranked among the nation's "Best Hospitals" in cancer by U.S. News & World Report for 15 consecutive years and received Magnet® recognition from the American Nurses Credentialing Center.
Patients who receive treatment at City of Hope have access to state-of-the-art treatment and care such as:
One of the largest, innovative and comprehensive robotic surgery programs of its kind in the United States
Our surgeons' expertise in minimally invasive and nerve-sparing prostatectomies, which reduce discomfort and recovery time while preserving urinary and sexual function
Highly precise radiation therapy delivery that can target the cancer while avoiding nearby healthy tissue, preserving bladder and bowel control functions
A wide portfolio of drugs that can fight cancer better with fewer side effects
A dedicated continence recovery program to help men regain urinary function after treatment
Sophisticated active surveillance monitoring for men with low-risk, slow-growing prostate cancer who do not want immediate treatment
Ongoing research and clinical trials of promising new therapies
Long-term survivorship and follow-up program focused on minimizing recurrence risk and improving quality of life
The National Cancer Institute's Surveillance, Epidemiology, and End Results (SEER) Program
An authoritative source on cancer incidence and survival, the SEER Program provides cancer statistics to reduce the cancer burden among the U.S. population. It is supported by the Surveillance Research Program, which provides national leadership in cancer surveillance using analytical tools and methodological expertise in collecting, analyzing, interpreting and disseminating reliable population-based statistics.
City of Hope Exceeds SEER National Prostate Cancer Survival Rates at All Stages
City of Hope's adjusted* survival rate exceeds SEER National at all stages.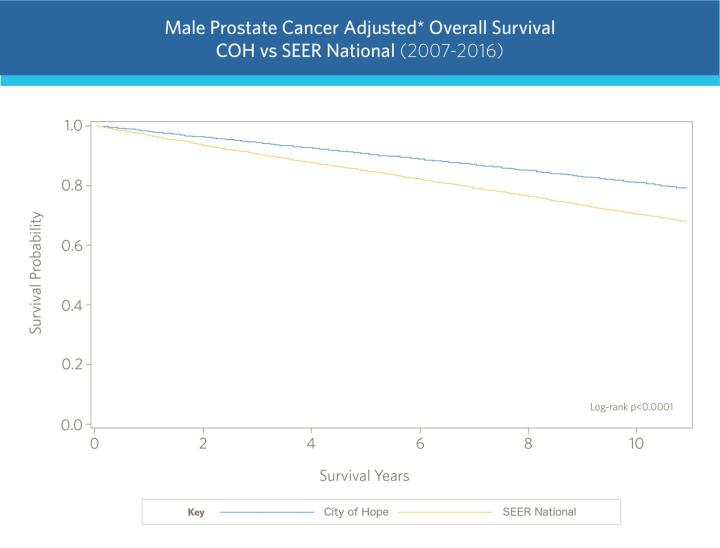 *Proportional hazards regression adjusting for age (75+, 65-74, 55-64, 45-54 vs 15-44), race (Black, other vs white) and Stage (II, III, IV vs I).
Percent Difference Between Age and Race Adjusted* overall survival estimates by stage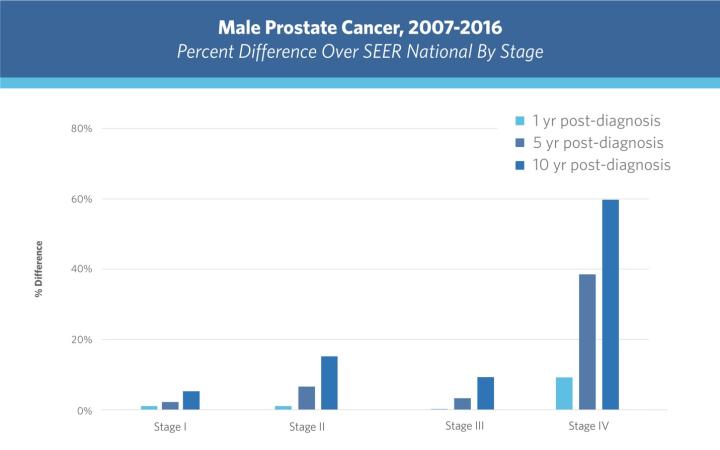 *Proportional hazards regression survival estimates adjusting for age category (15-44, 45-54, 55-64, 65-74, 75+) and race (white, Black, other)
Data collected between 2007 and 2016 shows that City of Hope consistently surpassed SEER national survival rates. Patients had a higher survival probability with City of Hope, as well as a higher percent difference over the SEER National survival estimates throughout all stages of prostate cancer even 10 years' postdiagnosis.
These results illustrate the difference in the level of care City of Hope is providing to its prostate cancer patients in comparison to the average national outcomes.
City of Hope is incredibly proud of the work our physicians and staff are doing within our Prostate Cancer Program, and we are excited to continue our commitment to excellence.
More about our SEER and CNeXT Comparison
Our analyses were conducted using data from City of Hope's Cancer Registry (CNeXT) and the National Cancer Institute's Surveillance, Epidemiology and End Results (SEER) Program November 2018 Disease-specific data files. You can find more information in our full
Prostate Outcomes Report
.