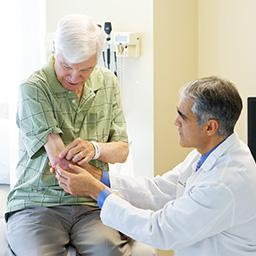 Vijay Trisal, M.D. with patient
"Everyone in front and behind the scenes — and I mean everyone at City of Hope — has a magic," said Maria Flores, a breast cancer survivor. "They smile, they nod, wave, stop to take a minute to say hi, even when they aren't part of the medical team. This place has something special that other hospitals just don't." Maria was 33 and in the care of another hospital when her worst nightmare was confirmed — breast cancer. She made her way to City of Hope, and as a patient here, she said her experience could not have been more different. Maria attributes her experience at City of Hope to the uplifting space and unique staff that is always communicative, sensitive and responsive.
Maria is one of many patients who leave with a positive experience. With this exceptional commitment to patient satisfaction, City of Hope has recently received two national awards for excellence in inpatient care from
Press Ganey
— the 2019 Guardian of Excellence Award and the 2019 Pinnacle of Excellence Award.
The Guardian of Excellence Award recognizes top-performing health care organizations that have consistently achieved the 95th percentile or above for inpatient satisfaction. The Pinnacle of Excellence Award recognizes institutions that maintain consistently high levels of excellence across three years in patient experience.
Press Ganey, the health care industry's leading performance-improvement organization, determines award winning hospitals based on survey questions that patients answer after being discharged. The survey covers a variety of topics related to their hospital stay, including general satisfaction with services, speediness of admission, room cleanliness and staff courtesy. The institution uses that information to enhance the hospital experience for patients and caregivers.
Working with data from Press Ganey has also helped City of Hope achieve the highest Hospital Consumer Assessment of Healthcare Providers and Systems (HCAHPS) scores. HCAHPS is a survey instrument and data collection methodology required by CMS for measuring patients' perceptions of their hospital experience.
"To receive award recognition based on feedback from our patients is a true testament to the excellent care and compassion that we deliver. How we take care of patients and how we remove all of the avoidable obstacles is what really matters," said
Vijay Trisal
, M.D., surgical oncologist and chief medical officer at City of Hope. "When we receive praise, it is the result of our staff focusing on each patient as a priority."