Our Diversity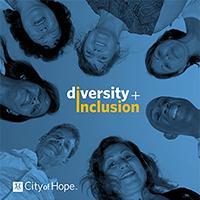 At City of Hope, we strive to create an inclusive environment that engages all of our employees and provides them with opportunities to develop and grow, both personally and professionally.
Our mission, "to infuse DEI into the DNA at City of Hope," will serve as our north star and help ensure the tenets of diversity, equity and inclusion are an integral part of our day-to-day engagement with each other, our patients, their families and caregivers, and our broader community. Each day brings an opportunity to strengthen our work, leverage our unique perspectives and improve our patients' experiences by learning from others.
We invite you to learn more about our commitment to diversity, equity and inclusion.