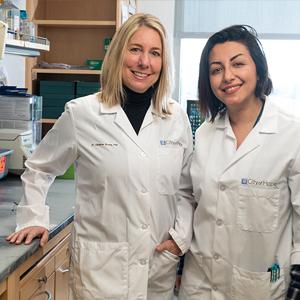 On Feb. 26, the prestigious Parker Institute for Cancer Immunotherapy announced that six scientists nationwide will share a $2.75 million award for research. Among the recipients was Parker Scholar Sharareh (Sherri) Gholamin, M.D., a Ph.D. candidate at City of Hope.
"It was very exciting to receive this award and realize that all my hard work over the past few years has been acknowledged by Parker Institute," she said. "Parker cultivates a collaborative environment among the best institutes in cancer immunotherapy, and this exchange of novel ideas will have a great impact on discovery."
Gholamin, a Caltech graduate student, is completing her thesis research at City of Hope in the laboratory of
Christine Brown
, Ph.D., The Heritage Provider Network Professor in Immunotherapy and deputy director of the T Cell Therapeutics Research Laboratory.
The project for which Gholamin received the award involves one of the most promising new cancer treatments,
CAR T cell therapy
, in which immune system T cells are engineered to fight cancer. She is searching for ways to boost the effectiveness of CAR T cells on some of the most treatment-resistant tumors, particularly glioblastoma — a highly virulent type of
brain cancer
for which a cure is urgently needed.
"Glioblastoma is a very difficult to treat cancer that resists most current therapies," said Brown. "And we hope to empower the immune system to improve outcomes for these patients."
Gholamin is using models of tumors with varying characteristics such as different markers, then observing the effects of combining CAR T with modulators such as
immune checkpoint inhibitors
, therapies that can reinvigorate immune cells to attack tumors.
She's also evaluating the effect of the microbiome, the universe of microorganisms that inhabit the digestive tract and other parts of the body, on CAR T cell potency. Microbiomes consist of millions of bacteria (most famously Lactobacillus acidophilus), as well as many types of fungi and viruses. These microorganisms not only have an impact on bodily functions like digestion, but can also play a role in the battle against cancer.
"Sherri's project is a really exciting coming together of different fields," said Brown, "and it's very novel for what we're trying to achieve with CAR T cells for brain tumors."
A Physician With a Passion for Research
Gholamin was born in Teheran, Iran, and received her medical degree there in 2010.
"For me, being a physician went beyond treating patients and following protocols. It was also about understanding the mechanisms of disease and how cells work," she said. "But because of the limitations we have back in Iran, I couldn't do that much research."
Then she was invited to join the Irving Weissman and Samuel Cheshier laboratories at Stanford University, where she did her postdoctoral work before joining City of Hope to carry out her thesis research. Once she receives her doctorate, she plans to do a medical residency in oncology here.
"I'm really just fascinated by the bench-to-bedside emphasis at City of Hope, where you can easily transfer your findings on the bench to the patients," she said. "So I was very much drawn to the CAR T program here and working with Dr. Brown and Dr. Forman."
In fact, Gholamin's discoveries on the bench may soon be ready for some patients in a CAR T trial Brown is currently conducting for patients with brain tumors such as glioblastoma.
The urgency of finding more effective ways to cure cancer really hit home for Gholamin when her mother passed away from cancer.
"When I experienced cancer on a personal level, I became even more committed to science," she said. "And with the Parker award, I feel more driven than ever to serve the needs of our communities with new approaches for cancer treatment."