A trial led by City of Hope, one of the largest cancer research and treatment organizations in the nation, contributed to the U.S. Food and Drug Administration's approval of mosunetuzumab (commercial name: Lunsumio) to treat people with relapsed or difficult-to-treat follicular lymphoma (FL) after receiving two or more standard therapies. FL is the most common indolent form of non-Hodgkin lymphoma (NHL) and is often characterized by periods of remission and relapse and poor long-term prognosis. 
Mosunetuzumab is a bispecific antibody — a new class of fixed-duration cancer immunotherapy that acts on two cellular targets simultaneously. Mosunetuzumab helps T cells target cancer cells by bridging CD3 immune cells with CD20 lymphoma cells, and is off-the-shelf and readily available for infusion, allowing patients to start treatment soon after diagnosis in an outpatient setting.
In the multicenter, international, single-arm trial led by principal investigator Elizabeth Budde, M.D., Ph.D., FL patients treated with mosunetuzumab achieved high response rates, with 80% responding positively and 60% experiencing a complete response.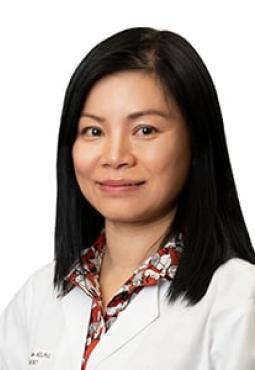 "This approval is a significant milestone for people with relapsed or refractory follicular lymphoma and signifies the beginning of a new treatment modality for lymphoma since mosunetuzumab is the first bispecific antibody approved for lymphoma," said Budde. "Our study demonstrated that an antibody based on bispecific T cell-engaging technology is proving to work very well with high response rates — and safely — in blood cancer patients who need more effective therapies and with fewer side effects." 
The study included 90 patients with FL, ages 29 to 90 years old. Patients received mosunetuzmab intravenously every 21 days for a minimum of eight cycles and up to 17 cycles. The median time to first response was 1.4 months. With a median follow-up of 17.8 months, 70% patients with response continued to do well.
Juan Yee, 49, of San Diego was one of the patients in the City of Hope trial whose lymphoma had relapsed for a second time. 
"I couldn't go through chemo again," said Yee. He was first diagnosed in 2012 with FL and relapsed in 2016.  He experienced weight loss, easy fatigue and persistent night sweats. "It was painful, and I was tired. I was done."
But thanks to one last try with mosunetuzumab, Yee has been in complete remission for nearly five years now. 
"When I was going through treatments, I would ask God why this was happening to me," Yee said. "And now I think it's so that I could do this (mosunetuzumab) trial and help other people. I can share my positive experience and let people know they shouldn't give up. Have faith."
Leading-Edge Science and Treatments That Help Save More Lives
At City of Hope, our Department of Hematology & Hematopoietic Cell Transplantation has a dedicated, multidisciplinary team that blends innovative research discoveries with superior clinical treatments, resulting in improved outcomes for patients with a wide range of blood cancers, blood abnormalities and other hematologic disorders.
City of Hope is a global leader in cellular immunotherapies and stem cell transplantation, where over 1,000 patients have been treated with immune effector cells. Additionally, we are one of few institutions in the nation that innovates CAR T cell technology for hematologic malignancies and solid tumors through our own research and clinical trials, and is currently conducting groundbreaking bispecific antibody research, developing natural killer cell-based therapeutics, and exploring oncolytic viruses for the treatment of cancer.
Unlike other cancer centers, City of Hope has three certified, good manufacturing practice facilities on site, allowing us to explore and develop cell therapies and other products from discovery to clinical trials. Summarized by Budde, "At City of Hope, the integration of scientific research and clinical trials allows us to deliver groundbreaking science and treatments from laboratory to patient."
To refer a patient, please call 877-354-4188 or visit CityofHope.org/patients/refer-a-patient.
Subscribe to Physician News for the latest developments in diabetes and cancer prevention, treatment, research, clinical trials and upcoming continuing medical education programs.
We will always respect your privacy and you may unsubscribe at any time. We will never sell or exchange your information with others. View our complete Privacy Policy.