"City of Hope is a place that saves lives," says Chuck O'Shea. "I know, because I'm one of the people whose life they've saved."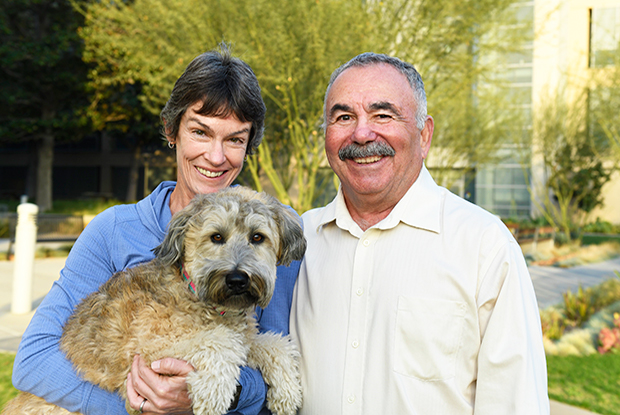 Chuck's diagnosis of Non-Hodgkin lymphoma was a crushing blow to him and his wife, Eileen. Early doctor visits left them with doubts about Chuck's medical team; then a friend, who was also a nurse at City of Hope, introduced them to Auayporn Nademanee, M.D.
"The instant we met 'Dr. Nadee,' we knew we had met my doctor," says Chuck. "She recommended immunotherapy even though it wasn't standard treatment at the time. City of Hope doctors don't settle for standard treatment. They conduct leading-edge research that helps patients do more than survive; they want us to thrive."
Chuck and Eileen deeply appreciate City of Hope's doctors, nurses and volunteers. They've become good friends with Kathy, the nurse they met on Chuck's first day. "She was there on my last day of treatment, giving me my completion-of-treatment medal, singing, laughing and crying along with us," says Chuck.
The O'Sheas have provided ongoing annual support to City of Hope since 2009. To further demonstrate their gratitude, the couple decided in 2017 to leave a gift in their trust to City of Hope. "We had a long talk about what to do with our assets after we're gone," Chuck says. "The kind of immunotherapy that saved my life, and the recently approved CAR T cell therapy, which City of Hope is one of the first centers in the nation to offer, is changing the face of cancer treatment," explains Chuck. "We want our gift to help drive research that will continue to deliver leading-edge therapies."
"We've been traveling to spend time with family and friends. Chuck wouldn't have had this time without City of Hope."
One thing they've learned, Eileen adds, is that "cancer doesn't discriminate. Anyone can get it," she says, "and every contribution makes a difference. We just want to do whatever we can to help find cures."
To join Chuck and Eileen O'Shea in making your own legacy of hope, please visit myplanwithcoh.org to learn more.