Discover the stories of the people bringing Lennar Foundation Cancer Center to life
Lennar Foundation Cancer Center
at City of Hope Orange County, opening in Irvine this year, is more than an impressive building that will transform cancer research and treatment. It's the fulfillment of the aspirations of a community that has come together to end cancer.
From the beginning, hope has been built deep into the foundation and every facet of the center. Construction workers, employees, and community members visiting the site have been invited to write message of hopes on the unfinished walls, concrete around the building, or floors. Mountain views seen through floor-to-ceiling windows will create a calming environment on the top floor for patients receiving infusion therapy. And, continuing a cherished City of Hope tradition, trees with colorful tags bearing uplifting messages will provide hope and healing to patients and visitors.
Starting off a year of hope, City of Hope is offering glimpses of our comprehensive cancer center. Each month, we will unveil a new rendering or tell a behind-the-scenes story about the many committed people and inspiring events helping us develop this extraordinary health care resource for Orange County.
The initial glimpse is of the center's exterior, and what is revealed are the stories of hope literally in the structure's foundation. Welcome to Glimpses of Hope.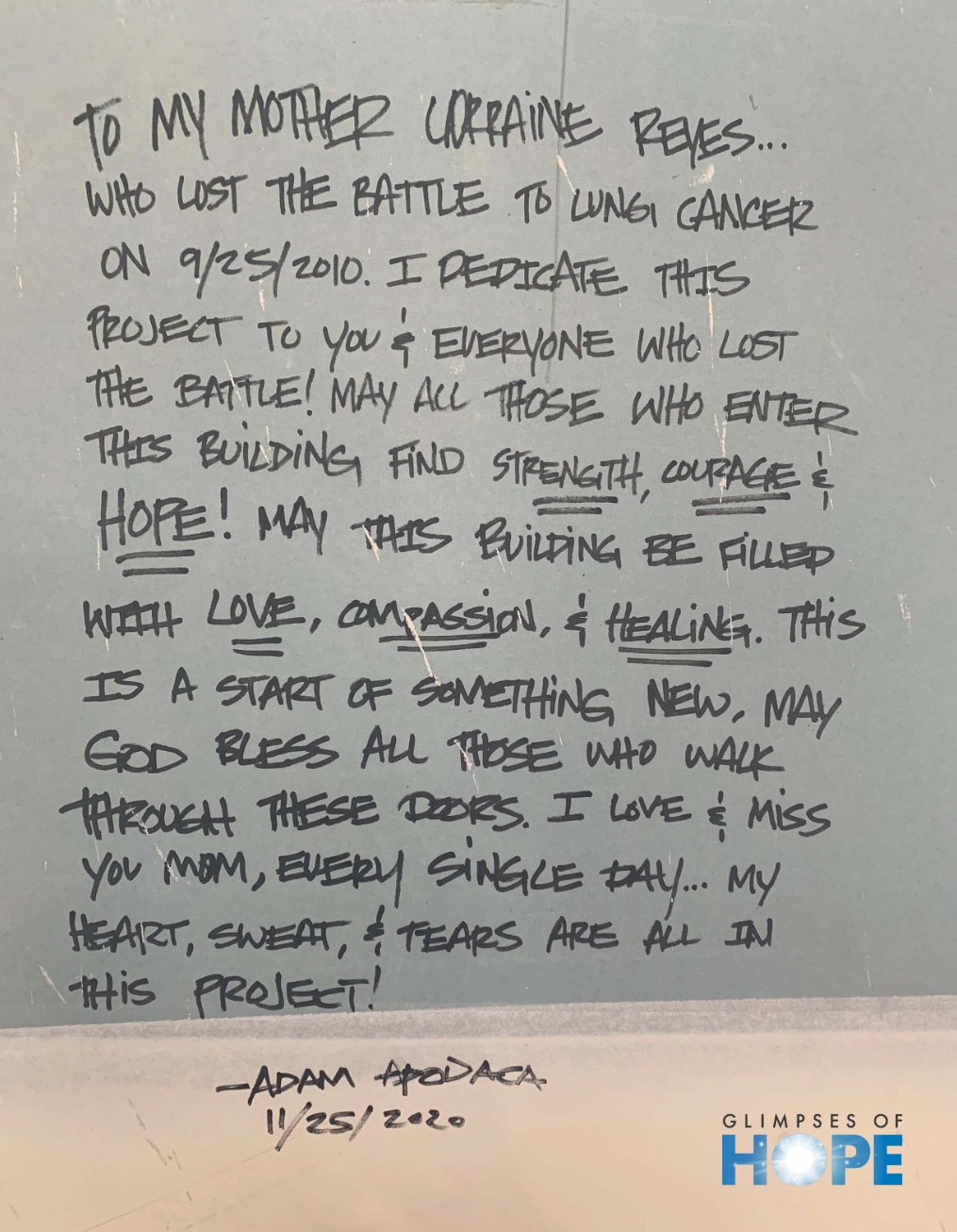 Founded In Hope
"May all those who enter this building find strength, courage and hope. May this building be filled with love, compassion, and healing."
Those touching words are from the hands and heart of a construction worker at Lennar Foundation Cancer Center. The note was dedicated to the memory of his mother who battled lung cancer and is one of hundreds of messages of hope in the cancer center's foundation. Though the walls are newly finished, the messages underneath will not be forgotten.
Like many, this tradesperson's life had been overturned by the loss of a loved one from cancer. One in three Americans will be diagnosed with cancer in their lifetime and all of us know someone – family, friends, neighbors – who have been impacted by this disease. This highlights the meaningful purpose of the work each crew member is contributing to.
Annette Walker, president of City of Hope Orange County, has repeatedly thanked the workers for being part of the sacred mission. "Please know that you are constructing more than a building," Walker said. "Pour your spirit into it. Bring it to life. And when done, look back and know your fingerprints are all over it. You will have helped turn steel, glass and drywall into a place of hope and healing. Thank you for bringing your hearts and hands to this project."
Each day, 250 workers are on site, putting their hearts and souls into their work. They've already spent more than 320,000 hours bringing the 190,000-square-foot cancer center to life and are spurred by the knowledge that their work will benefit generations of patients and their families.
Construction manager Fred Wallitsch sees the project as an opportunity for him to give back. His journey began at City of Hope's Duarte campus more than 20 years ago to beat leukemia. He received a successful stem cell transplant to treat a different cancer diagnosed seven years later.
"Because of City of Hope, I've gotten to experience graduations, weddings, and grandchildren, and see my family grow up," Wallitsch said. He added that given the impact of cancer, someone the workers know and love may be treated in the very facility they are building.
City of Hope's lifesaving vision was accelerated by a
$50 million gift from Lennar Foundation
. With the help of this transformational gift, more patients in the Orange County community will be able to get groundbreaking treatment and advanced therapies locally.
Bringing Life-Changing Cancer Treatments To OC Residents
City of Hope is advancing world-renowned cancer treatment and research by establishing a National Cancer Institute-designated campus in Orange County. Its 1,000 physicians, scientists and researchers focus on only one thing – ending cancer. City of Hope offers nearly 1,000 clinical trials each year and breakthrough treatment options, all delivered by a compassionate team of experts who take a patient's hand and never let go.
Lennar Foundation Cancer Center
will offer an unprecedented range cancer services, many of which are the first of their kind for the region. It will be the home of leading cancer researchers and cancer professionals and serve as a center for innovation and compassionate, patient-focused care.
Patients can currently access City of Hope's care at four
Orange County locations
that form a network of leading-edge cancer research and treatment.
Cancer doesn't stand a chance. The future is hope. And it's unfolding in Orange County. Visit
cityofhope.org/OC
to learn more, and follow us on social media @cityofhopeoc.
To make an appointment at any of our four Orange County locations, 
click here
 or call: