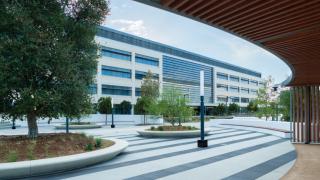 The City of Hope Orange County Lennar Foundation Cancer Center
The Most Advanced Comprehensive Cancer Center in Orange County
1000 FivePoint, Irvine, CA 92618
City of Hope, one of the largest cancer research and treatment organizations in the United States, opens its visionary comprehensive cancer center in Orange County, creating a national model for delivering breakthrough research and pioneering treatments. The academic cancer center ushers in a new era of hope for people with cancer. Here, some of the world's most acclaimed physician-scientists — with expertise in lung, breast, gastrointestinal, gynecological, genitourinary, blood cancers and more — lead next-level cancer treatment and research. City of Hope, one of only 52 National Cancer Institute-designated comprehensive cancer centers in the country, is answering the call to extend its personalized care, outstanding research and lifesaving treatments closer to home for the county's 3.2 million residents. Distinguishing clinical services will include:
Acclaimed cancer expertise: Access to City of Hope's 575 physicians and 1,000 researchers and scientists who only focus on cancer
Lifesaving clinical trials: Access to nearly 1,000 innovative Phase 1-3 clinical trials being conducted at City of Hope each year — more cancer-focused clinical trials than anywhere in the area — to provide patients with promising new treatments long before they become the standard of care
Breakthrough treatments: Targeted immunotherapies, including CAR T cell therapy, as well as bone marrow transplants, robotic minimally invasive surgeries and personalized treatments, such as stereotactic body radiation therapy. These innovations have demonstrated improved outcomes and a better quality of life for patients in treatment
Leading-edge technology: The latest and most comprehensive suite of market-leading radiology, interventional radiology and radiation oncology equipment, providing a powerful combination of high tech and high touch
Integrative medicine: A trailblazing integrative medicine program combining the best of Western medicine and evidence-based complementary therapies, such as acupuncture, massage and meditation
Cancer prevention: Programs that identify people and families with elevated cancer risk utilizing genetic risk assessments, biomarker panels and environmental surveys to help manage that risk
Early detection: Novel blood testing and imaging techniques that find cancer early, when it is still easily curable. Patients will be among the first in the nation to access City of Hope's new Center for Cancer Prevention and Early Detection
Precision medicine: Best-in-class genomic testing to profile a patient's tumor and determine the treatment that will be most effective for their cancer
Screening and diagnostic services: A suite of state-of-the-art imaging equipment for patients' convenient access to mammography, colonoscopy, robotic bronchoscopy and other lifesaving services
A clinical research unit: The epicenter for clinical investigational research that speeds the development of new drugs and interventions to the bedside, allowing patients to receive the latest treatments in cancer care
Surgical oncology: An outpatient surgery department that offers advanced perioperative care, an endoscopy suite and operating rooms with robotic-assisted surgical capabilities
Supportive care: City of Hope is a national leader in evidence-based supportive care. The Sheri & Les Biller Patient and Family Resource Center at the comprehensive cancer center in Irvine will facilitate easy access to a wide range of programs, including care navigation, survivorship programs, psychological and spiritual counseling, pain management and more
City of Hope's Orange County cancer care network includes four community practice sites — two in Newport Beach, one in Huntington Beach and one in Irvine. The cancer center, the community practice sites and the planned hospital will create Orange County's largest network dedicated exclusively to cancer treatment and cures.
Explore City of Hope Orange County Lennar Foundation Cancer Center
A Gift of Hope for Generations of Patients and Families
Thanks to a $50 million gift from Lennar Foundation, patients in the Orange County community will be able to get groundbreaking treatment and world-class care locally. This transformative gift will help us conduct lifesaving research and offer the latest therapies to patients in the area. It's a partnership that will help power innovation and offer hope to patients, families, friends and our entire community.
A Gift of Hope for Kandace McMenomy,
Grateful Patient, Avid Runner
"I truly hope in my heart that people who are in their own fight can see my journey as a beacon in the dark."
A Gift of Hope for Frank Di Bella,
Grateful Patient, City of Hope Supporter
"The care I received was exceptional. Having City of Hope Orange County changes everything for people with cancer."
A Gift of Hope for Nicole Petersen Murr,
Grateful Patient, Mother of 5
"Now I can honestly say that for the first time in my whole life, I'm not scared to make a future plan. I think I'm going to be here for a while."
Hope is a masterpiece
City of Hope partnered with artists to fill our halls and spaces with extraordinary expressions of life and hope. Our art gallery is intended to heal, replenish, and inspire those who enter our center. This art is medicine for the spirit, and we thank the outstanding artists who have shared their brilliance.