Ida Yaghoobians was diagnosed with terminal colorectal cancer and given six months to live. Then she turned to City of Hope for a second opinion — and found a new beginning
Ida Yaghoobians was 51 years old and unconcerned about the blood she had been seeing in her stool for about a year — she had some hemorrhoids, so she chalked the bleeding up to that. But she finally relented and agreed to get a colonoscopy to make sure everything was OK after the repeated urging of a close friend.
She was shocked when her doctor told her he had spotted a malignant tumor in her rectal area during the procedure, as she had always been "very healthy" and had never skipped her annual physical. Subsequent scans showed the cancer had already spread to her liver, lungs and pelvic region, to the point of being inoperable. An oncologist told her frankly that she had six months to live.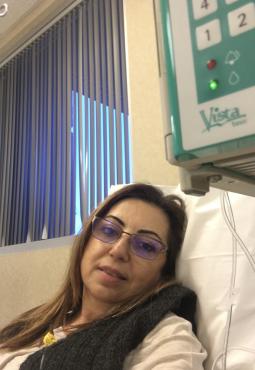 While devastated by the diagnosis, in response, Yaghoobians said to her husband, "You know, I haven't seen Paris yet."
From that moment, "I never believed I would die from this disease," said Yaghoobians, who was working as a receptionist in a doctor's office at the time of her diagnosis. "My daughter was just starting college and my son was about to graduate. They gave me a reason to live." 
After a couple of chemotherapy sessions at a local hospital, Yaghoobians transferred to City of Hope, where she met Marwan G. Fakih, M.D., whose research focuses on colorectal cancer and clinical drug development. When she told him of her previous oncologist's prognosis, Fakih, who serves as a professor in the Department of Medical Oncology & Therapeutics Research, co-directs the Gastrointestinal Cancer Program and is the Judy & Bernard Briskin Distinguished Director of Clinical Research, offered her a second opinion. "No one can tell you how long you can live," he said. "We have patients almost like you who are still coming for treatment after five years."
"Hearing that gave me hope," said Yaghoobians, who has made two trips to Paris since her Stage 4 diagnosis more than six years ago. "Now my mission every year is to travel somewhere and see the world." Recent travels have taken her to Spain and Austria, and for her next trip, she said, "I'm Armenian, so I want to go to Armenia."
Pushing the Envelope
"From the beginning, my doctors told me that my type of cancer was very aggressive," Yaghoobians said. Yet, no matter what treatment they threw at her, she insists that she always "went in with a very positive mind." 
Under the care of Fakih, Yaghoobians first received intensive chemotherapy for 18 months to tackle the tumors in her rectum and liver. Her response was robust enough for her to move on to the next step, surgery. In June 2018, her rectal tumor was removed and all visible disease in her liver was excised or ablated. To reduce the risk of recurrence, during surgery she had a liver pump placed to administer more chemotherapy directly to the organ. She completed four months of chemotherapy through the liver pump in October 2018.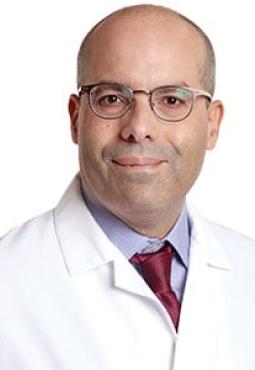 Unfortunately, by January 2019, her cancer had recurred in her pelvis and spread in her lungs. Over the next 18 months, Yaghoobians tried different treatment regimens, including radiation, but her cancer was becoming resistant and always returned. Her tumor had started to grow through her rectum again, and she started experiencing bouts of severe rectal bleeding, which became life-threatening. 
"When I met Ida for the first time [in June 2020], she was highly symptomatic, bleeding nonstop from the vagina and rectum, and had been hospitalized multiple times," said Andreas Kaiser, M.D., professor and chief of the Division of Colorectal Surgery, who joined City of Hope in 2020. Even with chemotherapy, patients in similar condition have an overall survival rate "of maybe 10-14% after five years," he noted. "That's not a good situation." In order to stop the hemorrhaging and save her life, a massive operation to clear the cancer from the entire pelvic area was needed — and quickly. "She was bleeding to death," Fakih said. 
A Huge Risk
The night before the surgery, Yaghoobians recalled, "Dr. Kaiser came to my bedside and said, 'I'm going to be honest with you: You might not survive this. It's a 14-hour surgery involving five surgeons, and if you make it through the surgery, you might not make it through the recovery.'"
Kaiser and his team removed her rectum, anus, bladder, uterus and vagina. Yaghoobians ended up with two ostomy bags outside of her body: a urostomy bag on the right side for her urine and a colostomy bag on the left side for feces.
When Kaiser told Yaghoobians that the ostomy bags would be permanent, the first crack in her armor appeared: "That was the breaking point for me," she recalled. "I really couldn't imagine my life with those bags." 
A Rare Opportunity
As she slowly adjusted to learning how to function with the ostomy bags, Yaghoobians was hit with another devastating blow: less than two months following her drastic surgery, computed tomography (CT) scans showed cancer regrowth in her pelvis and further progression in her lungs. Cancer markers in her blood spiked, indicating active disease.
Yaghoobians was down to the last Food and Drug Administration-approved chemotherapy — her final option. Despite this therapy, two months later, scans showed more tumor growth in her pelvis and lungs.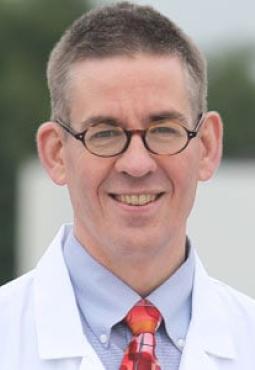 Yaghoobians was officially out of standard-of-care options. Her situation was now critical — her cancer was doubling in size quickly and spreading to different areas of her body. It was at this time that Fakih asked her to consider a Phase I clinical trial that he had recently developed at City of Hope for patients with metastatic colorectal cancer whose cancer had progressed on all standard forms of therapy. The study consisted of a three-drug cocktail of immunotherapy and targeted therapy that could potentially induce her own immune system to fight the cancer. 
She jumped at the chance. 
Yaghoobians enrolled in August 2020. After four months of treatment, her cancer had started melting away. Her tumor markers normalized. Side effects were minimal — doctors told her that an initial skin rash showed that the treatment was having an effect.
"The immunotherapy process went very smoothly for me," she recalled. "For two years, I went to the hospital every two weeks for blood work, treatment and a doctor visit. No side effects, no fatigue. I got my strength back."
An Incredible Result
Halfway through the two-year study, scans showed no remaining cancer, Fakih said. Yaghoobians completed two years of therapy at the end of 2022. She has not received any further treatment since, and her most recent CT scan in March showed no signs of cancer. Fakih is optimistic about her prognosis and has recommended close observation only at this time. "Every three months I go in for a CT scan to make sure my condition is stable," she said. Fakih recently published the results of his study in JAMA Oncology, specifically calling out Yaghoobians' case. 
"I consider Ida a miracle of science," he said. "She reminds me every day of the importance of the clinical research that we conduct at City of Hope. This is what we wake up for: making patients' lives better and finding hope by creating new treatment options. This study was a lifesaving treatment for Ida, but along her treatment path, every step contributed to where she is today." 
"She's essentially without any evidence of disease at this point," Kaiser added. "Remember that she had liver disease, a very aggressive recurrence in the pelvis and lung metastases. The more common way to manage her would have been to send her to hospice care and say, 'Sorry, that's it. We can't do anything anymore.' But sometimes we've got to push the envelope a bit. And that's one of the things we do at City of Hope."
Her children helped her through it all — and today, Yaghoobians said, "Physically I feel energetic. I'm living my normal life. As long as I'm healthy with my family, that's all I ever wanted."