Paul Edmonds no longer has detectable HIV or leukemia after a remarkable stem cell transplant at City of Hope using cells from a donor with a rare genetic mutation
In the early 1980s, City of Hope patient Paul Edmonds went to a bar in San Francisco regularly after work, and often cried.
Edmonds recalled reading the obituaries of many friends in the weekly Bay Area Reporter. At that time, people didn't know what their friends were dying from; many called AIDS the "gay cancer." In 1984, HIV was identified as the cause of AIDS.
"People were dying within a few years of finding out they were positive," Edmonds said. "A dark cloud was over the city."
So, when Edmonds was diagnosed in 1988 with not just HIV, but full-blown AIDS, he felt he had been given a death sentence. 
For more than 30 years, Edmonds lived with HIV, taking different therapies to control the virus as much as possible.
He never imagined a day would come when he would live without HIV.
But City of Hope changed that.
Paul Edmonds shares his story with ABC's "Nightline."
In July 2022, City of Hope announced that a 66-year-old man who had been HIV-positive for over 30 years had gone into remission for acute myeloid leukemia and HIV thanks to a transplant using stem cells from a donor with a rare genetic mutation, homozygous CCR5 Delta 32. The mutation makes people who carry it resistant to acquiring HIV. Of the five people in the world who have achieved remission for both diseases after receiving a transplant with the rare mutation, the man was the oldest in the group and the person who had had HIV the longest.
At the time, Edmonds wished to remain anonymous. But now he is telling his story. 
"A big reason I want to tell my story is to bring some hope for people with HIV," said Edmonds, 67, of Desert Hot Springs, California. "And I want to remember all those we lost."
A Cancer Diagnosis
In August 2018, Edmonds was diagnosed with myelodysplastic syndrome, which eventually developed into acute myeloid leukemia. Older HIV patients, because they've had weak immune systems for so many years, often develop leukemia and other blood cancers. 
At the time, Edmonds and his partner of 31 years, Arnold House, were planning to move to the Palm Springs area from Sonoma County. His doctors suggested he might seek treatment at City of Hope.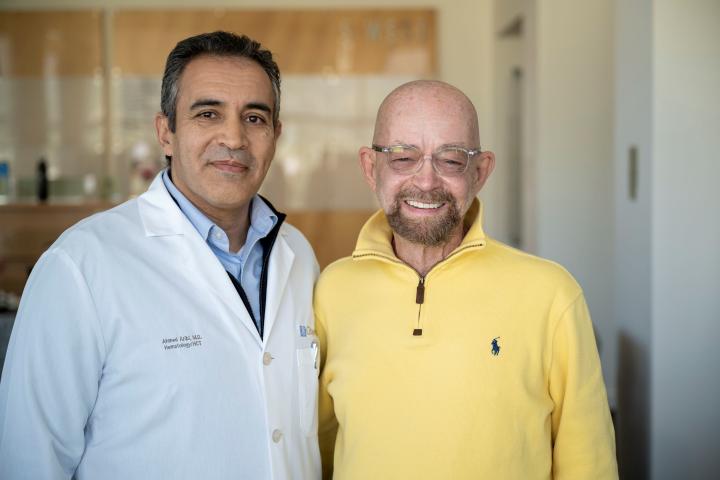 Shortly after starting his care at City of Hope, Edmonds developed acute myeloid leukemia (AML). Ahmed M. Aribi, M.D., assistant professor with City of Hope's Division of Leukemia in the Department of Hematology & Hematopoietic Cell Transplantation, let Edmonds know he would need a stem cell transplant from a donor to beat the cancer. But, in an exciting twist, Edmonds' medical team let him know that they would also search the Be The Match registry for a donor who carried the rare HIV-resistant genetic mutation.
Transplant patients must first go into cancer remission, which often requires intense chemotherapy. This is done so that cancerous cells are eradicated. Healthy stem cells from the donor are then given to the patient.
But giving chemotherapy to a patient such as Edmonds, who was also taking HIV antiretroviral therapy, can be challenging because chemotherapy can temporarily diminish a patient's immune system. 
City of Hope, however, had prior experience in providing both successful stem cell and bone marrow transplants to people with cancer and HIV. 
"The fact that Paul achieved remission from his difficult-to-treat leukemia and went through transplant successfully without complications speaks to City of Hope's expansive medical experience," Aribi said. "A successful transplant can only happen in a place where the procedure is done all the time, such as City of Hope. We can deal with complications, recognize complications early on and change therapies if needed."
City of Hope is one of the highest volume transplant centers in the nation and the largest in California. More than 18,000 transplants have been performed at City of Hope since it became one of the first cancer centers in the U.S. to perform transplants in 1976. 
Furthermore, a 2016 study published by Joseph Alvarnas, M.D., a professor with City of Hope's Department of Hematology & Hematopoietic Cell Transplantation, found that an autologous stem cell transplant should be considered the standard of care for patients with HIV-related lymphomas as long as the patient's medical team also considered how it would manage any infections and other complications.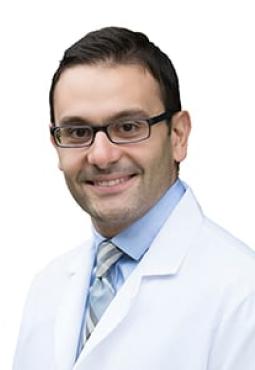 In November 2018, Edmonds started his first round of chemotherapy, what's known as a 7 + 3. He received one type of chemotherapy for seven days and another type of infusion on the first three days. During this first round, Edmonds developed a fungal infection in his lungs and started receiving an infusion of anti-fungal medicine. 
"My reaction to this medication was much worse than the 7 + 3 chemo," Edmonds recalled. "I would have chills, high fever and extreme shaking, similar to a seizure." 
The anti-fungal medication was changed to a different one, which caused fewer side effects. 
Edmonds received a second round of chemotherapy, but the leukemia remained. He would need a third regimen to get the leukemia into remission. Finally, in mid-January, Edmonds' leukemia went into full remission after he received a reduced intensity chemotherapy that was developed by City of Hope and other institutions for older patients who may not be able to tolerate more intense chemotherapy. 
The pretransplant process took about three months and, during that time, Edmonds remained at City of Hope.
Edmonds would still need a week of pretransplant chemo to completely wipe out his immune system and prepare his body to receive healthy stem cells. 
Finding a Donor
While Aribi and his team worked to get Edmonds into remission, Monzr M. Al Malki, M.D., associate professor in the Division of Leukemia and director of City of Hope's unrelated donor program, and his team were also working on getting both the best donor for Edmonds and one with the rare genetic mutation. 
The team checks a patient's human leukocyte antigen (HLA) compatibility against millions of donors in Be The Match bone marrow registry. Al Malki explained that HLA compatibility tissue matching allows the patient's body to accept a donor's stem cells and minimizes graft-versus-host disease (GVHD), which can be a serious transplant complication. The suitable donor should also have other components necessary to fight the cancer and potential infections.
"What's incredible is that when a person joins the registry, he or she sends a swab to extract DNA that can give us a lot of information about the donor," Al Malki said. "Picking the donor has a lot to do with science and the data that has been published in the last 30 years to help us find the best, most suitable donor for a patient." 
'I never gave up, and I never felt hopeless.'
Paul Edmonds
In Edmonds' case, they were also looking for a donor with the rare genetic mutation. Two were found, but because Edmonds was not going into remission as anticipated, one donor dropped out of the process. The second donor was contacted and agreed to donate to Edmonds.
When Aribi told Edmonds City of Hope had found a donor with the rare genetic mutation, "I felt like I won the lottery," Edmonds said. Only 1-2% of the world's population carry the mutation.
The homozygous CCR5 delta 32 mutation makes people resistant to most strains of HIV infection. CCR5 is a receptor on CD4+ immune cells, and HIV uses that receptor to enter and attack the immune system. But the CCR5 mutation blocks that pathway, which stops HIV from invading cells and replicating. 
"I'm very thankful for that wonderful person who donated those stem cells," Edmonds said. "I can't thank him enough for what he did. He saved my life."
Time for transplant
Finally, on Feb. 6, 2019, Edmonds, then 63, received stem cells from the donor.
"Transplant was a breeze," said Edmonds, recalling that the treatments to get there had been more challenging for him. "I started feeling pretty good almost immediately and just continued to feel really good."
Edmonds had mild to moderate side effects caused by GVHD, which occurs when the donor's T lymphocytes, a type of white blood cell that fights infections, attack the patient's cells. Two side effects that Edmonds continues to grapple with from time to time are dry eyes and mouth sores, for which he continues to receive treatment at City of Hope. 
"I think I went to one of the best places in the world," Edmonds said. In addition to having an expert medical team of blood cancer and infectious disease specialists, Edmonds said he received top-notch supportive care, which addressed his physical and emotional needs.  
"They kept me busy. I didn't have a lot of downtime," said Edmonds, who worked as a word processor and is currently a painter and caregiver. "I had occupational therapists, recreational therapists, physical therapists and just a whole team of doctors and incredible nurses."
Because Edmonds had to spend several months at City of Hope Helford Clinical Research Hospital and then at a hotel nearby, longtime friends came to help his husband with caretaking tasks. They included a friend from grammar school and friends from across the nation, including Boston and San Francisco. 
"I had friends from all around the country who came and stayed with me," Edmonds said, his voice quavering. "I have an incredible support system."
Going off HIV therapies
City of Hope doctors and medical staff carefully monitored Edmonds after his transplant as he remained on antiretroviral therapies for HIV. He also took therapies to prevent GVHD that weaken a person's immune system.  
When the COVID-19 pandemic hit in March 2020, that also challenged Edmonds' treatment. His medical team had planned to hold his antiretroviral medications, as testing did not show evidence of HIV in his reservoirs, where the virus can hide. 
But in order to stop his antiretroviral drugs safely, Edmonds would need regular laboratory tests to closely monitor whether HIV had become active again. That would have been difficult to arrange at the height of the pandemic. They also waited for Edmonds to be fully vaccinated against COVID-19.
On March 2, 2021, feeling largely excited and a bit anxious, Edmonds stopped taking antiretroviral therapies. Once a week, Edmonds had his HIV levels checked. Each time, no virus could be detected.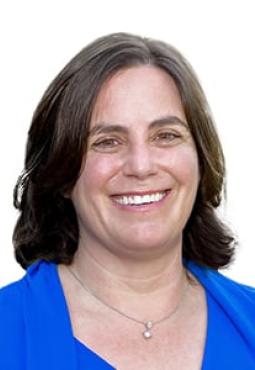 "We did even further testing to see if we could find the virus hiding in the reservoir while he was off his antiretroviral medications, and again, everything came back effectively negative," said Jana K. Dickter, M.D., associate clinical professor with City of Hope's Division of Infectious Diseases, Department of Medicine. She explained that reservoir testing detects HIV that could not be found with regular blood tests.
"We're at almost two years off his antiretroviral medications, which has been so exciting," Dickter added. "I'm thrilled for him." 
Edmonds' life has come full circle, Dickter added. He was diagnosed with HIV at a time when people with HIV started to use experimental medications that made people sick and frequently didn't work. 
In the mid-1990s, combination therapy with multiple antiretroviral drugs was introduced, known as the "AIDS cocktail."  This led to dramatic health improvements for people with HIV.  
More hope came in 2009, when it was announced that a Berlin patient, who later was identified as Timothy Ray Brown, had gone into remission for HIV and a blood cancer after undergoing a stem cell transplant. Since then, four additional patients have gone into remission for both diseases after a transplant. Dickter expects more patients will be cured of both diseases if a donor with the rare genetic mutation can be found each time.
In the decade following, City of Hope was also doing its part to advance the use of stem cell transplants to treat patients with HIV and patients with HIV and cancer. City of Hope pioneered the use of gene-modified blood stem cell transplants to evaluate the use of stem cells engineered to be resistant to HIV infection. The institution was also a primary national co-leader in two National Cancer Institute-sponsored trials for autologous, which uses a patient's own reengineered stem cells, and allogeneic stem cell transplantation, which use a donor's stem cells, for patients with HIV and blood cancers. These trials led to a change in the national standards of care on how best to manage this vulnerable patient population.
"We've come such a long way. Now, here we are in 2023 and we now have so many tools for people with HIV that are effective and well-tolerated," Dickter said. "As people living with HIV age, they are at a higher risk for developing age-related cancers, including hematologic malignancies. For those who would benefit from a stem cell transplant to treat their cancer, the idea that they could go into remission from HIV simultaneously is amazing." 
"It's incredible to think that when I was a fellow so many years ago, the idea of having someone effectively cured of their HIV seemed almost impossible, or something that I would never see or experience firsthand," Dickter said.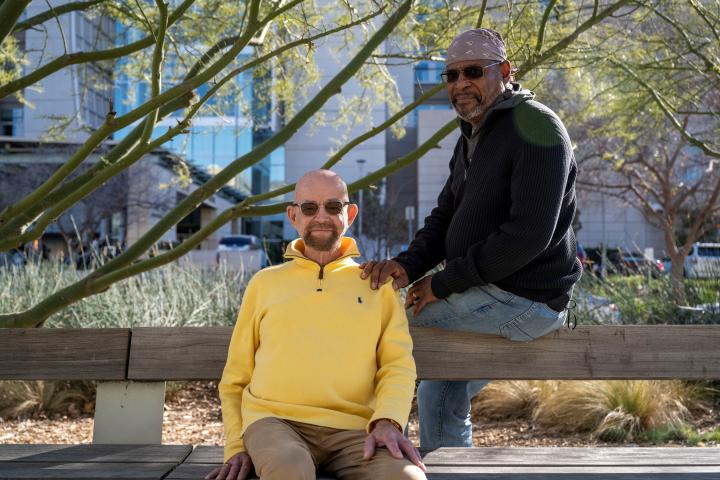 City of Hope's work to eradicate HIV and blood cancers with different therapies also continues. Leveraging their expertise in cellular immunotherapy, City of Hope scientists have developed chimeric antigen receptor (CAR) T cells that can target and kill HIV-infected cells and control HIV in preclinical research. The team is working on starting a clinical trial using the CAR T cell therapy, which has the potential to provide HIV patients with a lifelong viral suppression without antiretroviral therapies.
That's all exciting news to Edmonds, who sits on the Community Advisory Board for RID-HIV Collaboratory, one of 10 Martin Delaney Collaboratories for HIV Cure Research funded by the National Institutes of Health.
Edmonds will also be working with Adam Castillejo, known as the London patient, and the Dusseldorf patient to support fundraising for HIV cure research.
His advice for those living with HIV is to find expert doctors like the ones he had at City of Hope and other centers, and to always be your own strongest health advocate. 
"I feel like my journey with HIV over the last 30 years helped prepare me for the last four years," Edmonds said.
In addition, he is now giving back by working as a caregiver for people with disabilities and older adults. "Even though I knew AML could be fatal, I never once believed that I would not make it. I never gave up, and I never felt hopeless."
---
Edmonds' incredible story has been widely shared in the media, including on Good Morning America, ABC News and Nightline, on the front page of the Washington Post and in the New York Post. 
---
Main photo: Edmonds, center, with Jana Dickter, M.D., left, and Monzr  Al Malki, M.D., right.