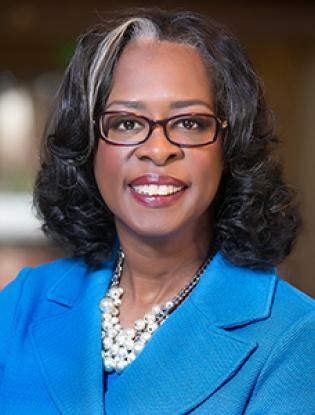 System Senior Vice President and Chief Diversity, Equity and Inclusion Officer
Angela Talton's broad expertise in diversity and inclusion encompasses leadership development, recruitment and retention of talent, communication strategy, philanthropic giving, supplier diversity and analytics.

Most recently, Talton has successfully advised national clients through her firm, ALTalton Consulting. From 2012 to 2019, she held diversity and inclusion leadership roles at industry leader Nielsen — as chief diversity officer and as senior vice president, global diversity and inclusion. There, she crafted a five-pronged strategy focused on accountability, career development, talent retention, supplier diversity and education. Her work solidified Nielsen's reputation as a recognized leader in corporate diversity and inclusion, with six consecutive years of improved ranking on DiversityInc's list of top 50 companies and receiving Human Rights Campaign's Corporate Equality Index rating of 100%. Additionally, her strategy led to Nielsen ranking as one of the top companies in D&I with Disability:IN, Diversity MBA, Working Mother & AVATAR (India), Inclusive Top 50 UK Employers, Fortune and Forbes.

Contributing to her expertise and perspectives, Talton has held a variety of senior executive roles during her career, including serving as senior vice president of global call center operations at Nielsen, as a divisional vice president at Sears Holding Corporation and as a vice president of Business Processes at ALLTEL Communications Inc.

In 2019, Talton was named one of the Most Powerful Women in Corporate Diversity by Black Enterprise magazine. That same year, she was inducted into the Radio & Television Society Foundation's Hall of Mentorship. Savoy magazine named her one of the Most Influential Women in Corporate America in 2012, 2014 and 2016.

Talton received her master's degree in business management from the Kellogg School of Management at Northwestern University and her bachelor's degree in business administration from the University of North Carolina at Chapel Hill.