Hadi Mohammad Khanli, M.D.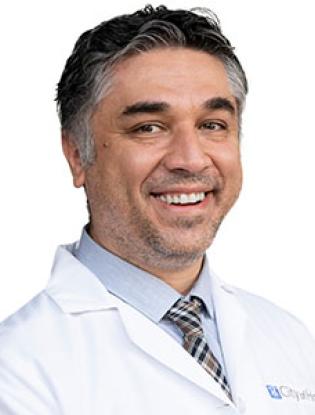 Neurologist
Clinical Expertise
Neurophysiology
Epilepsy
Neuromuscular Disorders
Headaches
Appointments
Assistant Professor, Division of Neurosurgery, Department of Surgery
Hadi Mohammad Khanli, M.D., made his life's goal to pursue a greater understanding of the nervous system after watching his grandmother struggle with Alzheimer's disease. He delivers care that is centered on, and driven by, each patient's needs, helping them manage the physical and emotional elements of their illness and valuing their cultural and spiritual beliefs.
After graduation from Tehran University of Medical Sciences in Iran, and completion of a four-year neurology residency program in Tabriz University, Dr. Khanli moved to United States. He initially started to work as a research fellow studying age-related neuromuscular impairments at UCLA, then completed an internship at New York Metropolitan Hospital, followed by a three-year neurology residency program at George Washington Hospital and one-year clinical neurophysiology fellowship at the National Institutes of Health. During his fellowship, Dr. Khanli worked also as a consultant for neurological complications of blood cancers and their treatment. He published multiple articles about common neurological disorders in well-respected medical journals during his career.
Fluent in Farsi and Turkish, he enjoys spending time with family, traveling, skiing, swimming and playing tennis.
Basic Text Field
2021, 

Clinical neurophysiology board certification

2020, Neurology board certification
2004, Doctor of Medicine, Tehran University of Medical Sciences, Tehran, Iran
2020, Neurology, George Washington University Program, Washington, DC

2010, Neurology, Tabriz University of Medical Sciences, Tabriz, Iran
2017, Internal Medicine, New York Medical College, New York, NY
2021-present, Assistant Clinical Professor, Division of Neurolgy Medicine, Department of Medicine, City of Hope, Duarte, CA

2012-2013, General Physician, Neurology, Private Practice, Urmia, Iran

2010-2012, Attending Physician, Neurology, Urmia University of Medical Sciences, Urmia, Iran

2004-2006, General Physician, Duty Service, Army Hospital, Tehran, Iran
Ayromlou H, Mohammad-Khanli H, Yazdchi-Marandi M, Rikhtegar R, Zarrintan S, Golzari SE, Ghabili K. "Electrodiagnostic evaluation of peripheral nervous system changes in patients with multiple sclerosis." Malays J Med Sci. 2013 Jul; 20(4):32-8.
Ghabili K, Golzari SE, Salehpour F, Imani T, Bazzazi AM, Ghaffari A, Khanli HM, Tizro P, Taghizade S, Shakouri SK. "Spinal injuries in the 2012 twin earthquakes, northwest Iran." PLoS Curr. 2013 Mar 27; 5
Asghari M, Ebrahimi H, Salehpour F, Shimia M, Khanli HM, Bazzazi AM, Eslampoor Y, Ghojazadeh M. "Effect of Three Different Mannitol 20% Doses on Cerebral Edema and Consciousness Levels in Traumatic brain injury." Life Sciense Journal 2013; 10(7s):1228-1231
Samadikhah J, Golzari SE, Sabermarouf B, Karimzadeh I, Tizro P, Mohammad Khanli H, Ghabili K. "Efficacy of Combination Therapy of Statin and Vitamin C in Comparison with Statin in the Prevention of Post-CABG Atrial Fibrillation." Adv Pharm Bull. 2014;4(1):97-100
Shimia M, Meshkini A, Shakeri M, Azar AK, Mahdkhah A, Mirzaei F, Aeinfar K, Imani MT, Khanli HM. "Evaluation the difference between results of MRI and electrodiagnostic methods in inferior lumbosacral discopathies." Advances in bioscience & clinical medicine. 2014 Jan;2(1):27-30
Talebi M, Nikanfar M, Sorkhabi R, Sharifipour E, Bahrebar M, Kiavar A, Andalib S, Khanli HM. "Optic coherence tomography findings in relapsingremitting multiple sclerosis patients of the northwest of Iran." Iran J Neurol. 2013;12(3):81-6
Golzari SE, Ghabili k, Khanli HM, Tizro P, Rikhtegar R. "Access to cancer medicine in Iran." Lancet Oncol. 2013 Mar; 14(3):e87. • Khanli HM, Sokouti M, Mahmoodpoor A, Ghabili K, Golzari SE, Bazzazi AM, Ghaffari A, Nami F, Sabermarouf B. "Iran's Bushehr earthquake at a Glance." PLoS Curr. 2013 May 1;5. doi:pii:ecurrents.dis. b69b729791d0326a1e0f5f9ac4571a4
Salehpour F, Shokouhi G, Shakeri M, Shimia M, Baradaran A, Imani MT, Mirzaee F, Azar AK, Bazzazi AM, Khanli HM. "Neuroprotective Effects of Citicoline in Diffuse Axonal Injuries." Advances in bioscience & clinical medicine. 2013 Jul; 1(1):16-19
Sokouti M, Golzari SE, Tizro P, Khanli HM, Ghabili K. "Genitourinary hydatid disease." Int Urol Nephrol. 2013 Jun; 45(3):757-8.
Golzari SE, Ghabili K, Aslanabadi A, Khanli HM, Bazzazi AM, Sabermarouf B, Piri R, Mahmoodpoor A. "Infectious threats after Iran's Bushehr earthquake." Clin Infect Dis.2013 Aug; 57(4):619.
Golzari SE, Sokouti M, Bazzazi AM, Khanli HM, Ghabili K. "Serodiagnostic tests in musculoskeletal hydatid disease." Spine (Phila Pa 1976). 2013 Sep;38(20):1797
Golzari SE, Ghabili K, Khanli HM, Mahmoodpoor A, Sabermarouf B. "Imported malaria cases: a source of moving backward from elimination to the preelimination phase in malaria control. Clin Infect Dis. 2013 Oct; 57(7):1061-2.
Fakhari S, Khanli HM, Sabermarouf B. "Multidisciplinary Approaches to the Management of Breast-Cancer-Related Lymphedema" Advances in bioscience & clinical medicine. 2013 Jul;1(1):37-38
Aslanabadi S, Badebarin D, Jamshidi M, Valinejad M, Ghabili K, Golzari SEJ, Khanli HM, Sabermarouf B. "Defecation Disorders after Surgery for Hirschsprung's Disease in Children; an Iranian Experience." Life Science Journal 2013;10(7s): 8-11
Trikamji B, Khanli HM, Rafiei N, Mishra S. Mitochondrial "Neurogastrointestinal Encephalomyopathy with an unusual pattern of inheritance." Annals of Indian Academy of Neurology 20 (3), 328
Trikamji B, Rafiei N, Khanli HM, Mishra SK. "Sensory Ganglionopathy Associated with Sjogren Syndrome." Journal of clinical neuromuscular disease 18 (2), 104-106
Khanlou N, Mishra S, Rafiei N, Khanli HM. "A case of Becker muscular dystrophy with rimmed vacuoles" Journal of the Neurological Sciences 357, e72-e73
Mishra SK, Khanli HM, Akhlaghipour G, Jazi GA, Khosa S. "Historical Prospective of Neurology in Iran." Iranian Journal of Neurology 18 (1), 25-32
Khosa S, Tirkamji B, Khosa GS, Khanli HM, Mishra SK. "An Overview of Neuromuscular Junction Aging Findings in Human and Animal Studies" Current aging Science 12(1), 28-34
Khanli HM, Bayat E. "Primary systemic amyloidosis: neurologic complications" MedLink Neurology article, Nov 2019
Ratings and reviews below are gathered from the Press Ganey Clinician and Group Consumer Assessment of Healthcare Providers and Systems (CG CAHPS) survey. CG CAHPS is a standardized survey that is used to measure a patient's experience in the physician office setting. Ratings are an average of all responses to questions about a provider's care, with five stars being the highest.
Ratings
4.8
Show respect for what you say
4.8
Spend enough time with you
4.8
Provider explain in way you understand
4.8
Provider listen carefully to you
4.7
Know important info medical history
4.6
Recommend this provider office
---
Reviews
Very good experience with the Doctor
- Verified patient
Dr. K is patient and kind re all my questions. Also very honest
- Verified patient
COH is excellent!!
- Verified patient
Dr. Khanli is one of the best care providers. Very knowledgeable. He is on time, comes in the room with a smile. He explains everything in detail. I would say he really knows his patient medical history. I'm impressed he brings with him his notes about. He listens and take time and will give an answer to the question. He is on top of my health issue and spends a lot of time with me.
- Verified patient
I appreciate the time the doctor took to answer all my concerns. At no time did I feel rushed.
- Verified patient