DUARTE, Calif.
—
Yuman Fong
, M.D., the Sangiacomo Family Chair in Surgical Oncology at City of Hope, a world-renowned cancer research and treatment organization, was presented with one of the highest honors in health and medicine today.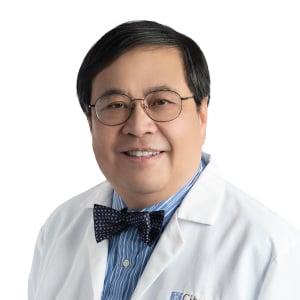 The National Academy of Medicine (NAM) honored Fong "for transforming the fields of liver surgery, robotics in surgery, imaging and display in medicine, and gene therapy." His contributions as a surgeon, engineer, innovator and mentor have yielded patents and first-in-human trials that translated scientific discoveries to medicines and medical devices.
"It is my privilege to welcome this extraordinary class of new members. Their contributions to health and medicine are unmatched – they've made groundbreaking discoveries, taken bold action against social inequities and led the response to some of the greatest public health challenges of our time," said National Academy of Medicine President Victor J. Dzau..
Fong has been a surgical oncologist at City of Hope since 2014 and serves as director of its Center for Surgical Innovation, director of its Center for International Medicine, and chair and professor of its Department of Surgery.
Founded in 1970, NAM is one of the three academies that make up the
National Academies of Sciences, Engineering, and Medicine
. Its mission is to improve human health by advancing science, accelerating health equity and providing independent, authoritative and trusted advice nationally and globally.
"Dr. Yuman Fong is the most innovative surgeon I know, in both the operating room and the laboratory. He is an internationally recognized expert in cancers of the liver, pancreas, gallbladder and bile ducts," said 
Michael Caligiuri
, president of City of Hope National Medical Center and a NAM member. He is also City of Hope's Deana and Steve Campbell Physician-in-Chief Distinguished Chair.
"Yuman has pioneered many surgical laparoscopic, robotic and ablative therapies for hepatobiliary cancers, but equally important, he has developed a number of oncolytic viruses that will no doubt add to the armamentarium of anti-cancer agents," Caligiuri added.
Fong is widely recognized for his transformative work in gene therapy and leading-edge surgical techniques that would be especially helpful to people in emerging nations. He has co-authored more than 1,000 scientific articles and 17 textbooks. In 2019, PLOS Biology recognized Fong as one of the
most cited researchers in the world
. His research is
ranked No. 1
in "The 100 most cited papers in the history of the American Surgical Association."
"I am humbled to be inducted into this esteemed organization," Fong said. "I am grateful for the support of my colleagues at City of Hope and my collaborators internationally who have worked across disciplines with me to advance health and medicine for people who need the cancer treatments of tomorrow today."
Every year, 100 new members are elected by current members through a process that recognizes individuals who have made major contributions to the advancement of medical sciences, health care and public health. The
newly elected members
bring NAM's total membership to more than 2,300 and the number of international members to approximately 185. "For those at the top of their field, NAM membership reflects the height of professional achievement and commitment to service," states its website.
# # #
About City of Hope
City of Hope is an independent biomedical research and treatment center for cancer, diabetes and other life-threatening diseases. Founded in 1913, City of Hope is a leader in 
bone marrow transplantation
 and immunotherapy such as 
CAR T cell therapy
. City of Hope's translational research and personalized treatment protocols advance care throughout the world. Human synthetic insulin, monoclonal antibodies and 
numerous breakthrough cancer drugs
 are based on technology developed at the institution. A National Cancer Institute-designated comprehensive cancer center and a founding member of the National Comprehensive Cancer Network, City of Hope is ranked among the nation's "Best Hospitals" in cancer by U.S. News & World Report. Its main campus is located near Los Angeles, with 
additional locations
 throughout Southern California and in Arizona.
Translational Genomics Research Institute (TGen)
 became a part of City of Hope in 2016.
AccessHope
TM
, a subsidiary launched in 2019, serves employers and their health care partners by providing access to NCI-designated cancer center expertise. For more information about City of Hope, follow us on 
Facebook
, 
Twitter
, 
YouTube
 or 
Instagram
.