After Jeff Fitzhugh was diagnosed with multiple myeloma in May 2020, his neighbor, a physician, gave him four pieces of advice: Cut out white sugar, eat more greens, get lots of sleep and, most important, stay positive. Fitzhugh took that last one in particular to heart.
"I have remained positive through this whole thing, despite the challenges or maybe even because of them," the lifelong Huntington Beach resident said. "I'm not dying from cancer. I'm living with cancer, and that's a big difference."
While Fitzhugh has always had a glass-half-full optimism, he said it was validated by another piece of advice from his friend: Go see
Amrita Krishnan, M.D.
, a noted hematologic cancer clinician and researcher at City of Hope Newport Beach Fashion Island and Director of the Judy and Bernard Briskin Center for Multiple Myeloma Research.
Coincidentally, his friend's recommendation came the same day that Fitzhugh's oncologist also referred him to Dr. Krishnan. Even though Fitzhugh was responding well to treatment, his oncologist believed Fitzhugh would benefit from Dr. Krishnan's renowned expertise and specialized focus on multiple myeloma. 
"I will never forget that first meeting with Dr. Krishnan, because something happened that I've never experienced during a doctor's visit," Fitzhugh said. "She sat with me for about an hour, describing the multiple myeloma I have, what's happening to my body and what we need to do to correct it. The whole time she wrote down everything she was saying and even drawing pictures and diagrams. At the end of the meeting, she gave me the notes so I could remember everything we discussed.
"It's just a different level of care at City of Hope. The laser-like focus that's put on your specific type of cancer is truly remarkable, and they do it all for us, the patients."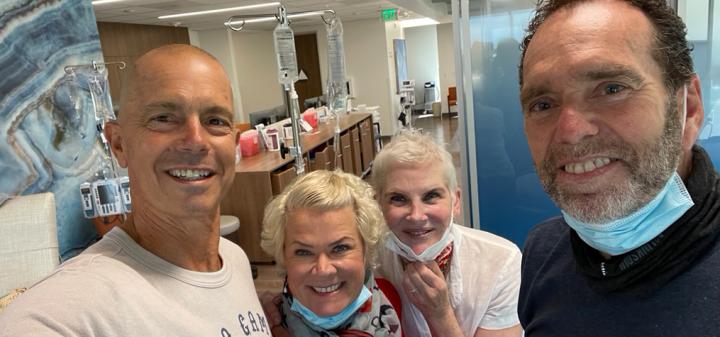 Positive Reinforcement
Fitzhugh goes full force at life. An all-around sportsman and passionate Angels baseball fan, he leads not just one but two sportswear companies. He and his wife, Susan, enjoy spending time with their two grown children and traveling.
Fitzhugh noticed a few years ago that he didn't have his usual stamina during workouts and would become exhausted. He went through a battery of tests and visits with various specialists for more than a year and a half before he was diagnosed with multiple myeloma.
"I was persistent because I kept listening to my body tell me that something was wrong, even as tests kept coming back negative," Fitzhugh said. "I would recommend to anybody that you pay attention to your health and if you feel something different, advocate for yourself."
Ahead In The Count
A leader in blood cancers like multiple myeloma, City of Hope is known for its pioneering work in stem cell transplantation, which replenishes damaged bone marrow and cells of the immune system. Fitzhugh had a transplant last year.
Dr. Krishnan designed an individualized post-transplant treatment plan for Fitzhugh, and the results have been excellent, he said. He looks forward to seeing familiar faces at his appointments, some of whom are fellow patients who have bonded with him and each other.
"I look for the silver linings of cancer, as unusual as that may sound," Fitzhugh said. "I'm a better man because I have a different perspective now that I wouldn't have without cancer. I don't sweat the small things anymore. It's so much better to think about all there is to be grateful for."
Hope is growing at 
City of Hope Orange County
. Our new
locations
in Huntington Beach, Newport Beach Lido and Irvine Sand Canyon join City of Hope Newport Beach Fashion Island to form a four-location network of highly specialized cancer care. To make an appointment at any of our four Orange County locations,
click here
or call:
Newport Beach Fashion Island: (949) 763-2204
Newport Beach Lido: (949) 999-1400
Irvine Sand Canyon: (949) 333-7580
Huntington Beach: (714) 252-9415