Precision medicine at City of Hope Orange County changed the face of lung cancer for Peg Berens and her family.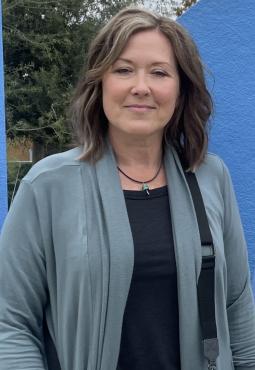 As a nonsmoker her entire life, Peg Berens never gave much thought to lung cancer. She was focused on her family and her career in interior design.
Her life changed in 2020, when she received the startling news at age 54 that she had advanced stage lung cancer that had spread to other areas of her body. The diagnosis came as a shock. But it explained why her health deteriorated so rapidly to the point that her breathing had turned to wheezes and she could barely walk.
Berens began traversing Orange County from one medical appointment to another. She found the expertise and answers she needed at City of Hope Orange County.
Her physician, Nishan Tchekmedyian, M.D., is a medical oncologist and hematologist specializing in leading-edge cancer treatment and clinical research at City of Hope Orange County Lennar Foundation Cancer Center and the regional medical director for City of Hope Orange County. He recommended biomarker testing, noting that Berens' lung cancer seemed unusual for her healthy, nonsmoking lifestyle.
With any luck, Tchekmedyian explained, the cancer cells would have a gene mutation that could be targeted by a drug designed precisely for that purpose. Targeted therapy is at the center of precision medicine, a rapidly emerging approach that considers an individual's genes, environment and lifestyle to develop a personalized plan for disease prevention and treatment. In the lung cancer field, targeted therapies have been the result of remarkable advances in research and are bringing new hope to patients and their families.
The answer came back: The test results were positive for nonsmall cell lung cancer with anaplastic lymphoma kinase (ALK), a genetic anomaly resulting from two genes becoming "stuck" together.
The good news, said Tchekmedyian, is that ALK-positive lung cancer responds very well to a certain class of targeted therapies.
Berens had reason for hope.
With the targeted drug, "I essentially got off what could have been my deathbed, and then I got off oxygen in a matter of weeks," Berens said. "About a month after that, I was able to walk around the neighborhood and resume a somewhat normal life. It was miraculous, and I credit Dr. Tchekmedyian, City of Hope and their expertise in my specific type of cancer."
Also read: City of Hope Orange County brings athletes, community together to paint dozens of large wooden ribbons for lung cancer survivors
Staying a step ahead
Berens' individualized treatment plan has changed as the cancer has found ways to change. Biomarker-driven therapy has continued to make a difference in her life.
"Dr. Tchekmedyian has from day one stressed that we always need to be one step ahead of this cancer. We know it's going to mutate, and we need to be prepared because, when it mutates, it mutates quickly," Berens explained. "We're always looking for the next treatment." 
Berens finds essential support for her journey in her husband Jim and her adult children, Zack and Ali. The Laguna Hills, California, resident also enjoys cooking, reading books and taking care of the family's chickens.
"Support is everything when you're fighting cancer. It is a blessing to have family to lean on and other people who also really care and want to help," Berens said. "I find that not keeping it private and not being afraid to ask for help makes a huge difference."
When asked for her thoughts on survivorship, Berens has a flair for hope.
"It's of the utmost importance to have an A+ team of specialized cancer experts walking with you. And I don't consider myself, or refer to myself, as a survivor. I am surviving. I'm a verb! That's the kind of hopeful reality that sees me through."
Also read: 5 lessons from a lung cancer survivor's lived experience
Learn more about City of Hope's world-renowned lung cancer care in Orange County. To make an appointment at any of our five Orange County locations, call 888-333-HOPE (4673).