Alexander Chehrazi-Raffle, M.D., made a switch from the recording industry to medicine in his 30s. He's never looked back.
For hematologist-oncologist Alexander Chehrazi-Raffle, M.D., the opportunity to join City of Hope and its renowned prostate cancer team has been something of a long, strange trip. When Chehrazi-Raffle was growing up in Marin County in Northern California, his life was all about music, not medicine.
That love of music sprang from his parents, who also gave him his unique last name. "My mom's name is Chehrazi and my dad's last name is Raffle," he explains, "I guess they thought 'Raffle' would be too easy a name to live with!" But it was his father who instilled his lifelong love of music. "My first concert was on my 10th birthday," he recalls with a laugh. "My dad sneaked me out of the house and we drove to the Oakland Coliseum to see the Grateful Dead. That's how it started."
Over 400 concerts later and with a post-university music-industry resume that included The William Morris Agency and Universal Music Group Distribution, by the time Chehrazi-Raffle was heading toward his 30th birthday, he realized he was in the wrong place.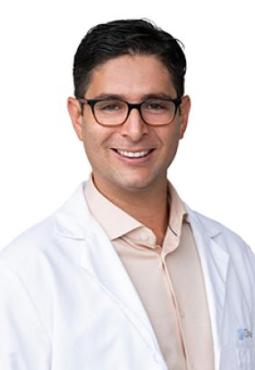 "I didn't have a light go off — it was a slow process of realizing that there was a lack of fulfillment in my work in the music industry. I felt like I wanted to do more in my life, to add more of my own efforts to the world, rather than just help musicians sell their music," he said.
So Chehrazi-Raffle began his career shift toward medicine, first with medical school at the Chicago Medical School at Rosalind Franklin University of Medicine and Science and then to Harbor-UCLA Medical Center for his residency. Chehrazi-Raffle received his California medical license in 2017. During those training years, he also met his wife, who is currently a cardiology fellow at Harbor UCLA and the mother of their infant son, Cyrus.
Chehrazi-Raffle began his experience at City of Hope by doing a hematology and medical oncology fellowship with City of Hope and Harbor UCLA Medical Center in 2019, including research studies in those specialties, and officially joined the medical staff in September as an assistant professor in the Department of Medical Oncology & Therapeutics Research. "City of Hope is such a special place," he says. "It's an entire enterprise devoted to this unified vision of trying to cure cancer."
He's also excited about the advances that City of Hope's medical professionals have made in treating prostate cancer. "I have had the advantage of already working with Dr. [Tanya] Dorff," he says. "She has been doing important prostate cancer research, and just sitting in on those research meetings, it was kind of mind-blowing to see what's on the horizon in terms of treatment options for prostate cancer. There are just so many exciting new trials that she's spearheading. I am excited to be a part of it."
Chehrazi-Raffle joins a City of Hope team that has made great strides in diagnosing and treating prostate cancer in recent years, improving early diagnosis through adding more urologists to the staff at the institution's numerous clinical network locations who encourage early screening for the disease, as well as the acquisition of an important new surgical tool found at the main campus. The new da Vinci single-port robotic surgery device allows surgeons to perform minimally invasive and precise surgeries that allow most prostate cancer patients to go home the same day.
"I really like the combination of being part of a cutting-edge research team and also being at a place that has exceptional patient care," Chehrazi-Raffle said. "It's really a special place."