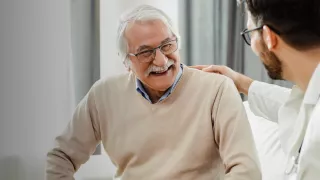 Lung Cancer Care in Orange County
World-renowned thoracic care and advanced lung cancer treatments
City of Hope's prestigious cancer care team is here for you, close to home in Orange County. Our research, specialized physicians, and groundbreaking therapies set us apart, and we lead the region in cutting-edge clinical trials. We're here to tackle even late-stage lung cancer, giving you a hand to hold and hope along the way.
The City of Hope Difference: Lung Cancer Care
Cards
We Treat Aggressive, Complicated and Late-Stage Lung Cancers
Often, other physicians or hospitals deem these lung cancers untreatable. Not us. Our specialists never give up, working to find unique therapies and groundbreaking solutions.
Truly Compassionate and Transparent Care
Our cancer care teams run on attention to detail—listening to you and your family's feelings and concerns and addressing them graciously.
Nationally Recognized Supportive Care Programs
Rooted in more than a century of expert caregiving, our support programs help you and your family weather the mental, social, and emotional challenges unique to lung cancer. You are never alone.
Acclaimed Smoking Cessation Program
Overcome withdrawal symptoms, triggers, and cravings through medication, behavioral strategies, strategic problem solving and social support.
Listen to Our Lung Cancer Doctors
We Specialize in State-of-the-Art Treatments
Our advanced cancer treatments include:
Minimally invasive techniques – including laparoscopic and robotic surgery that make recovery faster and improve outcomes
Video-assisted thoracoscopic surgery – uses advanced computer and video technology to perform minimally invasive biopsies and surgeries
Interventional Pulmonology Program – the most advanced diagnostic and therapeutic interventions available, including rigid bronchoscopy, medical pleuroscopy and robot-assisted bronchoscopy
Genetic tests to determine specific tumor biology and tailor your treatments to stop it from growing
Ultraprecise radiation therapy techniques including helical TomoTherapy and 4D computed tomography scanning
A Second Opinion Should Be Your First Priority
If you have received a lung cancer diagnosis elsewhere, ask for a second opinion from a City of Hope Orange County expert. An accurate diagnosis and individualized treatment plan are essential for the best outcomes.
Expert and compassionate care through our City of Hope network, including City of Hope Orange County Lennar Foundation Cancer Center and seven network locations in Irvine Sand Canyon, Newport Beach Lido, Newport Beach Fashion Island, Huntington Beach, Long Beach and Torrance